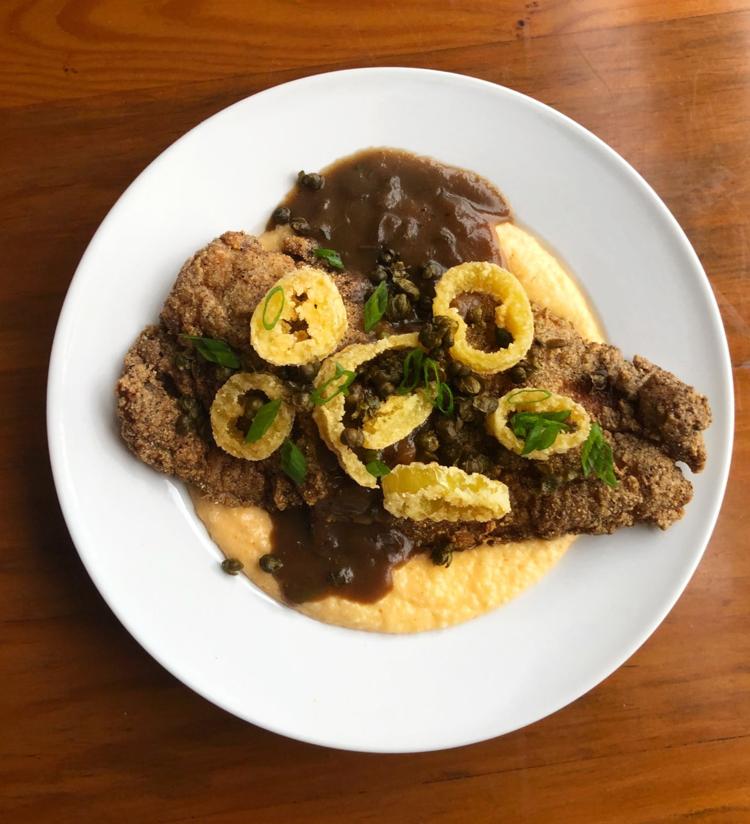 Here in the Midlands, "local food" means a lot of different things depending on who you talk to. For many it's the Southern staples like fried chicken or grits. To some chefs, though, Midlands food is even more than that, a cuisine all our own that we take for granted.
Over the past few years, some local restaurants have zeroed in on a version of Southern cuisine that's tailored to the center of the Palmetto State.
"Whenever anyone said 'South Carolina cuisine,' it was always shrimp and grits, but I didn't have shrimp and grits till I was 23 years old," says Rhett Elliott, chef at The War Mouth. "We felt like no one was celebrating the actual food from where we came from. For me, while I cooked French and Italian food [in restaurants] for years and years and years, I was cooking chicken bog and catfish stew on my days off. I figured at one point that I had it all topsy-turvy. I was cooking the wrong food five days a week."
When Elliott and Porter Barron decided to open The War Mouth, part of the mission was to bring to light these deeply local dishes they grew up with.
"A lot was born out of nostalgia," says Barron. "Things we missed, flavors of our childhood. It's definitely tinted with some sentimentality."
While nostalgia was the starting point, it's their personal culinary experiences that provide a fresh breath of modern sensibility.
"There's so much good stuff out there, you can't confine it," Barron says as he reflects on his personal experiences living in Southeast Asia and Africa. "Fish sauce, for instance, is definitely something we incorporate into our recipes. You get that depth you can't find anywhere else. It goes well with our food."
Down the road at BullStreet, Scott Hall also is combining nostalgia and experience to form the basis of his food at Bone-In Barbeque. His recent brunch menu is a prime example.
"In my house, Saturday and Sunday breakfast was a big deal," Hall says. "It was always comfort food like cheesy grits and cheese eggs, bacon. My dad made these amazing pancakes. My parents worked a lot so that would be the one time we were together."
From the pulled pork-stuffed french toast with maple mustard sauce to catfish and grits topped with coffee porter gravy, Bone-In's brunch menu is a reflection of these memories, amped up with the culinary experience Hall developed from his years working in New York restaurants before returning to the Midlands to open Bone-In.
Beyond experience and nostalgia, Hall believes Columbia cuisine benefits more than many other cities by having fewer rules and boundaries compared to larger cities nearby — especially the Holy City.
"Columbia is really lucky in that we have a really great ethnic community here," Hall says. "More than most cities of this size. I think because of that you see more playful menu variations. I think that is the Midlands' style. Charleston has deep roots that's bound to this monolith of expectation, while we have our own freedom to do our own thing while still having that ribbon of Southern food."
Jessica Shillato is also accustomed to doing her own thing. Having lived in different parts of the South, she uses both her connection to Southern food and love of twists to find her own voice at Spotted Salamander.
Like her peers at The War Mouth and Bone-In, her take on food is first and foremost inspired by the experiences she had growing up in a family passionate about food.
"My grandmother — she was from Poland and moved to Mississippi — cooked everything from scratch from start to finish," says Shillato. "One night it would be fried chicken with gravy and rice and the next night it would be schnitzel and cabbage and pierogies."
While family helped facilitate her love of food, Shillato's love of combining highbrow and lowbrow items is what makes Spotted Salamander one of the most fun dining experiences in town. This is best seen in her popular deviled eggs, which use a classic Southern base that gets a different spin each day with creative toppings such as fried oysters, pepper jam and potato chips, pimento cheese, and fried pork skins with hot sauce. Specials like Cheerwine-braised ham sandwiches with deviled mayo, Chinese takeout Southern fried chicken sandwiches, and tomato pie mac-and-cheese further showcase Shillato's unique style of smashing culinary barriers.
Between history, nostalgia and improvisation, these Columbia chefs have in a short span of time pushed forward a new vision of what the city has to offer.
But have we reached a breaking point in creativity and identity? Once all these "fusion" points proliferate — old and new, Southern and global, high and low end — how and where do we look to grow as a regional cuisine?
"Going backwards," Elliott suggests, surprisingly.
Elliott and his team at The War Mouth are diving into the history books to explore food that's been eaten in the area, from Catawba cooking to settler diets, for inspiration. They also keep up with trends — and are inspired by unexpected ingredients brought to their door daily by farmers that constantly redefine "local" in the ingredients they provide to restaurants.
It's this wave of rediscovery and evolution that suggests that rather than having reached an endgame, Midlands cuisine is still on the path of growing and developing its own distinct voice.