WASHINGTON — America recently got introduced to a little-known freshman congressman from South Carolina in the most unusual of ways.
To long-time friends, however, there was nothing out of the ordinary about U.S. Rep. Ralph Norman opting to pull out a loaded handgun and place it on a table during a constituent meet-and-greet to prove a point: that firearms are only dangerous in the hands of criminals.
"The first thought I had is, 'Yeah, that sounds like Ralph,'" said Dave Woodard, a veteran GOP political strategist who worked with Norman on his first, unsuccessful, congressional campaign in 2006.
"That's Ralph's way," he said.
Norman, 64, reached Congress last year by scoring an upset victory over the more centrist favorite, Tommy Pope, in a special GOP primary to replace 5th District GOP incumbent Mick Mulvaney, who became the Trump administration's budget director.
To distinguish himself from a field of well-established candidates, Norman sought to channel the brash, anti-establishment persona of President Trump, vowing to help him drain the swamp.
After a relatively quiet first few months in Congress, the Rock Hill Republican cemented that identity this month when the gun incident propelled him into headlines all over the country. 
His defiant comments afterward — declaring that he is "not going to be a Gabby Giffords," in reference to the former Democratic congresswoman wounded in a 2011 shooting — reminded former Statehouse colleagues of their old nickname for him: "Ralph the Mouth."
In an interview Friday at his Capitol Hill office, where he also sleeps when Congress is in session, Norman expressed amazement at how the gun story took off, especially why anyone was surprised to learn his .38-caliber Smith & Wesson pistol was loaded.
"I have a message for the liberals," Norman said, smirking. "An unloaded gun doesn't do you any good."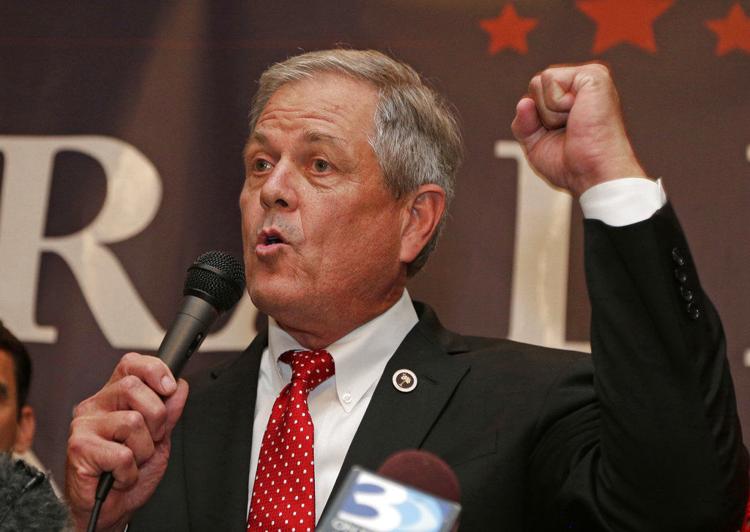 The House versus 'Red Ralph' 
Since getting to Washington last June, Norman has made good on another promise. He joined the House Freedom Caucus, a rambunctious crowd of about 40 of the most conservative members of Congress. Relentlessly pushing for more spending cuts, they serve as a thorn in the side of the establishment GOP leadership.
The Freedom Caucus has served as the kind of ultra-conservative company Norman rarely found during his 10 years in South Carolina's Legislature. Even Norman's closest friends from his time in Columbia, including Rep. Nathan Ballentine, R-Chapin, said they could not possibly stomach some of the steep spending cuts Norman proposed.
For his part, Norman complains the Statehouse mindset does not come close to reflecting South Carolina's purported conservative ideology.
"If it wasn't in the state constitution that we have to balance the budget, we'd be just like Washington, D.C.," he said.
That reminds Statehouse lawmakers of another nickname they had for Norman: "Red Ralph" — because he so often voted against spending legislation that his name was expected to show up in "red" on the vote-tabulation screens inside the House chamber.
Ballentine, who was one of five lawmakers who voted for Norman when he challenged then-Speaker Bobby Harrell for the top House leadership post, said Norman was so isolated on many votes that he described the dynamic as "the House vs. Ralph."
"He's very, very conservative, not afraid to be a man on his own island," Ballentine said. "We voted a lot alike, but he would always go out a little bit further on limbs than a lot of us would."
Now Norman is taking that hyper-conservative mantra to Washington and has already begun earning plaudits from the right.
FreedomWorks, a renowned conservative advocacy group associated with the Tea Party movement, named Norman their "Member of the Month" in December, saying he has "already proven himself as a principled proponent for limited government and freedom." 
Combine that rigid ideology with the type of eyebrow-raising act like the gun incident, and ex-colleagues say you can get a good idea of the type of guy Norman is.
"To put it succinctly," said state Rep. Gary Clary, R-Clemson, "he has not changed."
True Trump Republican
During a tumultuous political era in which Republicans have struggled to grapple with an often unpredictable president, allies say Norman has been thrust into the perfect scenario for his personality.
"He's not acting like this because Trump won; it's just who he is," Woodard said. "He's willing to offend you. He only needs 50 percent plus 1 of the votes to win, and he knows that, so he's not trying to make everybody like him."
After taking some time to learn the ropes and find his way around the Capitol, Norman is currently angling for a spot on the influential Financial Services Committee next year, if he wins re-election. That spot would help to diversify South Carolina's delegation, which already has lawmakers on several other powerful panels.
Still, back home in South Carolina, Democrats have pounced on the gun incident by calling Norman "irresponsible and dangerous." Some question why the state's GOP prosecutors moved so quickly to dismiss any talk of charging Norman for his gun display.
Both Norman and one of his leading Democratic opponents, Archie Parnell — who is making his second bid for the 5th District seat after a narrow loss last year — have used the incident to help raise money for their respective campaigns.
"If left unchecked, the American Left will continue to try and chip away at our rights by demonizing firearms and mocking those who defend our Second Amendment," Norman's campaign website says. "Ralph Norman will not stand for it!"
Parnell cut a fundraising video for his campaign accusing Norman of "acting like a bully to intimidate those you disagree with." Activist group Progress South Carolina started a petition calling for Norman to resign.
"I don't care," Norman said of his detractors. "They're trying to create something out of nothing. Let 'em try."