COLUMBIA — Gov. Henry McMaster received 53,000 more votes than Greenville businessman John Warren in the June 12 primary, not an impossible gap for Warren to overcome in their Tuesday runoff but certainly a tough obstacle for the former Marine combat officer.
So 13 hours before polls open, McMaster will get one last push from a very powerful ally. President Donald Trump will hold a rally for the governor at 6 p.m. Monday inside Airport High School gym in Cayce outside Columbia.
Warren, a political newcomer who has surged in polls over the past month, warned last week that Trump "would not be coming here if it wasn't close."
Trump is supposed to seal the race for McMaster.
"It's a rally the troops moment," Winthrop University political scientist Scott Huffmon said. "Nothing excites Trump supporters more than seeing Trump. This is pulling out all the stops."
Trump is the main act after Vice President Mike Pence spoke for McMaster, opening the White House one-two punch at a Conway rally Saturday.
Pence's message during his 19-minute speech was clear to the crowd of more than 500 supporters and thousands who would watch and read news reports: Make sure to vote on Tuesday.
Turnout for the runoff is expected to be abysmal, perhaps under 10 percent. 
If McMaster wins, how much credit Trump deserves will be tough to gauge. After all, McMaster is a veteran politician with strong name recognition who already has the job in an improving economy.
"Gov. McMaster is well-liked as a person even if his politics aren't always liked," former South Carolina Republican Party Chairman Matt Moore said.
But the influence of the president's endorsement is hard to avoid. Several McMaster supporters attending Saturday's Pence rally said they're backing the governor because he is Trump's favorite.   
McMaster's campaign realizes the importance of Trump, who holds an 80 percent approval rating from South Carolina Republicans.
The president's 25-minute speech at a Greenville campaign fundraiser in October provided sound bites and photos for a bevy of the governor's campaign commercials, web ads and mailers. 
"They don't want to leave anything on the table," Huffmon said.
Trump knows his influence as well. He's already tweeted three times about his visit on Monday with more than 200,000 retweets and likes.
Images of McMaster and Trump together is what will be remembered about this 2018 race, whether the governor wins or not.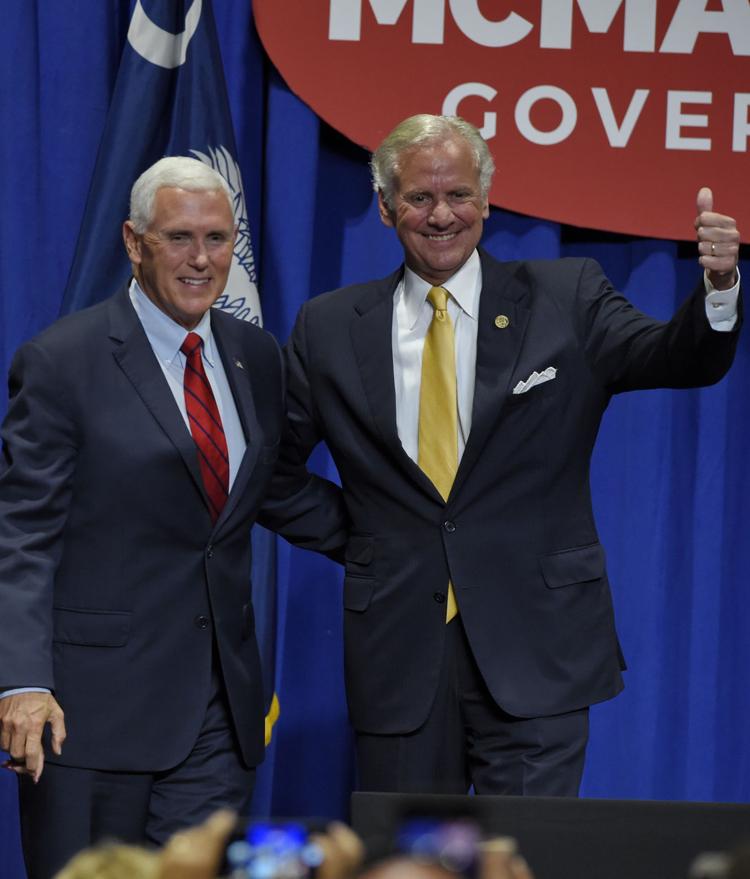 Trump backs McMaster because McMaster backed Trump when it counted.
In a barn in Gilbert, a small Lexington County town a half-hour west from the president's Monday rally, McMaster shocked allies and political observers by endorsing Trump for president in January 2016.
Despite being the race's front-runner, Trump did not have an endorsement from any statewide elected official in the country before McMaster.
"He speaks the truth as he sees it in words everybody understands." McMaster, then lieutenant governor, said at the rally. "And, ladies and gentlemen, that's something unusual in politics. It's a delightful thing to see."
Trey Walker, a longtime McMaster aide who is now his chief of staff, tweeted his disappointment that night at the pick: "No one in SC politics is more disappointed than me."
But attitudes about Trump among many South Carolina Republicans, including Walker and then-Gov. Nikki Haley, changed after he won the presidential primary.
Trump has made no secret that having the country's top two officeholders fly to South Carolina in the final three days before the runoff was a reward for McMaster's endorsement.
"Henry worked so hard & was so loyal to me that I look forward to reciprocating!" Trump tweeted Thursday.
The president and vice president's visits have put Warren on the defensive.
He, too, respects the administration. Warren calls himself the race's most Trump-like candidate as an entrepreneur and political outsider who wants to shake up government. 
On Saturday, Warren held a news conference near where Pence spoke, saying that McMaster was making the race about Trump instead of the governor's record in office, which he criticized as "pay-for-play." He is expected to do the same Monday ahead of the president's visit.
This new line of attacks could fire up Warren's supporters.
"He needs to keep them from being discouraged about the big blue plane," Moore said referring to Air Force One.