COLUMBIA — South Carolina, the first test for Democratic presidential hopefuls wanting to win over African-American voters, is already drawing plenty of attention more than a year before ballots are cast in the state's 2020 primary.   
More than 15 White House prospects have swarmed South Carolina ahead of the 2018 election. Now with the field getting set, four of the popular favorites hit this early primary state last week.
"People are breaking the speed limit to get to South Carolina," said Antjuan Seawright, a Columbia political operative.
The Palmetto State primary on Feb. 29, 2020, is key in a race where Democrats see a chance to win back the White House. And with possibly more than 20 candidates in the field, a quick start is vital to building relationships that last until primary day.
One candidate already is running digital ads targeting South Carolina voters.
South Carolina is the last of the early primaries where media attention will be focused just before Super Tuesday when voters in nine states — including California, North Carolina, Texas and Virginia — head to the polls.
Candidates also can see where they stand with African-Americans, who have accounted for roughly 60 percent of voters in South Carolina, more than any of the other early primaries and caucuses. 
"People know Iowa and New Hampshire are as white as snow," said Brady Quirk-Garvan, chairman of the Charleston County Democratic Party. "South Carolina is a test of how much diversity matters."
'Black folks vote black'
Potential presidential contenders spent time last week in South Carolina wooing black voters and black political and community leaders.
U.S. Sens. Cory Booker and Bernie Sanders of Vermont headlined the S.C. NAACP's MLK Day rally at the Statehouse. Sanders later visited with the S.C. Black Legislative Caucus, students at a historically black Benedict College and about 300 supporters in North Charleston.
After Warren met with nearly 1,000 supporters in Columbia, she appeared on a radio talk show with popular African-American host Cynthia Hardy. U.S. Sen. Kamala Harris of California attended a Columbia gala for the Alpha Kappa Alpha sorority. Harris also is getting a head start with Facebook ads aimed at the state, a campaign spokeswoman said.
State Rep. John King, the past chairman of the S.C. Legislative Black Caucus, said he expects Booker and Harris, the two African-Americans expected in the primary, to receive the most attention from black voters. 
"Black folks vote black," said King, D-Rock Hill. "It's who you feel more comfortable with."
The success of then-U.S. Sen. Barack Obama in winning the South Carolina primary that catapulted his 2008 presidential campaign showed black Palmetto State voters they can have impact in the race, King said.
U.S. Rep. Jim Clyburn, the dean of South Carolina Democrats and the highest-ranking African-American in Congress, said many black voters will look at African-American politicians first because they often have not always had a chance to cast a ballot for a black candidate in a national race.
But that does not guarantee a vote for an African-American candidate, he said. Black voters want someone capable of winning.
"Barack Obama won the South Carolina primary on the evening of the Iowa caucuses," Clyburn said. "When he came out of Iowa a winner, black voters saw him as a viable candidate, and they voted for him."
State Rep. Chandra Dillard, D-Greenville, said African-American women will play a crucial role in the 2020 South Carolina primary. She said black women she knows are worried about jobs, schools, health care and equal pay. And they would like to see Republican President Donald Trump out of the Oval Office.
"That's top of mind, too, because he isn't good for the household," Dillard said.
Dillard, like most major black leaders in the state, does not have a favorite candidate yet.
While much of the focus has been on African-American voters and candidates in South Carolina, Joe Biden, a popular figure among the state's Democrats, is casting a shadow over the primary. The former U.S. senator and vice president has not announced a formal bid but is expected to join the field. 
"He enters the race with many political miles on his engine," Seawright said. "And he has the infrastructure that not a lot of people have."
But there are no assurances for Biden. He could find himself in a 2008 reboot of the South Carolina primary where he is in the role of presumed favorite Hillary Clinton, while Harris, with her appeal to white progressives and black women, is Obama, said Bakari Sellers, CNN political commentator and a former S.C. state lawmaker.
Still, Sellers said African-American voters seek one job from a candidate despite their race: "We want someone who will beat Trump." 
'I saw them once'
The visits by presidential hopefuls more than a year before the election are necessary in early primary states where voters expect to meet the candidates, especially with a larger-than-normal field of Democrats.
"People here want to be able to say, 'I saw them once,'" Bamberg said. 
Another reason for the early visits is that Super Tuesday states will have early voting in February, distracting candidates usually focused on the states holding the first primaries.    
As the primaries draw closer, South Carolina voters could see more surrogates and more ads than usual, Seawright said: "There will be less physical time."
While Super Tuesday "could kick some of the shine," Clyburn said the "South Carolina primary could have one hell of a Sunday headline" capable of swaying the results in those larger states just three days after polls close in the Palmetto State.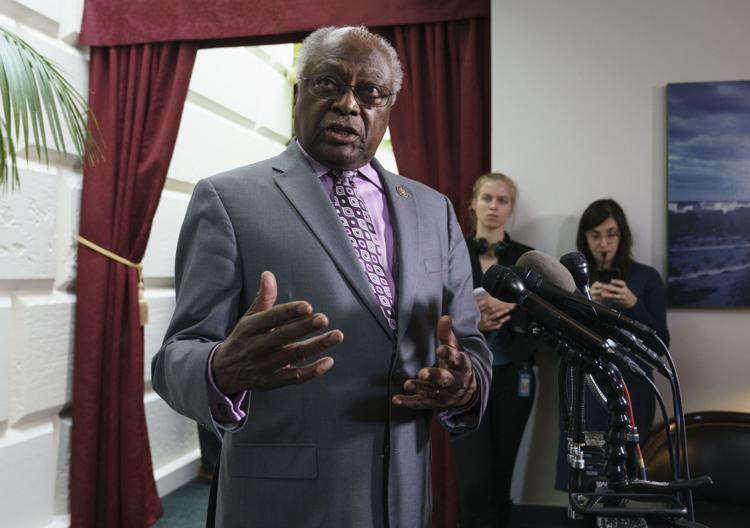 South Carolina's urban areas in Charleston, Columbia, Greenville and Rock Hill will get the bulk of attention from candidates because they have strong Democratic voting blocs.
Charleston County's rapidly growing region's changing demographics poses a different challenge to campaigns. 
During the 2016 presidential election, Charleston County, home to the state's largest city, was the only county in the state where a majority of Democratic voters were white, Quirk-Garvan said.
And more younger voters from inside and outside the state have arrived with the boom in jobs, he said.
In the Charleston region where a Democrat snatched a surprise win for Congress from a Trump-backed opponent last year, Quirk-Garvan said the biggest issue is beating the president. 
"There's a 2-mile gap to where the next top issue is," he said.