You're seeing the Palmetto Politics daily newsletter. Receive the latest political news and in-depth analysis from The Post and Courier to your inbox Monday-Friday here.

Debate night = Bingo night
All five Republicans vying for governor hit the stage at 7 p.m. tonight at Clemson University, marking the first time all the GOP contenders will square off with one another in a televised debate. (The Democrats will have their chance on Thursday.)
Ahead of the latest showdown, Columbia Bureau Chief Andy Shain has put together this helpful story on what took look for and watch as the GOP hopefuls spar for an hour. Hosted by The Post and Courier and SC ETV, the debate will be broadcast on SC ETV. It will also be streamed online.
But best of all, you can now play along using our bingo card. (Bingo cards will be created for Thursday's Democratic debate as well. Stay tuned.)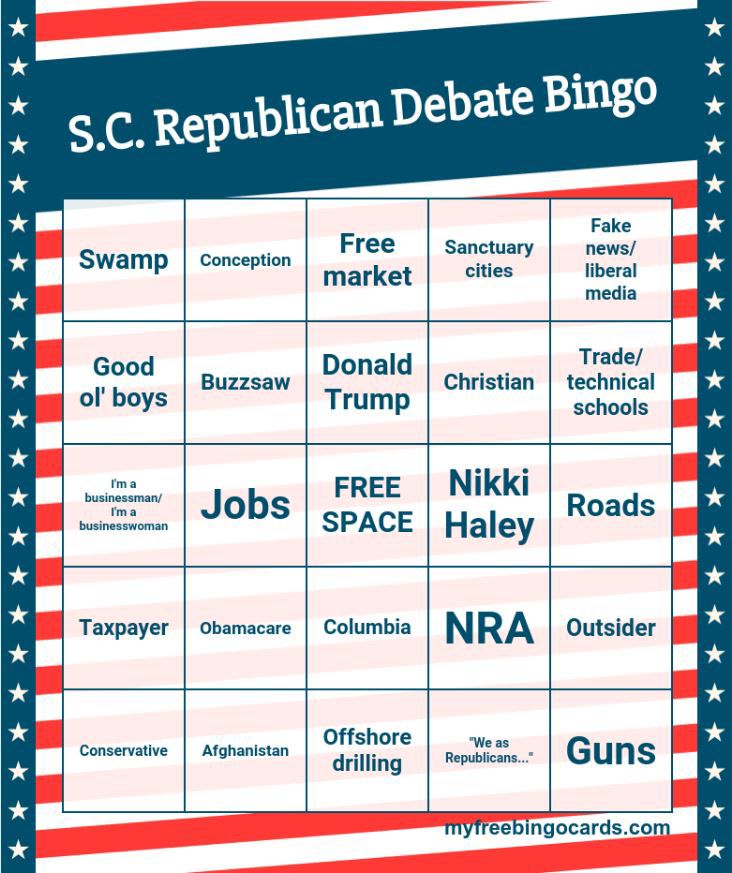 ---
Want to receive this newsletter in your inbox Monday through Friday? Sign up for free.
---
So when Catherine Templeton deploys the buzzword that just won't quit, you can mark down that space for "buzzsaw."
The card will work on your phone and on your computer. Mark different squares by pressing the squares on your screen.
Want another card? You can click the "new card" button at the top right-hand corner. (If you prefer to print it out, take a screenshot of the card and then print it out to avoid any fees.)
And just because it's fun to be social, be sure to post your winning card on social media and tag them with #GOPDebateBingo.
Get your bingo card: B-I-N-G-O!
Read more: As primary nears, tension mounts ahead of S.C. governor debates
Parnell goes rogue, still staying in congressional race
The fallout continues for South Carolina congressional candidate Archie Parnell.
In the 24 hours since the Democrat's divorce records surfaced and revealed he physically abused his ex-wife in the 1970s, the following has happened:
Campaign staffers have left him
U.S. Rep. Jim Clyburn, the state's most powerful Democrat, urged Parnell to leave the race
The state's Democratic party leader Trav Robertson called on Parnell to drop out, too
The three Democratic candidates running for governor in South Carolina joined party leaders in urging the Sumter Democrat to step away from the race
Financial backers began requesting refunds of campaign contributions
And even his campaign website, archieparnell.com, is no longer active
But Parnell isn't backing down or stepping aside. As of the writing of this newsletter, he is still in the race.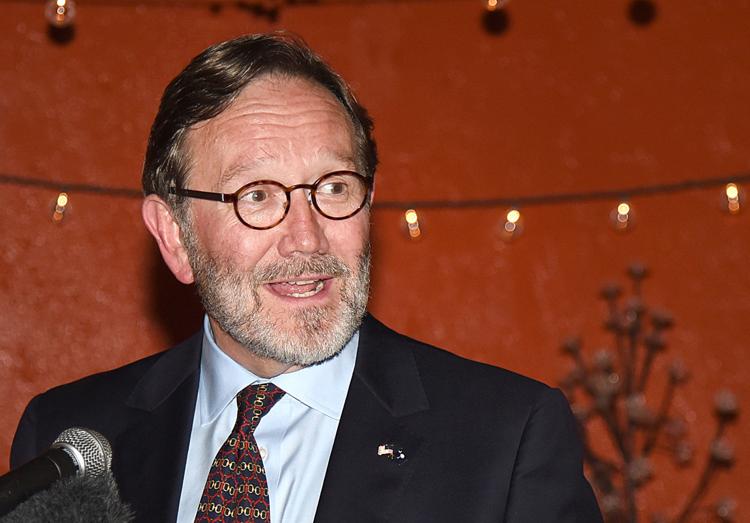 Parnell's refusal to throw in the towel is creating problems for Democrats in the state.
Not only was Parnell the candidate that had been seen as the party's best chance to flip a ruby red seat, now Democrats have to contend with a dilemma similar to the one Republicans faced with Roy Moore in an Alabama Senate race last year.
Political reporter Jamie Lovegrove explains:
"Moore, a former state supreme court chief justice, refused to drop out despite pleas from fellow Republicans after The Washington Post reported several women had accused him of sexual misconduct. He won the primary despite President Donald Trump and other national party leaders backing his chief rival but went on to lose the general election to Democrat Doug Jones.
As with Moore, Democrats have no recourse to remove Parnell from contention if he does not drop out other than to actively campaign against him in the 5th District stretching from Sumter to Rock Hill. Though Parnell was much more popular among Democratic leaders than Moore was with the GOP establishment, he faces a backlash of similar proportions."
Read more: Ditched by allies, embattled S.C. congressional candidate still won't drop out
In other news
State budget might arrive late, but there will be no S.C. government shutdown http://bit.ly/2s4cwTb (P&C)

South Carolina Republicans prepare last-ditch effort to save a federal nuclear project http://bit.ly/2s5aemY (P&C)

SC children can't get autism therapy they need, and it's the state's fault, suit says https://bit.ly/2IHpVaW (The State)
Follow Palmetto Politics on Twitter

AND ONE MORE THING:  Making history
Columbia attorney Sherri Lydon has been confirmed as the next U.S. Attorney for the District of South Carolina.
The U.S. Senate unanimously confirmed her for the position, according to a statement issued late Tuesday by Sen. Lindsey Graham's office.
"This is an historic moment for South Carolina, as she is the first female U.S. Attorney for our state to be nominated by a president," Graham said in a statement.
Read more: New U.S. Attorney for South Carolina unanimously confirmed by Senate
---
Did your smart, politically engaged friend forward you this email? Subscribe here.
Craving more? Check out the rest of the Post and Courier newsletters.