Former Vice President Joe Biden holds a commanding 20-point lead in the 2020 South Carolina Democratic presidential primary, but his post-announcement advantage is shrinking — and he has a surprising new set of top challengers.
Massachusetts Sen. Elizabeth Warren and South Bend Mayor Pete Buttigieg have emerged as the next two choices after Biden in the early voting state, according to a new Post and Courier-Change Research Poll of likely Democratic primary voters released Sunday.
They supplanted Vermont Sen. Bernie Sanders and California Sen. Kamala Harris, who have been trending down in recent national polls.
Sanders took a big hit over previous S.C. polls falling from second to fourth. Harris' numbers have not changed dramatically. Instead, others have leapfrogged the race's leading African American candidate.  
New Jersey Sen. Cory Booker and former Texas congressman Beto O'Rourke, who both continue to struggle, along with entrepreneur Andrew Yang, were the only other candidates in the field of 24 hopefuls to receive more than 1 percent of support in South Carolina.
The latest poll comes as the 2020 race spotlight hits South Carolina for a week of events culminating with the state party convention on June 22 in Columbia.
The race, being followed closely by eight out of 10 S.C. Democratic voters, is expected to change over the next eight months before the Feb. 29 primary. 
One constant so far has been Biden leading all four Post and Courier-Change Research polls taken in South Carolina this year — even those held before he formally entered the race in April.
His support hit 46 percent in South Carolina two weeks after his announcement, which gave him a 31-point lead.
But Biden fell to 37 percent in the latest poll, a number closer to his previous S.C. results. Warren sits second at 17 percent followed by Buttigieg at 11 percent with Harris and Sanders tied at 9 percent.
Biden, who has developed deep ties in the state where he vacations, continues to lead among all gender, ethnic, income, education and regional groups with the exception of voters ages 18 to 34.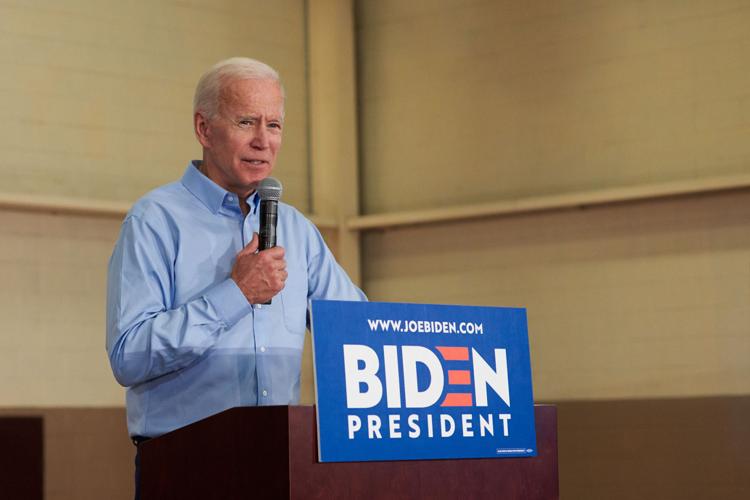 Asked why he was their choice, most of his South Carolina supporters cited his experience as President Barack Obama's vice president, followed closely by his ability to stand up to Republican President Donald Trump. Biden's policy positions were ranked third.
Biden's standing up to Trump, however, was the top reason for his backers, who are independents, black women, under age 50 and from the Midlands around Columbia and the Lowcountry around Charleston.
Most voters who picked a candidate other than Biden said they wanted new leadership.
His age, 76, was the next biggest factor why voters did not go with Biden, followed by his questionable behavior toward women, not being progressive enough and a desire for more diversity. 
His age was the also the top reason among S.C. voters age 65 and older who went with a candidate other than the former vice president.
The race to catch up to Biden in South Carolina is evolving.
Warren appears to be taking support away from Sanders in South Carolina. The pair of New England senators have battled for voters seeking a more progressive candidate than Biden.
Warren doubled her S.C. support from a month ago when she was the fourth choice. Her performance nationally has risen this month, according to composites from Real Clear Politics. 
Sanders had been the solid second choice of S.C. voters in previous polls. But Warren reversed deficits with Sanders among men, women, voters under age 50 and, most importantly, African Americans who make up a majority of Democrats going to the polls.
And she now leads the race among voters ages 18 to 34, a spot previously held by Sanders. 
Buttigieg's surprising run continues to strengthen.
The field's youngest candidate, who was not even in the first S.C. survey taken in February, has moved up spots in each of the past two polls. This month, he received upticks in support from voters ages 65 and older, as well as independents. 
Most notable is Buttigieg's growing support from black voters. He collected 6 percent African American support, good enough for fourth this month, after he received none in May. Buttigieg sits between the race's two main African American candidates — Harris, who has 11 percent of the black vote, and Booker, who has 3 percent.
Biden received a majority of black voter support in South Carolina at 52 percent, bolstered by a huge lead among African American women. Warren follows at 14 percent.
The online poll of 933 likely primary voters included 46 percent African American voters, lower than the 60 percent that went to the polls in the 2016 primary. The poll also included a heavier percentages of voters earning more than $50,000 a year and holding a college degree than in past exit presidential primary polls.
The results were weighted, however, based on past exit polling and forecasts for turnout in the 2020 primary. 
The poll was taken June 11-14 and has a margin of error of plus or minus 3.2 percent.