CONWAY — In the first of a two-part Trump administration boost for Gov. Henry McMaster's campaign, Vice President Mike Pence urged South Carolina supporters Saturday to give the governor four more years in the state's top office.
Pence told a crowd of more than 500 at Coastal Carolina University that McMaster has been one of President Donald Trump's most steadfast supporters, and he praised the governor for his work promoting economic development in the Palmetto State since taking office in January 2017.
"Gov. Henry McMaster means business," Pence said, "and he's just getting started."
Pence's visit to Conway, the seat of a county where Trump won big in 2016, came three days ahead of the GOP primary runoff for South Carolina governor and two days of a scheduled trip from Trump. McMaster faces Greenville businessman John Warren, 39, a political newcomer and Marine combat veteran on Tuesday.
The president has gone all-in with his support of McMaster in the closing weeks of the governor's competitive battle to hold on to his office, returning the favor after McMaster became the first statewide elected official in the country to endorse Trump's presidential bid in January 2016.
"I'm here today, and my friend's going to be here Monday, because Gov. Henry McMaster has been there supporting this administration every day," Pence said. "He's been there shoulder-to-shoulder with this president, and really that's nothing really new because Henry McMaster's been putting the people of South Carolina first his whole life."
McMaster "had some pretty big shoes to fill" when he took over from former Gov. Nikki Haley, Pence said, adding that he and Trump "couldn't be more proud" of the job Haley is doing as U.S. ambassador to the United Nations.
"Gov. @henrymcmaster means business," says @mike_pence, "and he's just getting started." #SCGov pic.twitter.com/aO3nQ6xPyo

— Jamie Lovegrove (@jslovegrove) June 23, 2018
Trump first came down to offer his endorsement of McMaster in October at a fundraiser for McMaster's campaign in Greenville. He has recently reiterated his support of the South Carolina governor multiple times in tweets.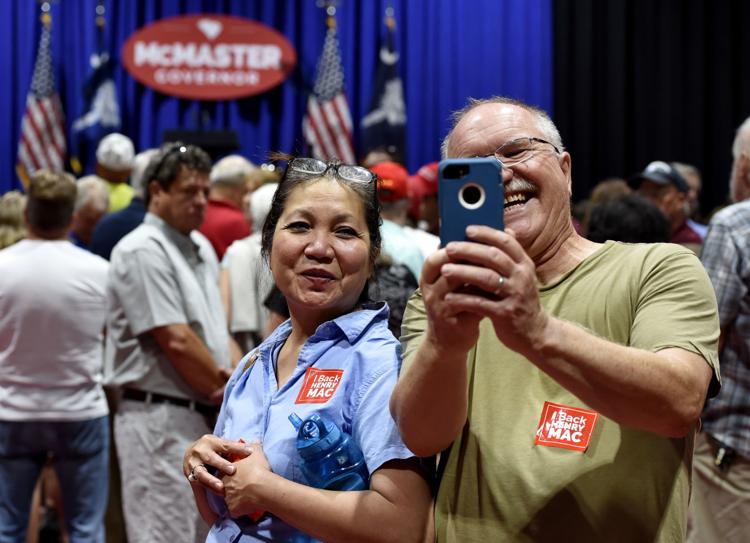 McMaster, the race's frontrunner, has used his connections with the president as a central selling point of his candidacy, regularly featuring Trump in television and radio ads and arguing that the relationship will help to secure powerful help for South Carolina when needed.
Several attendees at Saturday's rally attributed their support of McMaster to Trump's endorsement. Horry County gave McMaster his largest margin of victory in the June 12 primary.
Bob Hamilton, a retired insurance agency owner from Myrtle Beach, brought a small sign that said "Down with Lefty Loons" that he waved at protesters as he walked to the arena for the Pence rally.  
Hamilton said he supports McMaster because he "backs all the things the Republican Party stands for," including "making sure that we don't give our country away to illegal people who enter the country." Still, he added that 80 percent of the reason he backs McMaster is Trump's endorsement.  
Trump's support also accounted for McMaster's support of Steve Austin, who donned a Boy Scout uniform as he brought his son and other members of a Myrtle Beach troop to the rally.
"I like a lot of what Trump is doing right now," Austin said. "He's putting us back in the right direction. Henry McMaster is pretty much on the same road he's on. I just wish he would do something about the V.C. (Summer nuclear project) power debacle that's going on."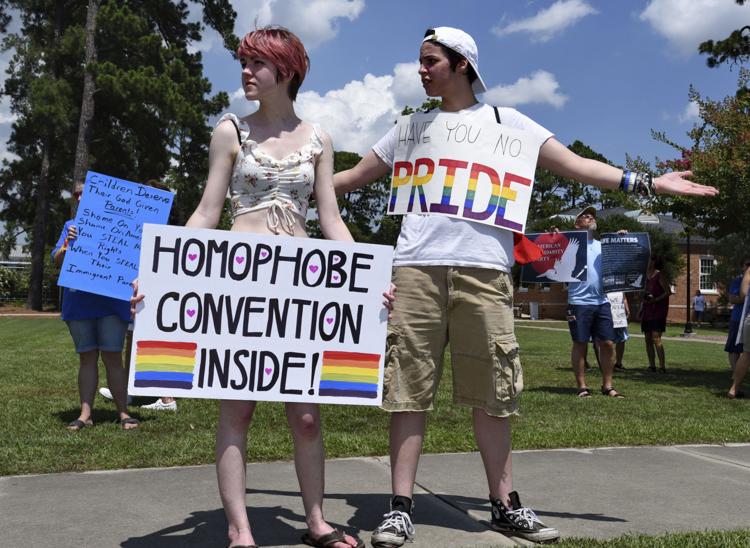 Pro-LGBTQ demonstrators walked outside the arena protesting Pence for his anti-gay stances with signs that read "Homophobe Convention Inside." Sarah Mavin, a Coastal Carolina graduate student, strolled along the line of McMaster supporters waiting to enter the arena offering rainbow leis and stickers. She found no takers.
"Coastal is a shining example of treating the LGBT community pretty good compared to other institutions in South Carolina," said Logan Jarrell, a member of the college's student senate who was among protestors. "I understand he has a right to be here, but it's still saddening to see."
Earlier Saturday, Warren, who is trying to overcome a 14-point deficit to McMaster from the primary, met with reporters at Horry-Georgetown Technical College next to Coastal Carolina. He stressed his support for the Trump administration, while criticizing McMaster as a career politician who uses "pay-to-play" schemes to help campaign donors.
Asked about the governor's rallies with the president and vice president, Warren said McMaster is trying to make the race a referendum on Trump rather than his own record.
Still he noted, "I understand their loyalty to Gov. McMaster."