WASHINGTON — President Donald Trump's description of the ongoing impeachment inquiry as a "lynching" ignited yet more controversy in an already polarizing political process Tuesday.
Trump's use of the word that's fraught with divisive racial connotations gave Democratic leaders yet another grievance and forced uneasy Republicans to address the issue.
Early Tuesday on Twitter, Trump lambasted Democrats for investigating him "without due process or fairness or any legal rights." Trump administration officials have mostly refused to cooperate with the investigation when asked.
"All Republicans must remember what they are witnessing here — a lynching," Trump tweeted. "But we will WIN!"
Chief among the critics of Trump's tweet were African American Democrats from the South, where mob terror campaigns against black people to intimidate them after Reconstruction were particularly prevalent.
"Anybody who would apply that word to this legislative process that this country calls for ought to be ashamed of themselves," said House Majority Whip Jim Clyburn, D-Columbia. "The president cheapens that part of our history by applying that word to himself."
According to a 2015 report from the Equal Justice Initiative, between the end of Reconstruction in 1877 and the start of the civil rights movement in 1950, there were some 4,084 lynchings of black people in America — 800 more than had been previously reported. 
An estimated 185 of those lynchings happened in South Carolina.
Responses from Republicans largely fell into one of two camps. Some expressed discomfort with the use of the word but defended Trump's broader sentiment. Other GOP allies of Trump went to bat for him, describing the lynching label as accurate and appropriate.
Among those in the latter camp were U.S. Sen. Lindsey Graham, R-S.C., who said the impeachment inquiry is "a lynching in every sense" and "un-American."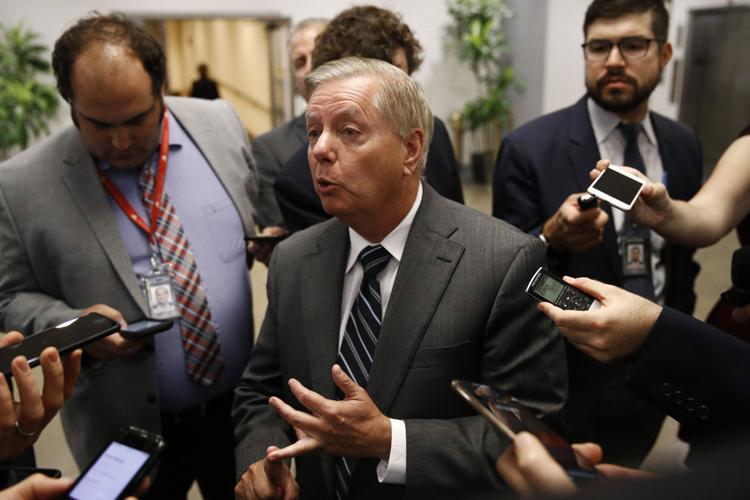 "The point is, what's happening in the House is unfair," Graham said. "It's a political sham. It's a kangaroo court. It's a mob taking over."
Rather than criticize Trump, U.S. Rep. Jeff Duncan, R-Laurens, blamed reporters asking about the issue for "trying to stir up a racial divide when the president didn't have any guise of doing that." 
"He used the word lynching because he feels like he's being lynched, but you're trying to make something out of it because you're from South Carolina and because we have history there," Duncan told The Post and Courier. "You're opening wounds back up. He didn't intend to do that."
Asked three times if he had any concerns about Trump's "lynching" description, U.S. Rep. Joe Wilson would only say that he is focused on Trump's actions rather than his words.
"The terminology is overridden by his actions," said Wilson, R-Springdale. "All his life, he has worked with the African American community in a positive way. So I look at his actions."
South Carolina's other U.S. senator, Tim Scott — the only African American Republican in the chamber — also criticized the route House Democrats are pursuing but distanced himself from the president's language. 
"There's no question that the impeachment process is the closest thing to a political death row trial, so I get his absolute rejection of the process," Scott said. "I wouldn't use the word lynching."
Clyburn said he is not surprised by the fact few Republicans were willing to speak out against Trump, even those from the South — though he did appear taken aback by Graham's broader conduct. Once known as one of the most moderate GOP senators, Graham has become one of Trump's staunchest defenders.
"I'm always amazed at Lindsey Graham," Clyburn said. "I always thought of him in a little different terms than he seems to be demonstrating."
As to Wilson's focus on actions, Clyburn pointed to another episode in Trump's past.
"I would ask Mr. Wilson to explain to me the actions that this same man took as it relates to the Central Park Five — five innocent people of color that he called for capital punishment for, took out a full-page ad in The New York Times, even when everybody said they were innocent," Clyburn said. "He has yet to apologize for that. Now, which overrides?"
White House spokesman Hogan Gidley defended Trump's use of the term but with clarification.
"The president's not comparing what's happened to him with one of our darkest moments in American history. He's just not," Gidley told reporters, according to a White House transcript. "What he's explaining clearly is the way he's been treated by the media since he announced for president.
"The word 'impeachment' was used about this president the day he was elected and before he was even sworn into office," Gidley added. "I understand there are many people in the media who don't agree with his language. He has used many words to describe the way he has been relentlessly attacked."
Trump's "lynching" tweet also comes just days before he is scheduled to speak in South Carolina at Benedict College, a historically black campus in Columbia where students established an NAACP chapter in 1937 to support a nationwide campaign against lynching.
Trump will be at Benedict on Friday taking part in the school's 2019 Second Step Presidential Justice Forum. Several of the Democrats in the 2020 field will also attend beginning Saturday, including former Vice President Joe Biden and Sens. Bernie Sanders, Elizabeth Warren, Kamala Harris and Cory Booker.
The Rev. Jesse Jackson, a civil rights icon who was born in Greenville, called on Benedict College students to walk out in protest Friday when Trump is scheduled to appear at their school for a criminal justice forum.
"The students should walk out in a show of righteous indignation and self-respect," Jackson told The Post and Courier on Tuesday afternoon.
Jackson, who was mentored by Martin Luther King Jr., said the walk-out would send a message to Trump about his careless use of the term "lynching" in a state where close to 200 African Americans were lynched.
"You wouldn't go to Brandeis University and use the Holocaust as an example," Jackson continued of Trump's use of the term to describe his treatment during the House impeachment inquiry.
On campus Tuesday, Benedict College freshman Enija Ashburn of Charleston could hardly believe the president's remarks.
"He did not," she gasped. "That's horrible; there's nothing that can be compared to lynching."
Kenneth Appleton, a Benedict senior from San Bernardino, Calif., said Trump's comment is "ridiculous."
"You're not losing your life," Appleton said of Trump. "You're still breathing."
Karlton Vivians, a sophomore from Covington, Ga., on the other hand, said he did not view the president's comments as inaccurate.
"It does seem the left is mindlessly attacking him," he said. "It's just that racial context."
Brenden Johnson, a freshman from Columbia, said the president has a right to feel slighted but should be more cognizant of what he's saying.
"It's like adding insult to injury when he knew he was about to come here," he said of Trump's remarks.
"There's no way to compare the two," said Kimberley Woodard, a freshman from Lakeland, Fla. "Those were innocent people."
Woodard said she and other African American students face a multitude of struggles.
"For him to say that, it sounds like he doesn't care," she said.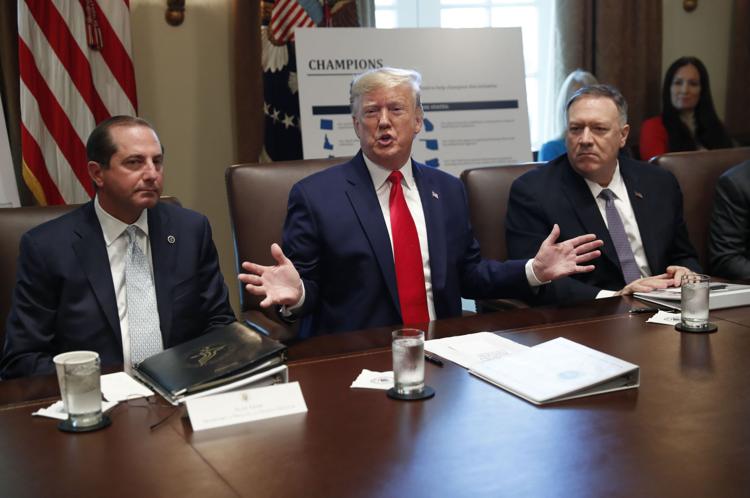 Brenda Murphy, president of the NAACP's SC State Conference, called Trump's comments "totally inappropriate," though she was not surprised given past things he's said. Ahead of visit to a HBCU, Murphy said Trump's "timing is not great."
Jackson still wants Trump to attend the forum at Benedict College.
"He needs to come, and he should come out for anti-lynching legislation," Jackson said, referring to a bill that would make lynching a federal crime.
The measure has been introduced in Congress nearly 200 times since an anti-lynching bill was first proposed by a black congressman.
The latest attempt was in 2018, when the Senate's three black members: Scott, a South Carolina Republican; and Democrats Harris of California and Booker of New Jersey. The measure passed in the U.S. Senate, but failed to get a vote in the House needed for passage.
Scott similarly urged the House to pass the bill Tuesday.
Jackson also encouraged Trump to visit the National Lynching Memorial in Montgomery, Ala., so that he can educate himself on the horrors that predominantly impacted blacks living in the South.
Jackson said he found Graham's response to Trump's tweet "shameless" and also called on Scott to speak out more forcefully.
"Trump shouldn't have done it, but Lindsey Graham shouldn't have justified it," Jackson said.
Caitlin Byrd and Jessica Holdman contributed to his report.