WASHINGTON — One of South Carolina's top Democratic consultants is taking on a new role as a state director for a group that is looking to build momentum for a potential Beto O'Rourke presidential campaign.
Tyler Jones, who helped Charleston Democrat Joe Cunningham pull off his upset victory in South Carolina's 1st Congressional District last year, told The Post and Courier that he views the former Texas congressman as the strongest Democratic contender to take on President Donald Trump in 2020.
"Beto has all the qualities of a candidate who can rewrite the map and win in places that we haven't won in decades," Jones said. "I just think he's our generation's Bobby Kennedy... There aren't many potential candidates that can inspire voters of all ages and races and ideologies, but Beto is certainly on the top of that list."
Few South Carolina Democratic operatives have signed up with prospective candidates yet, though that is expected to change in the coming months as the primary begins to take shape and the long list of hopefuls decides whether or not they actually want to run.
Phil Chambers, a former chief of staff at the South Carolina Democratic Party and an adviser on the James Smith for governor campaign, started working in November at a political action committee aligned with Los Angeles Mayor Eric Garcetti, who has also been considering a presidential bid.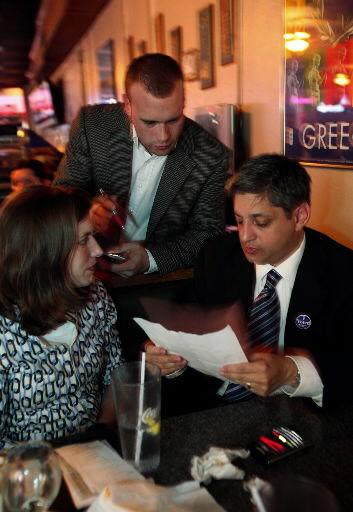 Formed in December, the "Draft Beto" group aims to raise $1 million in attempt to convince O'Rourke that he should launch a campaign and to build an early apparatus that would give him a head start if he does decide to run.
Once a relatively obscure congressman, O'Rourke, 46, became a nationally known figure during his Senate campaign in Texas against Republican U.S. Sen. Ted Cruz last year. Though he lost that race, the unusually close three-percent margin led some Democrats to view him as a strong national candidate and he has been near the top of several early polls.
After overseeing Cunningham's successful campaign, Jones was widely regarded as one of the most sought-after Democratic strategists in the state for what is expected to be a competitive presidential primary field.
Jones said none of the possible candidates moved him as much as O'Rourke, who he described as "the kind of leader you want to go to battle for."
"He represents that new generation of leadership that I think the country is so desperate for and that people like me are looking for," Jones said. "I think if he runs, he's our next president."
Jones runs a political communications and advocacy firm in Charleston called Speak Strategic, which he said would now be throwing its full weight behind the Draft Beto effort. 
In addition to previously leading the S.C. House Democratic Caucus, he has worked on two presidential campaigns in South Carolina before. He served as state director for former Maryland Gov. Martin O'Malley in 2016 and as a Lowcountry field director for former U.S. Sen. John Edwards in 2008.
Similar draft efforts in past election cycles, dating as far back as Dwight Eisenhower, have sought to encourage popular contenders to run, and several other draft groups have already popped up for potential 2020 prospects.