For Tim Scott, it all starts in North Charleston — his life, conservative beliefs, education, political career and, soon, a long-anticipated 2024 Republican presidential campaign.
Scott will formally launch his White House bid May 22 at Charleston Southern University, delivering the news in his hometown and college alma mater. He filed his official federal election declaration paperwork May 19.
He will then turn his attention to important early states, traveling to Iowa on May 24 and New Hampshire on May 25, to connect directly with voters in the days after his formal launch. 
With his forthcoming announcement, the 57-year-old will end months of speculation after publicly setting the stage for a presidential bid for more than a year by courting voters in crucial early primary states, publishing a memoir, raising tens of millions of dollars and testing his message in TV ads that aired far outside his home state. 
When Scott launched a presidential exploratory committee on April 12, it was the clearest indication that a White House run was in his future.
In recent speeches, Scott has also offered glimpses about why he wants to be president, pitching himself as the Republican remedy to grievance politics in America and blaming politicians on both sides of the aisle for hooking voters on what he calls "the drug of victimhood and the narcotic of despair."
Senior campaign staff contend that it is Scott's affable and authentic ability to connect how conservative policy impacted his own life — the messenger, along with his message — that will set him apart in a crowded GOP field.  
As a Black man from the Deep South, Scott's political affiliation set him on an unlikely, and sometimes lonely, path. But it also set him apart as "the lone Black Republican" — a caucus of one that thrust him into the national spotlight.
When nationwide protests erupted after the 2020 killing of George Floyd in Minneapolis, Scott became a singular but authoritative voice in his conference. He approached Senate Republican Leader Mitch McConnell to take the lead on his party's police reform bill. Scott's pitch? He was the only GOP senator with experience being racially profiled.
A career politician, most Americans know Scott as a sitting U.S. senator. Locally, he has been in public office since 1995, starting with his run for Charleston County Council.
He has made history almost every step of the way.
He is the only African American to serve in both chambers of Congress. He is the first Black Republican elected in South Carolina since 1902, the first Black Republican elected to the S.C. Statehouse in more than a century and the first Black Republican elected to Congress from the Deep South since Reconstruction.
Yet if his pattern continues, Scott will downplay the pairing of his racial identity and political affiliation. In his first race for County Council, Scott told The Post and Courier's editorial board that he identifies not as a Black Republican, but as "a Republican who happens to be Black."
An evangelical Christian who found Jesus during a Fellowship of Christian Athletes meeting in college, Scott frequently quotes Bible verses from memory. He joined Seacoast Church in Mount Pleasant in 1997, and attends services at the nondenominational Christian church at least 40 weeks out of the year as his schedule allows.
He believes people have control over their own destiny. He also holds that poverty is a temporary layover in life rather than an inescapable cycle as he embraced Republican mantras and backed conservative causes and candidates.
"Conservatism is my personal proof there is no ceiling in life," Scott told a crowd at the Ronald Reagan Presidential Library in California and later in a speech at Drake University in Des Moines, Iowa. "I can go as high as my character, my education and my perseverance will take me. I bear witness to that. I testify to that."
Scott also is a study in political paradox.
The state's junior senator routinely votes against Democratic judicial nominees, but he also tanked two of then-President Donald Trump's picks for the federal bench over their views and actions on race.
Scott, a single man who has never been married and has no children, champions conservative family values. He is a vocal advocate for school choice, though Scott is a product of Charleston County public schools. He later obtained his college degree from a private university affiliated with the South Carolina Baptist Convention.
Should Scott become president, he would be only the third bachelor ever elected to the office. (The first was James Buchanan; Grover Cleveland was a bachelor when elected, though he later married while in the White House.)
Scott views himself as an introvert yet relishes talking to audiences, especially students.
When recently speaking to grade-schoolers at Palmetto Christian Academy in Mount Pleasant, Scott showed off his colorful socks, told people how much he loves French fries and ice cream and explained how his faith would affect his presidency.
"It helps me understand some basic truths," Scott said. "I would try to use my faith to understand how to govern a society that doesn't always believe like me." 
A well-known fact: Former S.C. Gov. Nikki Haley appointed Scott to the U.S. Senate in 2012 after Jim DeMint resigned to lead the Heritage Foundation.
A lesser-known fact: A year after his appointment, Scott went undercover at a Goodwill to speak to random people. One woman thought he was there to do court-ordered time, not realizing he was a U.S. senator.
Scott considered becoming a preacher. Then, prayer led him into politics. He has also said he believes America was founded on Judeo-Christian values.
His pastor, the Rev. Greg Surratt, confirmed Scott had sought his counsel in recent weeks as he weighed his next political steps. In addition to his belief in God, Surratt said Scott is driven by a mission to deliver a message of hope and opportunity across America.
"There's a sense of humility about him that you don't see oftentimes, especially in national political figures. I hope he maintains that humility — and I believe that he will," Surratt told The Post and Courier.
Yet, to understand Scott's extraordinary political rise, you have to start on a dirt road where the student thought football was his only way out of poverty.
A broken home
Timothy Eugene Scott was born Sept. 19, 1965, in what today is North Charleston.
The war in Vietnam was escalating. The space race was well under way. President Lyndon Johnson had just signed the 1965 Voting Rights Act. The law removed barriers that had prevented Black Americans from exercising their right to vote.
His father, Ben Scott Sr., was in the Air Force. His mother, Frances Scott, was a nursing professional. On the day Scott was born, his father was in Thailand on military assignment.
The youngest of two boys, Scott's earliest years were spent in South Carolina. When he was 4, the family moved to the Midwest, living first on Scott Air Force Base in Illinois.
That's when the differences between Scott and his older brother, Ben Jr., began to emerge. Ben was focused and well-behaved. Tim was curious and mischievous.
His father's next assignment took them to Michigan's Upper Peninsula. The family was stationed at the since-shuttered Kincheloe Air Force Base.
The parents divorced; Scott was 7, Ben, 9.
Scott described the breakup in his memoir, set off by voices shouting and fists slamming into walls. He also remembers sitting on a couch, squeezing a football and staring into the green shag carpet. Ben Jr. sat beside him, tears in his eyes.
His mom packed their belongings into a lime-green, compact Plymouth Cricket. She and her two boys headed south.
"The image of my father watching us drive away is clear in my mind. He stood in the snow in his Army slacks and a white T-shirt. His eyes filled with rage," Scott wrote in his latest of three books.
Back in North Charleston, they would live with family in a drafty, 800-square-foot rental. The house off Meeting Street Road had two bedrooms. One for Scott's grandparents. The other housed Scott, his mother and brother.
Not only would they share a bedroom, the three would have to share a bed.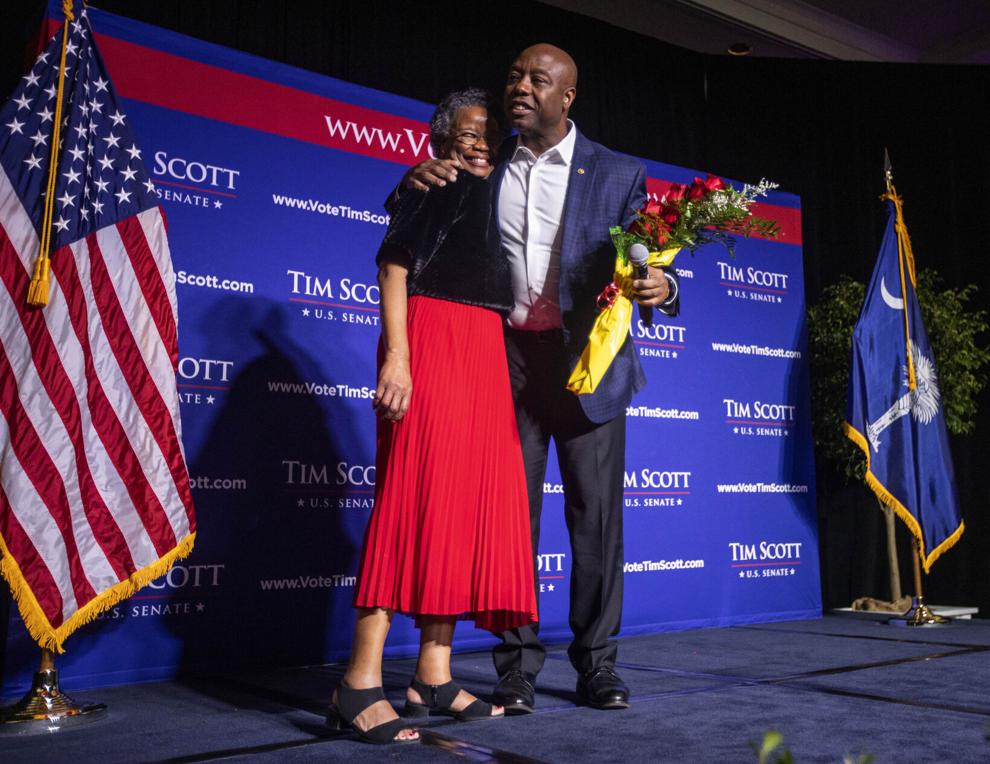 A mother's tough love
Scott saw football as the ticket to a better life. He idolized Tony Dorsett, loved the Dallas Cowboys running back. He dreamed of being selected in the NFL draft.
His coaches made him a tailback. If he became a professional athlete, Scott thought he could make enough money to buy his mother a house of her own. He imagined surprising her one day with a beautiful home with a garage and enough bedrooms for everyone who lived there.
A self-professed mama's boy, Scott calls his mother his American hero. She calls him "Timmy."
She got a job as a nurse's aide at St. Francis Bon Secours Hospital. She bathed and shaved patients, turning them over, feeding them, changing bedpans and caring for people — all for just above minimum wage. She worked 16-hour shifts.
Though they were poor, Scott did not want it to show. When he reached Stall High School, his buck teeth were so severe that kids called him "Teet." It embarrassed him. Still, his family could not afford braces. (When Scott was 19, he begged a local orthodontist for help. He got the braces he needed for $40 a month.)
Desperate to fit in, Scott thought a pair of Converse high tops would be the great equalizer.
His mother refused.
"You have to live within your means and be who you are," she told him. "You can't always fit in."
Frances Scott grew up during the 1950s in a segregated South Carolina. Her father, Artis Ware, left school in the third grade to pick cotton for 50 cents a day. Her mother, Louida, cleaned houses. Both would have a profound impact on Scott, especially his grandfather.
Scott often tells the story of seeing his grandfather flipping through a newspaper at the breakfast table each morning. It wasn't until years later that Scott discovered his grandfather couldn't read but was trying to set an example for his grandsons.
Frances Scott loved her sons but she was stern with them. When she was not home, they had to stay inside. She didn't want her sons getting into trouble on the streets. If they disobeyed her, they were swiftly punished, sometimes at the end of a small, thin tree branch known as a switch — "a Southern apparatus of encouragement, applied generously all over," is how the senator describes it presently.
"Society will say today that I am very strict, that I was very strict," Frances Scott said earlier this year. "But it worked. It worked. I didn't want to have my children go through what I went through. I wanted them to do better and to do more than I did."
The first hint of his future in politics came in the eighth grade when a teacher told him to stop talking in class and join the student council. He took the advice and won.
But by the end of his freshman year of high school, Scott was struggling. He found himself picking out another switch from the yard when he failed English, civics, Spanish and world geography. He had two options: Repeat the grade or retake the classes at summer school.
His mom told Scott failure was not an option. He was going to summer school, and he was going to get a job to pay for the $265 tuition and fees himself.
The wisdom of John Moniz
Scott was 15 when he met the man who changed the trajectory of his life.
It was the summer of 1980. Ronald Reagan won the GOP presidential nomination and Scott was working at the 700-seat Northwoods Mall movie theater in North Charleston, making popcorn and tearing tickets.
John Moniz owned a Chick-fil-A franchise in the same mall. He was 34, White and a happily married Christian father of three. He was also a Citadel graduate and Air Force veteran.
Each time Scott went into his restaurant, Moniz noticed the order was always the same: water and fries. When Moniz asked why he didn't order more food, Scott told him he couldn't afford it.
After that, Moniz began stopping by the movie theater, giving Scott free chicken sandwiches with a side of life lessons.
"I'm glad that he fed me hope," Scott said.
Moniz lent him cassette tapes by Zig Ziglar, the prolific motivational speaker whose positive messages included phrases like "There are no traffic jams on the extra mile" and "Building a better you is the first step to building a better America."
Moniz also instilled conservative principles that Scott readily absorbed and still shares on the stump today: "Having a job is great, but creating jobs is even better."
At the 2012 Republican National Convention in Tampa, Fla., Scott told the convention hall it was Moniz who taught him to "think my way out of poverty."
Though Scott still dreamed of being a professional football player, it was Moniz who taught him about financial literacy and encouraged Scott to consider entrepreneurship.
After he was elected mayor in a mock election at the American Legion's Boys State program in the summer of 1982, Scott set his sights on being elected governor among his peers.
While others laid out specific plans for their candidacies, Scott's pitch was simple. He recited "The Man Who Thinks He Can" by Walter Wintle. The short poem outlines in rhyme how a person's mindset is vital to their ability to achieve their goals, with lines like, "Success begins with a fellow's will; it's all in the state of mind."
Scott envisioned a big inspirational moment that would bring his fellow students to their feet. "I wasn't going to talk agenda or policy," Scott wrote in his second book. "I was going to shine a light, become a beacon of hope."
It was not a strong speech, but the optimism behind it was.
He went on to become class president at Stall High School and was voted "most dependable." Classmates signed his yearbook with predictions about his future like "Dear Governor."
In 1983, he attended Presbyterian College on a partial football scholarship but only lasted there a year. Football went by the wayside and around this time he contemplated going to seminary. Instead, he headed home to attend Charleston Southern University.
It's also when Scott began to think more seriously about what Moniz had told him about being an entrepreneur, or as Scott puts it in his speeches today, it's "great to have a paycheck but it's better to have a profit."
When Moniz died suddenly of a pulmonary embolism at the age of 37, Scott was 19 and devastated.
"The last four years of John's life became the first four years of my new life," Scott said.
In his grief, Scott wrote a poem to Moniz and tried to think of ways he could honor his memory, remembering Moniz had been guided by a credo of positively impacting the lives of 1 million people. The night before the funeral, Scott decided he would adopt his mentor's mission statement as his own — with one alteration.
Instead of positively impacting the lives of one million people, Scott challenged himself to positively impact the lives of one billion people.
While still in college, Scott became a salesman, going door to door selling doughnuts, vacuums and Amway. After he graduated from CSU in 1988 with a degree in political science, he got a job managing a men's clothing store. He went into insurance sales, became vice chairman of the Heritage Trust Federal Credit Union board and later started his own Allstate agency.
Then he dreamed of becoming vice president of the United States.
Why not president?
"I thought about that," Scott said in a 1995 interview with The Post and Courier. "But as vice president you get to speak more and have a forum to deliver messages." 
"I'm a very, very, very idealistic person," he continued. "I believe you still can make a difference. A man with a mission in politics, who sticks to that mission and stays grounded in the virtues of life, will make a tremendous impact on his community."
Scott's first political race
It all started in 1994 when Scott, 29, was no longer debating if he would run for office, but how. 
Should he run as a Democrat or a Republican? What about an independent? 
Scott searched for the answer in private conversations with elected officials and among close friends as he prepared to run for a vacant seat on Charleston County Council. Even though he'd briefly volunteered for future GOP congressman Mark Sanford, he started with the Democrats.
But when a Democratic state senator told him he would have to wait his turn, Scott took his talents elsewhere.
"Telling me I had a chance was all I needed," Scott recalled in his second book.
The next day, Scott tested his message at the Charleston County Republican Party's monthly meeting. Mark Hartley, county GOP chairman at the time, was there. He approached Scott after the meeting.
"We prayed he would make the right decision," Hartley said in a Feb. 27 interview with The Post and Courier. "And then, we asked the Lord to give him the strength to follow-through."
When word got out that a young, Black Republican was interested in running for an open seat on Charleston County Council, the leader of the state GOP requested a meeting. Scott agreed, and drove to Columbia.
Not only did the party promise to spend $5,000 on Scott's campaign — the maximum allowed under state law — it was the most the party had ever given to any candidate running for a county council seat.
"This is going to be just one more nail in the Democrats' coffin," state party Chairman Henry McMaster, now South Carolina governor, declared at a pro-Scott press conference.
Plus, if Scott won, he would be the first Black Republican to hold an elected office in South Carolina since Georgetown County school teacher John Bolts joined the state House of Representatives in 1902.
Scott won in a landslide over Democrat Floyd Craven, a code inspector for the city of North Charleston, by an 80 percent to 20 percent margin.
The win also helped quiet a long-simmering debate about local elections where Democrats argued Black candidates were struggling to get elected countywide. But Scott's overwhelming special election win against a White Democratic opponent gave Republicans reason to celebrate a rebuttal they hoped would end the push for single-member districts.
Big endorsements came from Republicans, including Gov. David Beasley; U.S. Rep. Arthur Ravenel Jr.; and Reuben Greenberg, Charleston's first Black police chief. A handwritten note of congratulations followed from U.S. Sen. Strom Thurmond, the South Carolina Republican who had run for president on a pro-segregation Dixiecrat platform in 1948. 
In his campaign, Scott highlighted his fiscal conservative beliefs, telling voters he favored zero-based budgeting where the county would have to justify every dollar it spent.
He also talked about the need to create tax incentive packages as a way to generate jobs in the wake of the federal government's plans to close the Charleston Navy Base.
Trey Walker, the-then executive director of the S.C. Republican Party and now McMaster's chief of staff, declared in a letter to the editor: "Tim Scott is part of a new generation of young dynamic conservatives seeking office as Republicans."
Eighteen days after his election, Scott hosted a press conference for former United Nations Ambassador Alan Keyes, a Black Republican and perennial candidate who sought the GOP presidential nomination in 1996, 2000 and 2008. Four months after that, Scott accepted a leading role recruiting minority supporters for presidential candidate Bob Dole's campaign in South Carolina. And nine months after his win, Scott became a statewide co-chairman for Thurmond's re-election bid.
Asked how he could support a segregationist, Scott said his answer came down to redemption.
He insisted that Thurmond's views on race had evolved and told The New York Times, "The Strom Thurmond I knew had nothing to do with that."
Less than six months into his first term on Charleston County Council, Scott was already eyeing his next political opportunity.
He'd make it official the following January, with less than 11 months of political experience to his name.  
1996, a losing year
The race for a seat in the South Carolina Senate promised to be a duel between two of the area's more visible elected Black officials: Tim Scott, the young Republican in a hurry, and Democrat Robert Ford. 
The district was 60 percent Black and voted heavily for Democrat Bill Clinton in the 1992 presidential election. And Ford was a familiar name. He was elected after some 18 years serving on Charleston City Council.
None of this deterred the 30-year-old Scott as he announced his candidacy on Martin Luther King Jr.'s birthday. 
From his less than one year of experience on Charleston County Council, Scott said the job "has given me some insight about what it takes to be a good legislator." 
But Scott didn't live in the district at the time. He had to move out of his apartment and into another one four miles away to establish the residency required to run.
Scott thought he had a winning strategy. He stressed the need for jobs and education, and pledged to stay away from inflammatory rhetoric. When he announced his bid, Scott said Ford had won the seat in the first place because "the district has a lot of poor people. Robert's been able to take advantage of that."
When Newt Gingrich found out, the former speaker of the House directed his political action committee to send Scott $500 for his state Senate bid.
More campaign dollars poured in for Scott, yet he struggled to connect with voters in the majority-Black district.
Hartley, the former Charleston GOP chair, joined Scott for a day of campaigning at Joseph Floyd Manor, a public housing complex in Charleston's upper peninsula. Hartley sighed as he recalled that day on the trail.
"He tried to talk to those people and they just wouldn't listen. They wouldn't give him the time of day," Hartley said. "It was so painful for him to have to campaign over there."
Though Scott knew what it was like to live paycheck to paycheck, his message did not resonate with the very voters he thought would be receptive.
Scott kept trying. 
He challenged Ford to a debate. Ford dismissed him.
Scott knocked on more than 3,000 doors and ran into old friends and former classmates from Stall High School. He attended different area churches in the district on Sundays.
He also began airing a 30-second ad on TV and radio about how he came from a broken home and became a vice president of a local insurance agency. It played during Sunday church shows and the local news, as well as on cable and during popular syndicated shows that featured Black icons at the time like "Oprah" and "The Cosby Show."
Scott also said it was time for the Confederate battle flag to come down off the S.C. Statehouse dome, and suggested the banner should be displayed somewhere else on the Statehouse grounds or in a museum.
"Basically, my vision is one that restores hope, that creates unity, and is founded on the concept of economic empowerment," Scott said.
Despite raising more than $44,000 for the race and outspending Ford more than 2-to-1, Scott lost. It was one of the first races called that night. Ford won 65 percent of the vote to Scott's 35 percent. 
It remains the only loss in Scott's 28-year political career. 
A few weeks later, Scott was back running for a vacant seat on Charleston County Council. He would serve on the local body for 13 years, voting down tax increases and building a reputation as an affable collaborator.
In 1997, Scott nailed the Ten Commandments to the wall in the foyer outside council chambers. The plaque was about the size of a sheet of notebook paper, but Scott's decision to hang it up in a government building would become a years-long saga.
Scott argued the Biblical text would remind people of moral absolutes they should follow. A lawsuit followed instead.
A judge said the action was unconstitutional. Religion may be acknowledged and accommodated by government, but may not be promoted, Circuit Judge Markley Dennis said.
The legal back-and-forth would cost the county more than $39,000, which would be just shy of $73,000 in today's dollars.
Despite his disdain for wasteful government spending, Scott insisted it was money well spent.
"If I had to do it all over again, I would," Scott said at the time. "It's a disgrace to our country that we don't have the ability or the honor of hanging the Ten Commandments in public buildings. The Ten Commandments is part of the fabric of our country."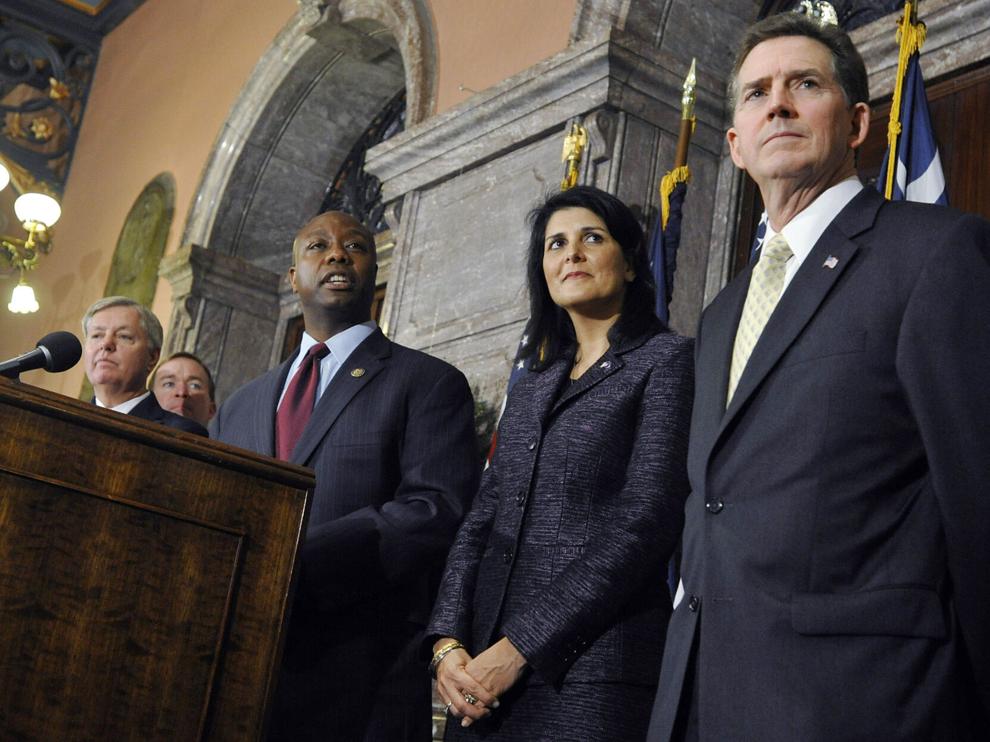 Elected to Congress
In the span of three years starting in 2007, Tim Scott weighed or launched bids for five different offices: He tried to get appointed state treasurer, was asked by Republican leaders to consider a run for state superintendent of education, won a seat in the state House in 2008 and announced a bid for lieutenant governor.
Meanwhile, the anti-establishment Tea Party movement was taking hold of the Republican Party.
Armed with homemade signs, the revolt was not just a response to Democratic President Barack Obama and the Affordable Care Act. They were also railing against the GOP establishment. 
After Republican U.S. Rep. Henry Brown of Hanahan announced he was not running for reelection to South Carolina's coastal 1st Congressional District, Scott's phone lit up. One month later, Scott stopped his run for lieutenant governor and entered the U.S. House race that launched him into the national spotlight.
The GOP primary drew nine contenders, and Scott faced intense competition for the party's nomination. Two candidates were Republican political royalty with powerful names in South Carolina politics: Carroll Campbell III, the son of the former governor, and Paul Thurmond, the youngest son of Strom Thurmond.
Campbell issued a statement shortly after Scott announced his bid, dinging him for "abandoning what appears to be a failed campaign for lieutenant governor."
"Mr. Scott is just another politician in a string, all scrambling over one another to get into a campaign I have been in for nearly a year," Campbell said.
Scott raised almost $300,000 for his lieutenant governor race — at the time, South Carolina's governors and lieutenant governors were elected separately; gubernatorial nominees began picking their running mates in 2018 and now run as a joint ticket —and could not transfer that war chest to a federal campaign.
He would have to start from scratch and he leaned heavily on themes that would resonate with fiscal conservatives and Tea Party types.
He claimed he never voted for a tax increase during his 15 years in office. During a candidate forum on Pawleys Island, he decried Obamacare as unconstitutional and pledged to repeal it. He opposed earmarks and favored stricter border security.
"If we can send a man to the moon, we can build a fence," Scott said.
Scott won endorsements and campaign contributions from high-profile Republicans, like House Minority Whip Eric Cantor as well as Kevin McCarthy, who was then the National Republican Congressional Committee recruiting chairman and is now Speaker of the House.
He also received support from Gingrich and former Arkansas Gov. Mike Huckabee.
At the time, the GOP was eager to elect its first Black congressman since Oklahoma's J.C. Watts left office in 2003.
Scott emerged as the front-runner in the crowded primary, winning 47 percent of the vote. But he was just shy of the 50 percent needed to avoid a runoff. Thurmond took second.
There were few policy differences between them, but there were two points of contrast: Where Scott promised to serve no more than four terms and pledged to repeal earmarks, even if it would benefit his own district, Thurmond was reluctant to do the same.
Days before the primary runoff, Scott scored a major endorsement from Alaska's then-Gov. Sarah Palin, a Tea Party darling.
In the head-to-head contest, Scott defeated Thurmond 68 percent to 32 percent. In the general election, he easily beat perennial Democratic candidate Ben Frasier, a retired federal worker, with 66 percent of the vote.
The day after his win, Scott said he wanted a role in House leadership.
"I see myself more from a visionary perspective than I would a management perspective," Scott said, adding that his strength is in "casting the vision."  
Along with then-U.S. Rep. Kristi Noem of South Dakota, now the governor of South Dakota, Scott was chosen as one of two freshmen class liaisons to House leadership. 
Though he joined the S.C. Legislative Black Caucus when he was in the S.C. Statehouse, Scott declined an invitation to join the Congressional Black Caucus when he arrived in Washington, D.C., telling them, "My campaign was never about race."
He would also quickly stake out a strong anti-union position. One of his first bills sought to make the families of striking workers ineligible for food stamps. He also questioned the legitimacy of the National Labor Relations Board.
He joined the now-defunct Tea Party caucus, and pushed for multiple balanced-budget initiatives. He refused to support a 2011 bill to raise the federal debt limit, and in 2012 was one of 28 freshmen to vote against a leadership-backed bill to keep the government running.
Where other rebellious Republicans were seen as a thorn in leadership's side, Scott managed to become a favorite. He was given a seat on the influential Rules Committee, and when he turned 46, House Speaker John Boehner and Majority Leader Eric Cantor attended his birthday party.
"He always felt the government's role was to focus on equal opportunity, not equal outcomes," Cantor told The Post and Courier in an Aug. 15, 2022, interview. "He would be transparent about it — and determined — in why he had to take the positions he did, even when it was not the position that we in leadership wanted him to take."
The rookie lawmaker seized his new megaphone, and began hosting presidential forums in his home state. Called "Tim's Town Halls," the event became an essential stop for GOP presidential hopefuls, with seven of the eight major 2012 Republican candidates participating.
At the 2012 South Carolina Tea Party Convention, Scott continued to affirm his conservative bonafides when he declared, "The greatest minority under assault today are Christians. No doubt about it."
It would come the same year that his career in the U.S. House of Representatives ended.
In December 2012, Republican U.S. Sen. Jim DeMint announced he would resign from office to lead the conservative think-tank the Heritage Foundation. Under South Carolina law, the vacancy of a U.S. Senate seat is decided by the governor, which in this case was Nikki Haley, the state's first female and first minority in the Governor's Mansion as an Indian American.  
Haley had options, narrowing her list to five finalists, which included Jenny Sanford, ex-wife of former Gov. Mark Sanford, and U.S. Rep. Trey Gowdy, a popular Upstate congressman and one of Scott's closest friends.  
She picked Scott.
At her announcement press conference, Haley repeated four times that Scott had "earned this seat."
"The one thing that the Republican Party needs to understand is that the answer to winning elections is it's never about the messenger," Haley said. "It's never about what the messenger looks like, it is about the message."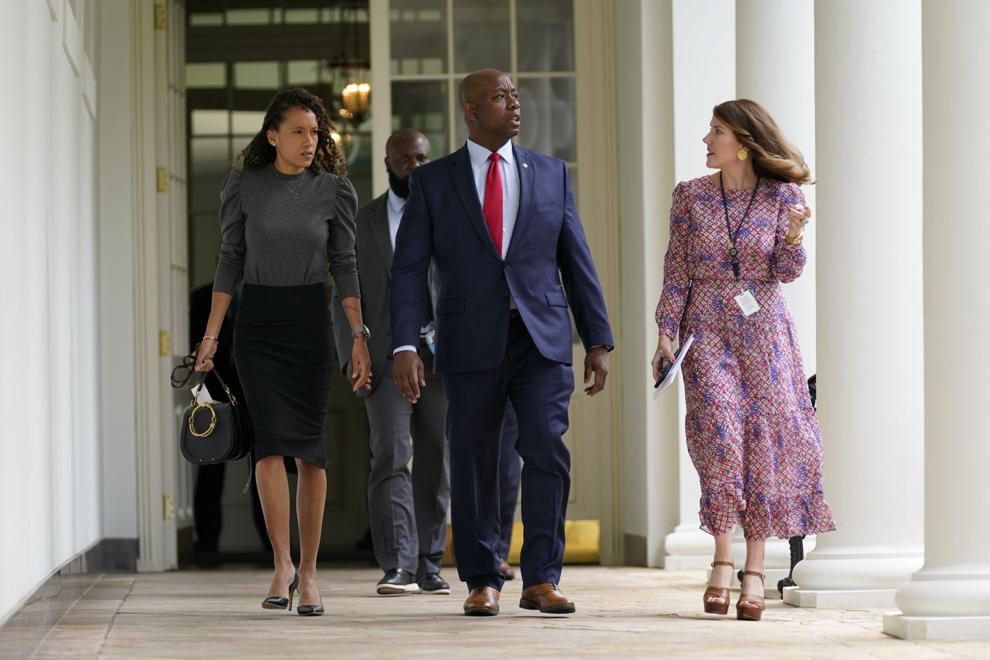 Policing, opportunity and a pardon
Scott's focus in the Senate is almost the polar opposite of the state's senior U.S. Sen. Lindsey Graham.
Where Graham gravitated to foreign policy — traveling the world, visiting war zones, and meeting with foreign allies and adversaries —  Scott zeroed in on domestic and economic issues.
One of Scott's first bills as a senator was a resolution urging American employers to voluntarily recruit and interview minorities for top jobs, an idea inspired by the NFL's Rooney Rule effort to increase the number of Black head coaches.
But he soon turned his focus to police reform, one of Scott's two signature issues in the Senate. Only one would be successful. 
On April 4, 2015, in Scott's hometown of North Charleston, a Black motorist named Walter Scott (no relation) died after he was pulled over for a broken brake light. A bystander's cellphone video captured the full truth: Walter Scott was gunned down, shot in the back five times by a White police officer as he tried to run away.
After he watched the video, Scott wept. He also reached out to Ed Bryant, his former neighbor and the president of the North Charleston NAACP at the time.
"What is going on in North Charleston?" Scott asked.
"Man, you know what's going on," Bryant replied. "Same thing that's always been going on."
Scott, who rarely delivers prepared remarks on the Senate floor, would give three planned speeches in 2016 about policing and race in America. In the second one, he spoke about his personal interactions with law enforcement as a Black man. 
"I have felt the pressure applied by the scales of justice when they are slanted. I have felt the anger, the frustration, the sadness and the humiliation that comes from feeling that you are being targeted for nothing more than being just yourself," Scott said.
Two months after the Walter Scott shooting, he introduced a bill to provide $100 million in federal grants to help pay for police body cameras. The same year, he also introduced the Walter Scott Notification Act, a bill that would withhold federal money from states that fail to maintain data on officer-involved shootings.
In 2020, Scott added George Floyd's name to the legislation and began leading his party's most ambitious policing proposal in years. 
But Democrats pushed back on Scott's Justice Act. They wanted sweeping mandates. No more qualified immunity for police, no more chokeholds and no more no-knock warrants in federal drug cases. Sticks, not carrots.
The 106-page Republican bill offered by Scott focused on incentives. Carrots, not sticks. And getting rid of qualified immunity for police was a non-starter on the GOP side. 
"If you don't think we're right, make it better. Don't walk away," Scott said before a vote on the effort.
When the legislation died, Scott tore into Democrats in an unscripted 33-minute, 51-second speech.
"The actual problem is not what is being offered, it is who is offering it," a frustrated Scott said.
He later added in the same remarks, "This is an issue for every poor kid growing up in every poor neighborhood in this nation who feels like when I leave my home for a jog, I might not come back."
Scott would find success with another legislative effort: Opportunity Zones. His signature program is a massive incentive designed to encourage investment in some of the nation's poorest neighborhoods.
The idea is to enable private investors to reinvest their profits into businesses that are located in poorer parts of the country that are generally starved from outside investment, like the neighborhood where Scott grew up in North Charleston.
Though the legislation attracted bipartisan support from Democratic U.S. Sen. Cory Booker of New Jersey and others, Scott's proposal languished in Congress for nearly two years.
Then Charlottesville, Va., happened. At the time, it was the largest mass demonstration of white supremacists and Neo-Nazis in recent history.
In response to the deadly Unite the Right rally, Trump said there were "fine people" on both sides. Scott said the president's ambiguous response blaming both sides had compromised his "moral authority" and counseled the president in a one-on-one Oval Office meeting.
When Trump asked Scott what he could do to help, Scott had an answer.
He walked out with the president's full support for his Opportunity Zones legislation. It was included in the 2017 GOP overhaul of the tax code and signed into law by Trump.
But more often than not, as the only Black Republican in the upper chamber, Scott became his party's go-to arbitrator on race relations during the Trump administration.
Scott expressed disappointment in 2018 after Trump referred to Haiti and African nations as "shithole countries" during a bipartisan White House meeting to discuss immigration. 
In 2019, when Trump said four progressive Democratic congresswomen of color should "go back" to their countries, Scott was one of a few Republicans who condemned the president. 
And in 2020 when Trump tweeted a video of one of his supporters chanting "white power," Scott told CNN's State of the Union, "I think it's indefensible." 
He also tanked two of Trump's judicial nominees: Ryan Bounds, whose college writings railed against "race-focused groups" on campus and "race-think;" and Thomas Farr, a lawyer who supported efforts to disenfranchise Black voters.
Despite Scott's occasional admonishment of Trump, Scott never faced the president's public wrath.
In the waning days of the Trump presidency, Scott managed to secure a presidential pardon for his cousin, Otis Gordon, who was convicted in a cocaine distribution case in 1991. Scott did not acknowledge or announce his personal ties, but Scott's office said the White House knew about the family connection.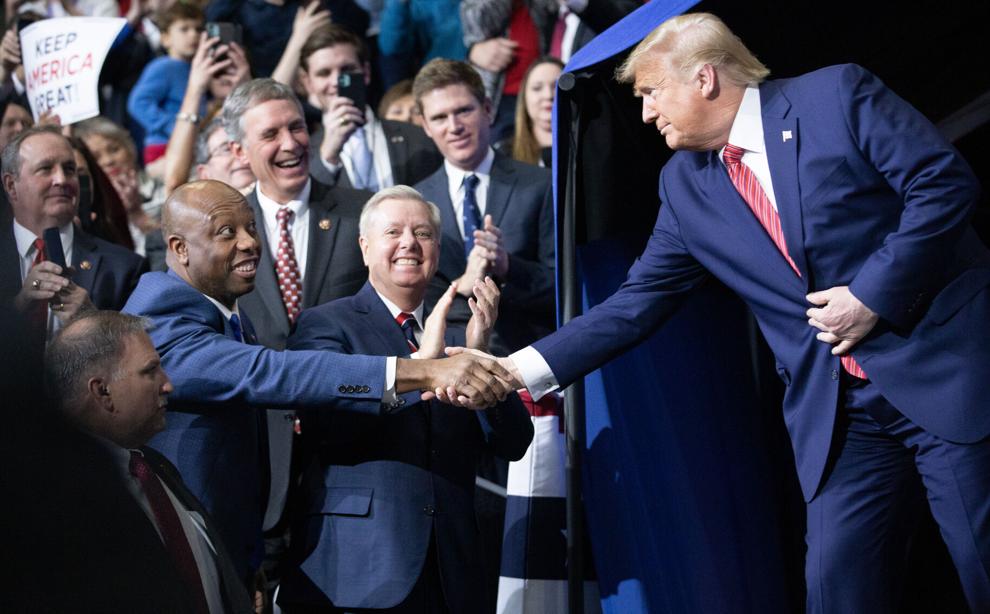 Challenges ahead
To distinguish himself from the current cast of Republican White House contenders, Scott is offering a uniquely unifying message that is almost Reaganesque in its approach.
Where Ronald Reagan had a vision in 1984 of "Morning in America," Scott is pitching 2024 voters on "a new American sunrise."
Scott's first — and perhaps greatest — challenge will be making the case that Republican primary voters aren't just tired of the us-versus-them rhetoric, but that they are hungry for the optimistic vision Scott is selling, which includes him calling the GOP "the great opportunity party."
Already speculation is swirling about whether Scott's bid is a serious run for the White House or a national audition for another role.
Scott's own comments have done little to tamp down the theory. 
While on his national "Faith in America" listening tour, Scott struggled to answer basic questions about how his policy positions would differ from Trump if he made a run at the GOP presidential nomination.
"Probably not very many at all," Scott told Sean Hannity on Fox News, adding, "I'm so thankful that we had President Trump in office."
Asked on "Fox News Sunday" how he would be different or better than other 2024 candidates, including Trump, Scott cited the work he did to overhaul America's tax code — legislation that is commonly referred to as the 2017 Trump tax cuts.
A strong orator who often abandons podiums in favor of working the room, Scott has been honing his one-liners that often contain parallel constructions like when he says, "We need ABCs not CRT in our schools."
In an appeal that could work for Christians, as well as voters who are tired of hearing about systemic racism in America, Scott has started asking, "Do we want to have more people kneeling in protest or kneeling in prayer? The answer is simple: Let us pray to the Lord."
Scott, who spent more time stumping for other Republicans during his own 2022 reelection bid, enters the race as a formidable fundraiser who will be able to quickly tap into those financial resources. 
Scott raised more than $51 million for his 2022 campaign, which he has said would be his last Senate race. He enters the 2024 presidential race with about $22 million cash on hand, a staggering starting point that gives his campaign the buying power to go up on TV from the day he announces his campaign until the day Iowa voters caucus if they wanted.
And that total does not include the more than $35 million raised by a pro-Scott super PAC that finished the year with more than $13 million in the bank. And all of that leftover campaign cash could be transferred to his presidential campaign.
The super PAC affiliated with Scott, the Opportunity Matters Fund, has drawn support from major conservative donors like tech billionaire Larry Ellison, who gave the group more than $30 million. Other big-time GOP megadonors include Ken Griffin, CEO of Citadel, a hedge fund; and Koch Industries.
He also has the financial backing of Ben Navarro, a Charleston-based businessman and philanthropist, who has donated more than $3.2 million to Scott's PAC.
The same PAC also bankrolled TV ads in the 2022 election cycle. Though the messages were in support of other candidates running for other federal offices, the ads prominently featured Scott making a straight-to-camera pitch. The spots put Scott, his message and his name in states that could be crucial for a GOP presidential primary victory, giving him a potential jump-start in places like Georgia, Iowa, Michigan, Nevada and North Carolina.
But Scott will face some challenges.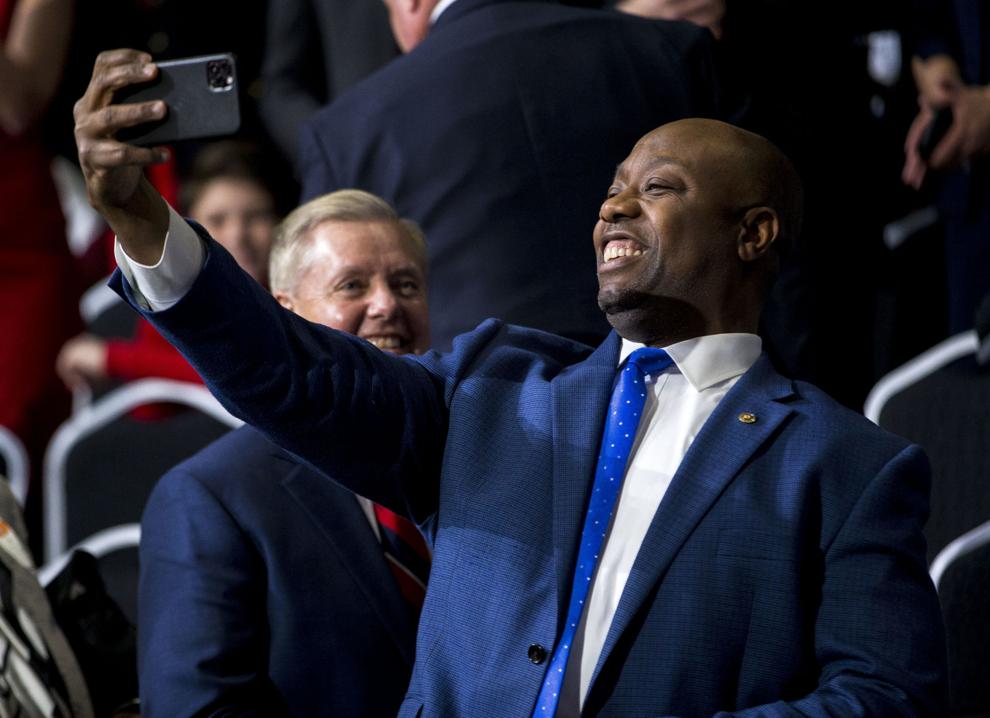 He stumbled early with an alarmist fundraising email that falsely told supporters "Your heat will be turned off." The December 2022 message, first reported by HuffPost, claimed to be an "emergency notice" but instead was an attempt to raise money for the Scott campaign by taking aim at rising gas and oil prices under the Biden administration.
In the days after launching his presidential exploratory committee in April, the senator struggled to give a consistent answer on abortion as he traveled to the three early states that weigh in first in the presidential contest. Scott has since clarified that he would support a federal ban at 20 weeks, adding that he was comfortable with 15 weeks as "an appropriate federal backstop." 
If elected president, Scott promised to sign "the most pro-life piece of legislation that can pass through both houses of Congress."
Scott has not had a difficult political race since his 2010 Republican primary race for Congress, a contest held in a pre-Trump era. He also does not have significant foreign policy experience, which could be a weak spot when running to be the nation's next commander-in-chief.  
Scott's past comments about the former president are also expected to come under more scrutiny now that he is offering himself as a GOP presidential candidate and, by proxy, as an alternative to Trump. 
After the FBI searched Trump's Mar-a-Lago home in Florida last summer, Scott said he was shocked but he also cautioned against rushing to judgment. 
"We need to let this play out and see exactly what happens," Scott said in a CBS News interview on Aug. 9. "But we should have been stunned and surprised and shocked with what happened yesterday."
His reaction would stand alone, drawing criticism from far-right members like Florida U.S. Rep. Matt Gaetz. 
Three days later, Scott recalibrated his response when he appeared on Fox News.
"Sean, this is absurd," Scott told Hannity on Aug. 12. "Think about it. This has been a witch hunt for six years. Think about the Steele dossier, the Russia collusion, two failed impeachment attempts and even more. I can't imagine how anyone in our country doesn't look at this with eyes of suspicion."
Like Haley, Scott also initially pledged to support Trump if he ran for reelection in 2024, saying "of course" he would support a Trump run when asked during the S.C. GOP's "First In The South Republican Action Conference" in October 2021.
In addition to navigating his relationship with Trump, Scott's entrance into the race sets him on a potential collision course with Haley, who held all the cards in appointing him to the U.S. Senate.
Both are pitching hopeful messages and relying on personal up-from-your-bootstraps stories to explain everything from race relations in America to their own underdog status in the race. Complicating it further, both are incredibly popular GOP figures in the Palmetto State.
If South Carolina voters are forced to choose between them, it could erase any home-field advantage Haley or Scott had in the early state. And more candidates could be joining Scott, Trump, Haley, former Arkansas Gov. Asa Hutchinson and entrepreneur Vivek Ramaswamy on the campaign trail, like Florida Gov. Ron DeSantis, former Vice President Mike Pence and New Hampshire Gov. Chris Sununu.
The Trump campaign reacted to Scott's entry into the race by first taking a shot at DeSantis and then listing Scott as among those in the battle for second place. 
In February, Scott previewed his presidential message at Drake University in Iowa. But the ending sounded less like a stump speech and more like a sermon. 
"I see a future where common sense has rebuilt common ground, where we've created real unity — not by compromising our conservatism — but by winning converts to our conservatism, where our movement can once again carry 49 states and the popular vote," Scott said.
"Will you join me as a messenger of hope? A missionary for the power of our ideas?" Scott asked.
It will be up to voters mostly outside of South Carolina to decide.