Now that he's formally entered the race, former Vice President Joe Biden widened his lead in South Carolina among 2020 Democratic presidential candidates, according to a new poll.
Biden is preferred by 46 percent of likely S.C. Democratic primary voters, up 14 points from a month ago, according to a Post and Courier-Change Research Poll released Sunday.
Biden's post-announcement bump in South Carolina is higher than in other parts of the country, pollsters said. 
Vermont Sen. Bernie Sanders sits second at 15 percent, with California Sen. Kamala Harris following at 10 percent. Their numbers have held steady in three S.C. polls taken since February.
South Bend, Ind., Mayor Peter Buttigieg continued his surprising rise, landing fourth, at 8 percent in a tie with Massachusetts Sen. Elizabeth Warren. Buttigieg did not register with voters in the first S.C. poll taken nearly three months ago. 
The next two candidates, New Jersey Sen. Cory Booker and former Texas congressman Beto O'Rourke, took big hits this month in the crucial early-primary state.
Booker, one of the most frequent visitors to South Carolina, saw his support cut in half, to 4 percent.
O'Rourke, who drew large crowds in his first swing in South Carolina, sits at 2 percent, tied with entrepreneur Andrew Yang — down 7 points from a month ago. Their numbers also have dipped nationally, Change Research pollsters said.
Meanwhile, excitement in South Carolina about a possible run by former Georgia House Minority Leader Stacey Abrams has cooled off. Support for Abrams, who ran in a hotly contested governor's race last year, slid to 1 percent from 7 percent in April despite her not ruling out a presidential bid.
The latest Post and Courier-Change Research Poll surveyed 595 likely S.C. Democratic primary voters online from May 6-9 and has a margin of error of plus or minus 4 percent. 
Biden remains the dominant candidate in South Carolina, a state where the former senator has developed deep ties. He delivered eulogies at funerals for S.C. Sens. Strom Thurmond and Fritz Hollings and often vacations near Charleston.
"He's always been popular in South Carolina and always maintained good relationships here, so people were really excited about him getting in," said Kenneth Glover, chairman of the Orangeburg County Democratic Party.
It also doesn't hurt that Biden has a reputation as a moderate in a state where Democrats can run more conservative than other parts of the country, Furman University political scientist Danielle Vinson said.
"He's not in the scary wing of the party," she said.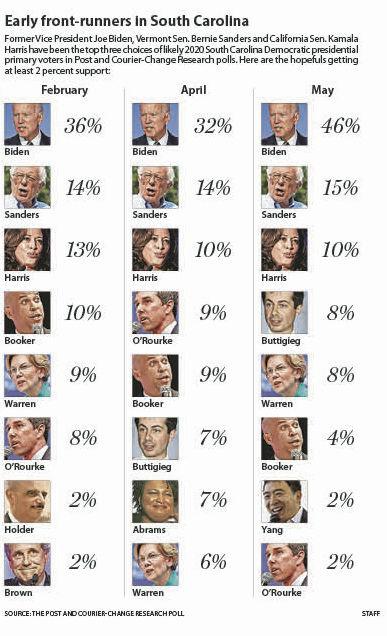 The latest poll shows Biden leads the field among men and women and in all regions of the state. He also is tops among black voters, who account for close to two-thirds of Democratic primary voters in South Carolina.
His only weak spot is among younger voters ages 18-34. They prefer Sanders, whose progressive stances on health care and economic reform appeal to millennials.
Biden, who entered the race April 25, also is seen as the most likely candidate to do the one thing many Democratic voters want most — beat Republican Donald Trump.
Nearly nine out of 10 of those polled believe Biden has the best chance to topple Trump. Sanders was the only other candidate to win support from a majority of those polled. Harris and Warren were each considered potential Trump-beaters by about one-third of voters.
"Voters figure, 'We know a white man can win the presidency,' " Vinson said. "Biden seems to be the safe choice."
That belief apparently hurts candidates such as Harris and Warren, who are trying to become the first female president and have impressed voters who have come out to their events.
Biden remains the smartest, toughest and most likable candidate with the highest name recognition and largest favorability, according to the poll.
That's a powerful combination opponents will need to chip away over the next 42 weeks. But a national politician with nearly five decades of experience has an advantage in a field that has grown past 20 candidates. 
"There's so many of them, it's hard to stick out," Vinson said.
In Orangeburg County, one of the state's largest Democratic strongholds, Glover said he's beginning to hear more chatter about Warren, who has been trying to make inroads in the state. She rose slightly from the last S.C. poll. 
Booker also continues to work hard in the county, Glover said. He delivered the commencement address at South Carolina State University on Friday and opened a campaign office Saturday.
"It's getting busy," Glover said.