COLUMBIA — Former Gov. and U.S. Sen. Ernest F. "Fritz" Hollings was remembered Monday as a statesman who guided South Carolina through turbulent times and on a path to economic prosperity.
"He was the most consequential political figure of his generation," said Trip King of Columbia, Hollings' state director for three decades.
"He took South Carolina from an agricultural state to the booming economy we have today," King said. "He laid the foundation."
King was among a few hundred people who came to the Statehouse to pay tribute to Hollings, whose body lay in repose in a casket draped by the American flag. 
The former Democratic lawmaker, revered by generations of South Carolinians, died April 6 at age 97 at his Isle of Palms home.
"What a wonderful South Carolina leader he was during my lifetime," said former Gov. Dick Riley, a fellow Democrat who remembers calling on Hollings for help during his tenure as governor and later as U.S. education secretary.
"He was a very colorful guy, and everybody misses him," Riley said. "They like that Charleston brogue; he had a great personality, and everybody misses that, and I miss that myself."
Riley called Hollings "the best deliberator in the Senate."
When Hollings retired from Washington, D.C., in 2005, he was the eighth-longest serving senator in U.S. history. 
Hollings kept winning his elections, despite South Carolina's shift to the Republican Party, by magnetic personality and "dogged pursuit of whatever he was doing," said his first press secretary, Lee Ruef of Columbia, who began working for Hollings during his 1966 campaign.
Ruef recalled Hollings writing out his own speeches and constituent newsletters — some of which were on display.  
Hollings, a Citadel graduate and World War II veteran, was elected to the Senate as the Vietnam War escalated, and retired amid the wars in Iraq and Afghanistan. 
Among his many accomplishments, Hollings was credited with the creation of the National Oceanic and Atmospheric Administration, toughening port security and, in his last term, setting up airport security after the 9/11 terror attacks.
He also helped develop some of the nation's most important environmental regulations.
During his term-limited tenure as governor from 1959 to 1963, Hollings oversaw the peaceful integration of Clemson University and set the tone for desegregating public schools in South Carolina without the violent backlash seen elsewhere in the South.
Hollings also created the state's multi-county technical school system to train workers for jobs beyond the farm and textile mills and traveled overseas to recruit jobs.
"He was a politician, a public servant for the future," said Mike Fernandez of Sumter, Hollings' press secretary from 1980 to 1987, which included Hollings' stint as Senate budget chairman and his brief run for president in 1984.
"He did a lot of amazing things. The most amazing thing to me is the trust he put in me," said Fernandez, hired when he was just 23. "He made it fun. He made it feel like not only were we engaged in something important but that government" could help people.   
Over his 38 years in the Senate, Hollings never stopped working to improve the lives of South Carolinians, and the lifelong Democrat worked with politicians of both parties to make things happen, King said.
When then-Gov. Carroll A. Campbell Jr., a Republican, called Hollings for help recruiting BMW to South Carolina in the early '90s, the governor-turned-senator responded, "Whatever you need, governor."
It was Hollings who helped secure $40 million for improvements to the Greenville-Spartanburg airport as part of the deal, King said.  
Former Sumter District 2 Superintendent Elijah McCants said Hollings secured $1.5 million through the federal budget in the mid-1980s to help his school district, which included Shaw Air Force Base, close a deficit. That was decades before Sumter County consolidated into a single school district. 
"We had a little economic crisis," McCants said, recalling his visit with Hollings in Washington and how the senator seemed to listen intently. "I was always enthralled with his conversation."  
Hollings' casket arrived shortly before 10 a.m. and was taken to the Statehouse lobby between the House and Senate chambers, where his portrait was flanked by American and Palmetto State flags and sprays of white roses, calla lilies and carnations.  
His family, Gov. Henry McMaster and legislators of both parties filed past before the doors were open to visitors for the day-long remembrance time.
Photos and mementos of Hollings' decades in public service were on display on the first floor of the Statehouse and beside the casket for people to view. They were part of the personal archives that Hollings gave to the University of South Carolina.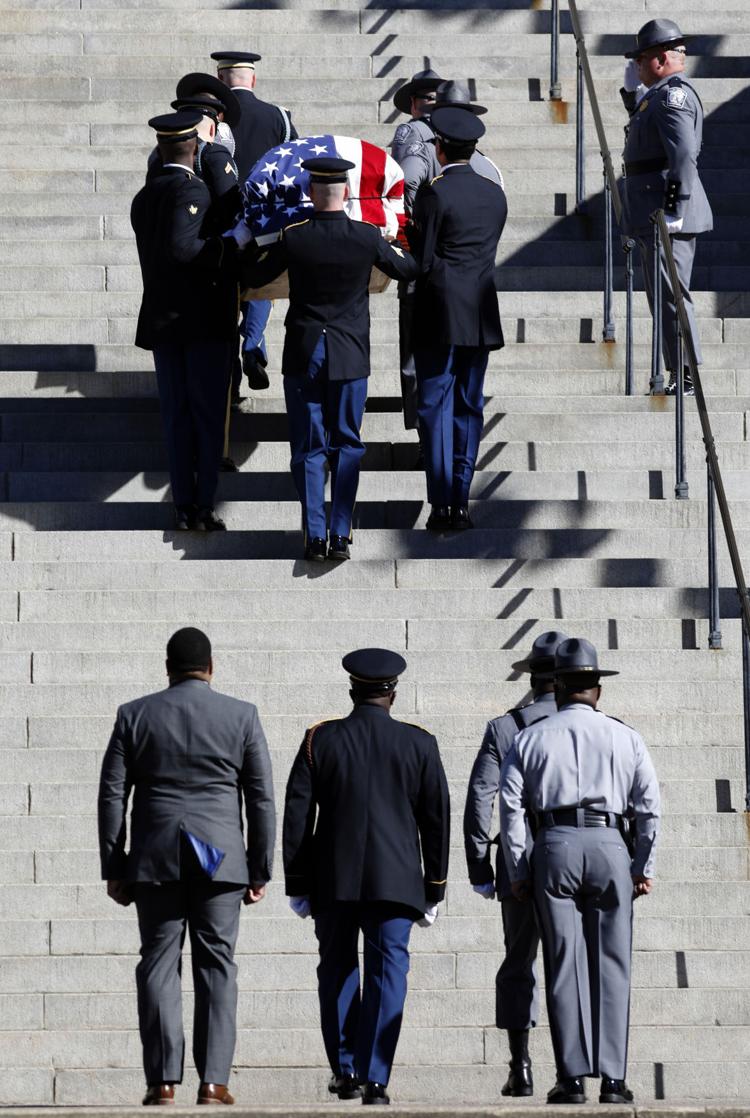 Hank Stallworth of St. Matthews was among the first to arrive. 
"I've admired him for a long, long time," said Stallworth, who worked as an intern for Hollings in Washington during the summer of 1976. "He's a gentleman and a scholar of politics, but first and foremost a South Carolinian."  
Hollings' funeral is set for 11 a.m. Tuesday at The Citadel's Summerall Chapel. The eulogists are former Vice President Joe Biden, McMaster and U.S. Rep. Jim Clyburn, D-S.C. A private burial will follow. 
The funeral service will be carried live on SCETV starting at 10:30 a.m.