COLUMBIA — South Carolina lawmakers have received a barrage of form emails from constituents in recent days urging them to avoid passing laws they say could kill a proposed sale of SCANA Corp. to Dominion Energy. 
There's just one problem: Some of the people who supposedly sent the emails say they were impersonated.
It is unclear who is behind the fraudulent emails, as Dominion, SCANA and the outside group that crafted the messages say they do not know why they are being sent from S.C. residents without their knowledge.
House Majority Leader Gary Simrill, R-Rock Hill, began receiving the emails Thursday in the aftermath of the state's failed $9 billion nuclear project. SCANA subsidiary South Carolina Electric & Gas owned a majority share of the unfinished reactors at V.C. Summer Nuclear Station north of Columbia, and lawmakers are eager to stop the power company from charging its ratepayers $37 million a month for them.
Dominion and SCANA have said blocking the charges could kill the $14.6 billion sale and push SCANA into bankruptcy. The emails said lawmakers "could make matters even worse" for its electric customers.
One email came from one of Simrill's friends in Rock Hill, William Barron, even listing his home address. But Simrill noticed the email address was different from the one he had on file. What's more, SCE&G doesn't sell electricity in Rock Hill.
So he asked Barron if he had sent the email. Barron said he didn't know anything about it.
Then another acquaintance supposedly emailed Simrill. She hadn't sent it either, he said.
"They're being impersonated. These folks never wrote these emails," Simrill said. "I mean it's really despicable that they are using our constituents' names and physical address as if they had written us an email."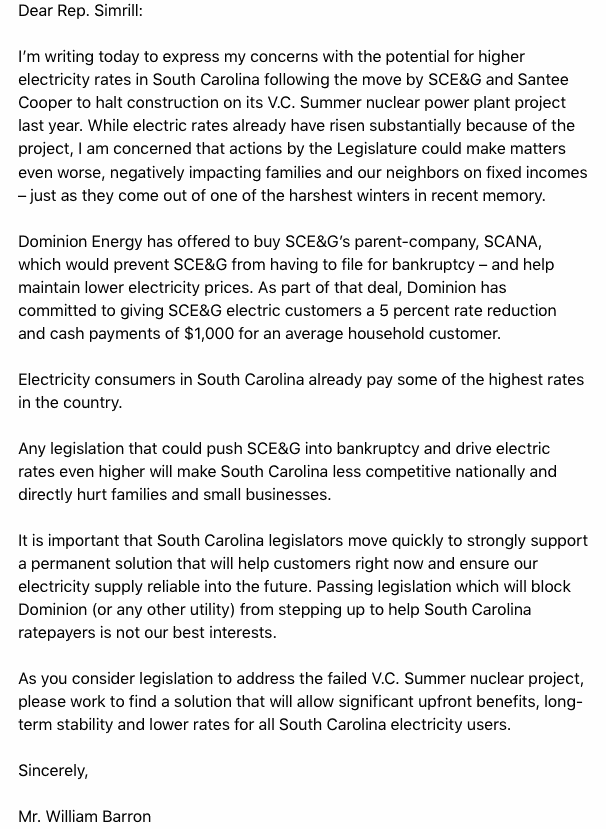 Barron, who works in the chemical industry, said he has not been following the nuclear debate very closely and was disturbed to see his name and address attached to the email. 
"Someone's impersonating me," Barron said. "It's very discouraging, and it reeks of fraudulence."
David Holt, the president of the Consumer Energy Alliance, confirmed that his group wrote the form email, which is on its website as a template for constituents to contact their legislators.
The Houston-based advocacy group, which pushes for energy policies in 25 states, counts Dominion and the South Carolina Chamber of Commerce among its hundreds of corporate members. The group also has tens of thousands of individual members.
Holt said he first became aware the system was apparently being abused Saturday. The group discovered the form email was being sent repeatedly from the same internet addresses, meaning the same computers were accessing it over and over.
The group realized that a few people could have been sending dozens of emails pretending to be others.
"We're concerned as well," Holt said. "We're going to be reaching out to the proper authorities in the state of South Carolina because it appears to us that an individual or individuals have submitted names that are not themselves."
State Rep. Peter McCoy, R-Charleston, said he has also received more than 15 of the same form emails over the last few days. He had contacted several of the purported senders and was able to determine that at least three of them never actually sent the letter.
"What's going on here?" McCoy said. "It's very disturbing."
Both SCANA and Dominion said they were not aware of the form email and had no role in crafting or distributing it.
"We've been very upfront about our proposal and our public outreach efforts. Everything we've done is out in the clear, so we would have no reason to want to do anything like that," said Dominion spokesman Chet Wade. "We're very puzzled, frankly, about how this got generated."
Indeed, SCANA of Cayce and Dominion of Richmond, Va., have mounted an aggressive push to advocate for their deal in recent weeks. Its details have been disclosed in filings with the securities regulators who are tasked with overseeing the all-stock acquisition and it has hardly been a secret on local TV or radio stations.
Customers have encountered a barrage of advertisements on the internet and the radio asking them to call their lawmakers and Dominion has written a few form letters for its supporters to send to legislators. Dominion bought hours of TV spots statewide asking for support, but it paused its marketing blitz last week when lawmakers called it misleading.