A Berkeley County lawmaker on Thursday gave his support to Republican Roy Moore despite allegations of sexual assault and misconduct that have surfaced during Moore's Alabama Senate run.
Sen. Larry Grooms, R-Charleston, gave his support to the embattled candidate on Thanksgiving while responding to a constituent question on his Facebook page.
"How do you feel about Roy Moore since these allegations have come to light?" Nicholas Fabian asked.
"I stand with Roy Moore," Grooms wrote back.
Reached Friday by phone, Grooms said he's suspect of the timing.
"If the allegations are proved to be true, it would be a different story," Grooms told The Post and Courier. "But I've got to think something that supposedly happened decades ago, that if there were truth to it, we would have heard about it instead of when Roy Moore is now facing an opponent for a seat in the U.S. Senate."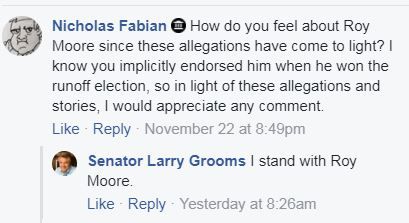 Grooms had been vocal about his support for Moore in September when Moore defeated Alabama's junior senator Luther Strange in a GOP runoff.
"Congratulations to Judge Roy Moore for winning the hard-fought GOP nomination for the Alabama US Senate seat," Grooms tweeted the day after Moore's victory.
But almost six weeks later, The Washington Post published allegations that Moore sexually assaulted a 14-year-old girl when he was in his 30s. Four women spoke to the newspaper on the record, all of them alleging that Moore went out with them when they were teenagers and he was in his 30s.
Five more women have since come forward, bringing the total number of Moore accusers to nine.
Grooms' statement on social media this week came two days after President Donald Trump broke his silence on the issue.
Speaking to reporters Tuesday before heading to Mar-a-Largo for Thanksgiving, Trump said of Moore, "He denies it. Look, he denies it."
Trump then added of the Senate seat, "We don't need a liberal person in there."
Other South Carolina Republicans have taken a different stance. 
Gov. Henry McMaster said last week that Moore should drop out of the race unless the former judge can disprove multiple allegations of sexual abuse that have emerged. 
U.S. Sen. Lindsey Graham called for Moore to end his campaign. U.S. Sen. Tim Scott stopped short of that but called for Moore to "step aside" if the sexual misconduct claims against Moore are found to be true.