COLUMBIA — Republican governor candidate Catherine Templeton was pushed out from her job running the state's health agency in 2015 by then-Gov. Nikki Haley, multiple sources told The Post and Courier.
But Haley, now the U.S. ambassador to the United Nations, says she did not fire Templeton. Haley backs up Templeton that she resigned on her own.
While it was not an endorsement that could violate federal law in Haley's current job, the decision by her office to comment put the national political star and possible future presidential hopeful in the midst of a contentious GOP primary race in her home state.
Gov. Henry McMaster has been a Haley ally after giving his endorsement to her when she beat him in the 2010 Republican gubernatorial primary. But the former attorney general and lieutenant governor is facing a surprising challenge from Templeton, who has kept pace with McMaster in raising money and attracting the help of third-party groups that air TV ads on her behalf in her first race for office.
McMaster's campaign has questioned the Mount Pleasant attorney's truthfulness, raising issues with her departure from two other state agencies. Similarly to her exit from the state Department of Health and Environmental Control, they were described as resignations.
"I'm looking forward to serving the state from a different position," Templeton said when she left DHEC in January 2015.
But multiple sources with direct knowledge, who asked not be identified because they were not authorized to share the information, said Haley fired Templeton after her attention-grabbing antics that were not shared with the governor's office according to expectations.
DHEC is not a cabinet agency, but the governor appoints all the board members and is known commonly to make leadership decisions.
Haley was irked in particular about Templeton announcing a plan to limit buying sugary drinks with food stamps, and also visiting the Medical University of South Carolina and Roper Hospital in Charleston pretending to have flu-like symptoms to see whether the staff asked her if she traveled to countries stricken with the deadly Ebola virus, the sources said.
Word of Templeton's political ambitions were growing when she left DHEC. She was discussed as a potential challenger to U.S. Rep. Mark Sanford, R-S.C.
In a short statement, Haley's U.N. office backed the official version of her departure: "Catherine was not fired by Gov. Haley and offered her resignation voluntarily."
DHEC's chairman at the time, Allen Amsler, said this week that Templeton left as planned when Haley's first term ended in early 2015.
"She was true to her word and we were sorry to lose her," said Amsler, who contributed $1,500 to Templeton's campaign.
Templeton's campaign said she's being attacked for pledging to change the political culture in Columbia. 
"This is a political hit job originating from the same entrenched bureaucrats and desperate career politicians that Catherine Templeton took on with Gov. Nikki Haley," Templeton campaign manager R.J. May said. "(T)hey're using unnamed sources who are hiding in the shadows to do their dirty work."
McMaster's campaign declined comment Thursday.
The statement from Haley's office is unusual because the U.N. ambassador, like other federal employees, must tread lightly when dealing with elections.
Federal employees are banned from using their office for political purposes. Haley was cited in October for violating what's known as the Hatch Act when she retweeted a tweet from President Donald Trump backing a S.C. congressional candidate.
Haley's office said it released the statement about Templeton's departure from DHEC to correct the record about an event that took place when she was governor.
Haley is the first U.S. ambassador to the United Nations with an elected office background in more than a decade and just the third since 1979. More often U.N. ambassadors have foreign policy or national security experience.  
Haley remains influential in the South Carolina governor's race even if she's 700 miles away in New York helping to resolve a crisis with North Korea's nuclear weapons, Syria's civil war and allegations of Russia's influence in American elections.
She was popular in South Carolina when she left in 2017 to join President Donald Trump's foreign policy team, especially after fighting to remove the Confederate battle flag from the Statehouse grounds. McMaster became governor when Haley resigned.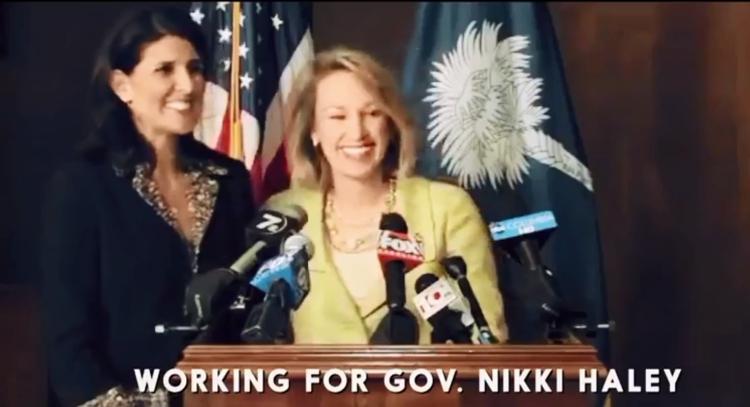 McMaster and Templeton are fighting over Haley's legacy of boosting economic development and fighting what they consider is status quo politics in the General Assembly. A pro-Templeton third-party group produced a TV ad that featured clips of Haley praising Templeton when she was named chief of the state's labor agency in 2010.
Haley loyalists, however, are divided.
McMaster's campaign is run by the chief strategist behind Haley's two gubernatorial victories, Tim Pearson. Meanwhile, Templeton has won backing from a bevy of Haley campaign contributors.
Pearson tweeted in January that Templeton did not willingly leave her $12,500-a-month technology security consultant job with the state's tax agency.
Templeton and the agency director at the time, Rick Reames, have said she made the decision to leave because her work was completed a little more than two months into a nine-month contract. She left three days after news of her hiring broke in a newspaper.
Haley's office did not respond to a question about how Templeton left the tax agency. 
Her departures from the state public health and tax agencies are not the only ones under scrutiny.
Templeton's exit from the State Ports Authority in October 2015 after five weeks was initially described as her choice. "She has determined that this position does not meet her career goals," the agency said.
Last summer, Templeton said she was fired from her job to improve port operations after raising questions about contracts given to a powerful Columbia political consultant. The consultant, Richard Quinn & Associates, was investigated as part of the Statehouse corruption probe and had worked with McMaster for years.
The firm was ordered to pay $5,500 in fines and restitution after pleading guilty to failing to register as a lobbyist. McMaster is not using Richard Quinn & Associates in his latest campaign.
Ports director Jim Newsome said Templeton was lying. "Ms. Templeton seeks to paint herself as a victim, but this could not be further from the truth and seems to be merely an election campaign ploy fraught with inaccuracies," Newsome wrote to ports employees.
Templeton did not respond directly to Newsome when asked for comment at the time.