You're running.
The exploratory committee gave the go-ahead. Your video, in which you share both your life story and your vision for America in three minutes or less, has gone viral.
You've decided and you've declared: You're running for president in 2020. You're running for the Democratic nomination. And you're going to need South Carolina.
"South Carolina plays a critical role in picking winners and losers," said Gibbs Knotts, a College of Charleston political scientist who has written a book with his colleague Jordan Ragusa about South Carolina's role in the presidential nomination process.
"As a candidate, you can't have Iowa and New Hampshire — two states that are very non-diverse — and then be considered one of the most influential in the pack," Knotts warned.
For more than a century, Iowa and New Hampshire have been viewed as the starting line for presidential campaigns because of their top-of-the-calendar primary dates. But already, the attention is turning south.
Not only does the Palmetto State get to call itself the first-in-the-South primary, it will also be a pivotal test for the most diverse field of Democratic candidates in history. And it will happen on Feb. 29, 2020 — just three days before Super Tuesday when California, Massachusetts, North Carolina, Texas and a slew of other states weigh in on who they want to keep running.
"About 60 percent of the vote that will take place in our primary will come from African-Americans. They are the backbone and the foundation of the Democratic Party," said Jaime Harrison, a former S.C. Democratic Party chairman who is now an associate chairman and counselor at the Democratic National Committee.
"But voting is a very simple thing," Harrison said. "People want to be with the winner."
The clock starts now. With the state's 2020 Democratic presidential primary one year away, consider this your definitive guide to what it takes to campaign in South Carolina.
Respect the kingmaker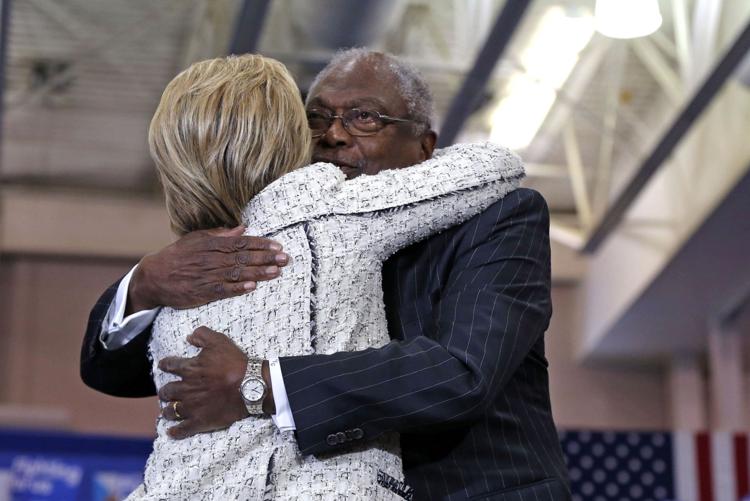 Nothing in Democratic politics happens here without House Majority Whip Jim Clyburn knowing about it.
In addition to his status as the third-ranking House Democrat, Clyburn's political roots in the Palmetto State run deep. He was born and raised in Sumter, attended South Carolina State University — a historically black college and university in Orangeburg — and he is a veteran of the civil rights movement in South Carolina.
"When Jim Clyburn asks you to do something, you do it. If he asks you to attend an event, you say, 'OK, when is it?' And then, you go and you show up early," said Harrison, who is mulling a 2020 U.S. Senate race against Republican Lindsey Graham.
Held every year since 1992, Clyburn's World Famous Fish Fry has become a political institution in its own right and routinely attracts presidential hopefuls. Clyburn started it as a way to get voters who cannot otherwise afford traditionally pricey political functions get connected to candidates.
Though Clyburn told CNN earlier this month he has no plans to get involved in weighing in on the Democratic presidential field, he will play a key role. His response shows just how connected he is.
"I think it would unfair for me to get involved. I have former staffers working in three or four different campaigns," Clyburn told CNN anchor John Berman.
Make nice with party officials at every level
Charleston County Democratic Party Chairman Brady Quirk-Garvan admits he does not like being kept out of the loop. Last month, he publicly chastised independent U.S. Sen. Bernie Sanders of Vermont for not reaching out to local Democrats to help promote his town hall event in North Charleston.
"In Charleston, we want you to connect not just with elected folks but with community leaders," Quirk-Garvan said, adding that he would tell serious 2020 candidates to meet with former Charleston Mayor Joe Riley and current state Sen. Marlon Kimpson.   
Develop a taste for barbecue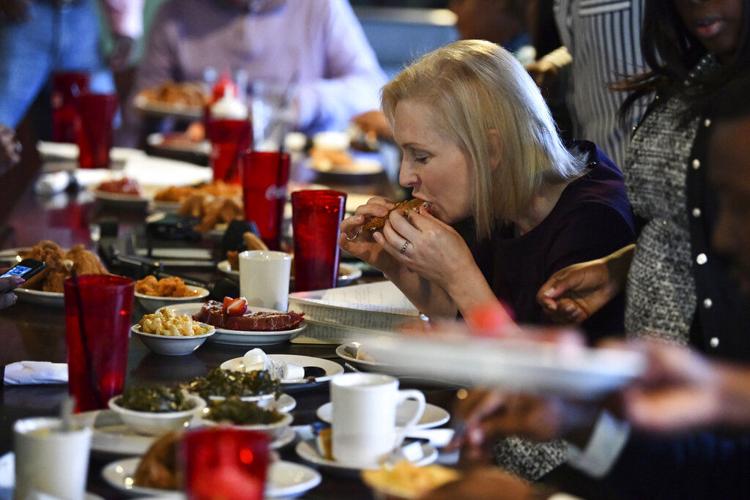 Philadelphia turned its nose up at John Kerry for ordering a cheesesteak "with Swiss." New Yorkers mocked John Kasich for eating a pizza slice with a fork and knife. In South Carolina, the food to know is barbecue.
Eaten at picnics, family gatherings and tailgates, barbecue is a staple on Southern plates and in its culture. 
According to the South Carolina Barbecue Association, there are four main types of barbecue sauces to be found: vinegar and pepper, mustard-based, light tomato and heavy tomato. All four can be found in the Palmetto State, but only the mustard-based sauce is known as South Carolina-style barbecue.
If you're trying to watch your red meat intake while on the trail — or if you're a vegan like U.S. Sen. Cory Booker — good luck. Even the collard greens will likely have some pork in them.
Hire people who know SC
There's nothing wrong with hiring operatives from other states, said Mike McCauley, who worked in five different states during the 2008 presidential primary for then-U.S. Sen. Barack Obama. However, there is a strategic benefit to looking at existing S.C. political operatives for your campaign, he said.
"You have to think about the cultural institutions in the state not just from the view of how you earn media attention, but how do I get people in their guts?" McCauley said. "They need to hit those same cultural institutions in South Carolina that aren't part of presidential primary lore."
Simply being from the South won't cut it, said Harrison.
"You can't mail it in. In essence, you need to make sure that you spend the time and energy building an operation that is truly a South Carolina operation," he said. "My grandma always has three questions for candidates when they knock on her door: Who are you? Where are you from? Who are your people?"
Get away from the big three
Spend time in South Carolina's three major media markets — Charleston, Columbia and Greenville — but don't count on that alone.
You'll score points if you make the effort to drive away from the spots where your presence is guaranteed to be photographed.
"If you only go to those three places, you lose," said Quirk-Garvan, who lives in Charleston. "Spend time with people in Bamberg, Orangeburg, Florence, and Aiken. There are a ton of regular Democratic primary voters there, but one of the things they constantly feel is that they are being ignored at the expense of the three major cities. It means something to folks when you leave the 20-mile radius of the airport."
Sally Howard lives in Horry County, home to Myrtle Beach but a county outside of major media markets. But she makes a strong case. She is a former Horry County Democratic Party chair, has attended nine national Democratic conventions, and serves as the director of the Galivants Ferry Stump, a nationally recognized Democratic gathering held every two years in the spring.
This year, she said they might even move up the stump or hold an additional stump in 2019, specifically for presidential candidates.
"When you look at Columbia and Charleston, those folks have strong Democratic turnout for primaries. We in Horry County feel left out. Our numbers feel very small, but we try to be very vocal to make up for it," Howard said.
It was a place Laurin Manning never forgot. She was Obama's S.C. director of political operations in 2008, and can still recite from memory the only two counties Obama lost in his 2008 S.C. primary: Oconee County, which went for Oconee native John Edwards, and Horry County, which voted for Hillary Clinton.
"Those women in Horry, they are a force," Manning said.
Pay attention to black voters, especially black women
African-American voters are considered the backbone of the Democratic Party, and South Carolina will test how effective a candidate is at connecting with this historically important voting bloc.
South Carolina's African-American population is 27.3 percent, according to Census Bureau statistics. That's a major uptick from the other three early primary states: Iowa's black population is 3.6 percent. New Hampshire is even lower, with 1.6 percent of its population and Nevada 9.8 percent.
Analysts also say the most successful candidate will have a message that resonates with African-American women. According to 2016 exit polls, black women cast 37 percent of the Democratic primary vote in South Carolina.
Knotts also recommends leaning on any connection you may have to Obama, who won the state in 2008 after enduring primary state losses to Hillary Clinton in New Hampshire and Nevada.
"Biden is liked, but Obama is loved," Knotts said.
Go to church
In the South, people notice when someone slips out of the pews early on Sundays. The same goes for presidential candidates.
A study from Pew Research Center found 69 percent of South Carolina adults consider religion very important in one's life, and 47 percent of adults here attend religious services at least once a week.
"You don't show up late for church and you don't leave early. That is a mistake that a lot of national candidates make," said McCauley. "Stick through the whole service, even if you have to go to another church afterward."
Rethink assumptions about Southerners
"Candidates from California need to realize there are things that draw people to live in this region that goes beyond conservative politics," Knotts said. "There's an understanding of what Southern culture is, and it's not just associated with white Southerners."
During focus groups for his book, "First in the South: South Carolina's Pivotal Role in Presidential Nominations," to be released in the fall by the University of South Carolina Press, Knotts said both black and white Southerners cited similar characteristics when asked about their identity. Being Southern, they said, is about hospitality, food, manners, religion and having some connection to the land even if they live in a city, Knotts said. 
Consider the issues here in your message
Politicos agree: The way to connect with voters is by learning what they care about, and what issues they are facing. Not everything has to be nationalized.
"It can't be just an off-the-shelf message. It has to be one that resonates with South Carolina," said Harrison. "Coastal drilling is big for our coastal communities. Infrastructure is something everyone talks about. Good clean drinking water is a big conversation happening in Denmark."
McCauley, who is watching the current 2020 field closely, said he's already seen one candidate taking notes.
"Sen. Kamala Harris tweeted a couple times about some critical local issues here in South Carolina, like teacher pay and the student group in the Lowcountry that's pushing for gun safety measures like closing the Charleston loophole. Those tweets have gotten a lot of attention among folks," he said. "Finding opportunities to add a voice to those issues, and help to elevate them in the debate is a smart thing to do."
Say it right
Not every word is as it appears. Do not pronounce the "h" in Horry.
Beaufort is pronounced "BYOU-fort." Say it "BOW-fort," like bow and arrow, and you're talking about the town in North Carolina. 
For more tips on how to avoid getting tongue-tied on the trail, check out our South Carolina pronunciation guide accompanying this story.
If you don't have a Southern accent, don't try one now
Speaking of talking, you should know Southern accents come with the territory. In an effort to connect with people in the region, you may find yourself drawing out your vowels and slowing down your speech. Linguists call it "code-switching." But if you do not hail from the South, do not try to sound like it.
Your artificial intonation could backfire on multiple fronts.
"You want to know how to pronounce things but still be who you are," said Knotts.
Secondarily, trying to draw out a drawl might do the opposite of what you want. A 2018 College of Charleston study found that voters view politicians with Southern accents as less trustworthy, less honest, less intelligent and less competent.
Be prepared for anything, because it could change everything
When Obama was campaigning for the presidency in 2008, he made a stop in Greenwood. He did not know it would be a fateful visit that would reiterate the rallying cry for his entire campaign: "Fired up! Ready to go!"
"You never know what is going to come out of these little podunk towns," Manning said, chuckling as she remembered the moment Obama met Edith Childs on a rainy afternoon in 2007.
"You just never know what is going to happen here, whether it's a little fiery old lady screaming this little chant, or something else. You just have to ready for anything, and just embrace South Carolina."