Nikki Haley is back.
Freed from the restrictions of a political job, the former South Carolina governor and United Nations ambassador just in the past week launched a policy group, scored a nomination to a corporate board and posted tweets critical of both the president and Statehouse lawmakers. 
"None of this surprises me at all. She's always been very independent minded and never afraid to use her voice," said Charleston-area real estate developer Pat McKinney, who has known Haley since she first ran for governor a decade ago. "That's what most of us like about her."
The conventional wisdom from Washington, D.C., to Columbia is that Haley, 47, is taking the first steps to mounting a GOP presidential challenge in 2024.
But Haley's moves also could help her sooner if she is needed in 2020. President Donald Trump is undergoing investigations into his campaign and inaugural finances as well as alleged coordination with the Russian government in the 2016 elections.
If Trump is pushed out or opts out of his re-election bid, Haley could join a 2020 ticket led by Vice President Mike Pence, an ally from when they were both governors.
"She could be a team player," Columbia-area political consultant Walter Whetsell said.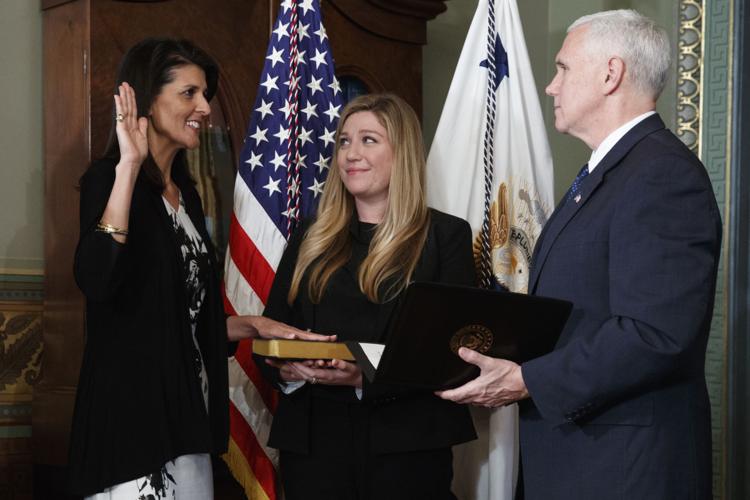 There's a chance a scandal also could taint Pence — putting Haley, a minority woman in a Republican party that seeks to widen its appeal, on top of a 2020 ticket, Furman University political scientist Danielle Vinson said.
"She's in a good position. She got out at a good time," Vinson said. "She won't be held accountable for what's going wrong." 
Haley, who declined an interview for this story, has said she will back Trump's re-election.
New group, new job
Despite criticizing Trump during the 2016 campaign, Haley agreed to become ambassador to the United Nations in the middle of her second and final term as governor.
She won praise for her first major foreign policy assignment and even was willing to criticize her boss on occasion when she thought it was necessary.
She resigned at the end of 2018 with a reputation of being one of the few Trump administration officials to avoid getting fired or leaving under a cloud of controversy.
That has made her a political darling across the country.
"The national media, they gush all over the place about her," Vinson said. "They love her and think she is a rock star. Well, they have not driven over all the potholes we have here in the state."
To carry on the reputation built in the administration, Haley launched Stand for America, a policy group that says it is committed to stopping economic threats from "socialist schemes" and the dangers posed by Russia, China and Iran.
She told The Washington Post last week, "I think that I can put information out there and not have anybody feel like it's a threat because I'm not running for anything."
But the group's website has the look and rhetoric of a political campaign.
"We have seen true evil across the globe. We will never stop fighting for what makes America great," one of the site's introduction pages says next to a photo of child waving an American flag on a farm. "But we must do it together. We have to remember that what unites us as Americans is stronger than what divides us along political lines."
Haley left the United Nations with debt, but she is in a position to earn some money.
She can expect a hefty advance on an upcoming book after getting $500,000 for her 2012 memoir. She also reportedly commands $200,000 a speech.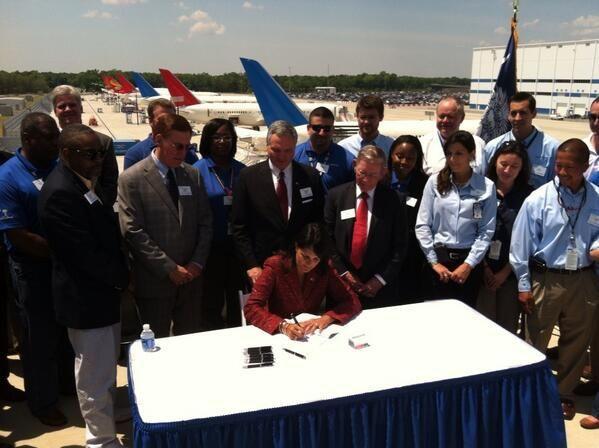 And in April, she is expected to join Boeing Co.'s board, a post that comes with more than $300,000 in annual pay and stock awards.  
Haley helped Boeing with a $1 billion expansion of its North Charleston jet plant in 2013 that received $120 million in state incentives. It was one of the largest economic development announcements made while she was governor. 
"I think this is the first of many board seats for her. Her reputation on economic-development issues is well-known," Whetsell said of Haley who called herself the "jobs governor." 
'On brand'
Haley has been a frequent user of social media and that has not stopped since leaving the Trump administration.
But in a first since resigning from the United Nations, she took a swipe at her former boss on Thursday after Trump said that North Korean leader Kim Jong Un was not responsible for the death of college student Otto Warmbier.
"Americans know the cruelty that was placed on Otto Warmbier by the North Korean regime," Haley tweeted. "Our hearts are with the Warmbier family for their strength and courage. We will never forget Otto."
Trump walked back his statement on Friday, but not until Haley's post received international attention. 
A Haley tweet later Thursday was a reminder of her days as governor when she would use social media to chastise legislators.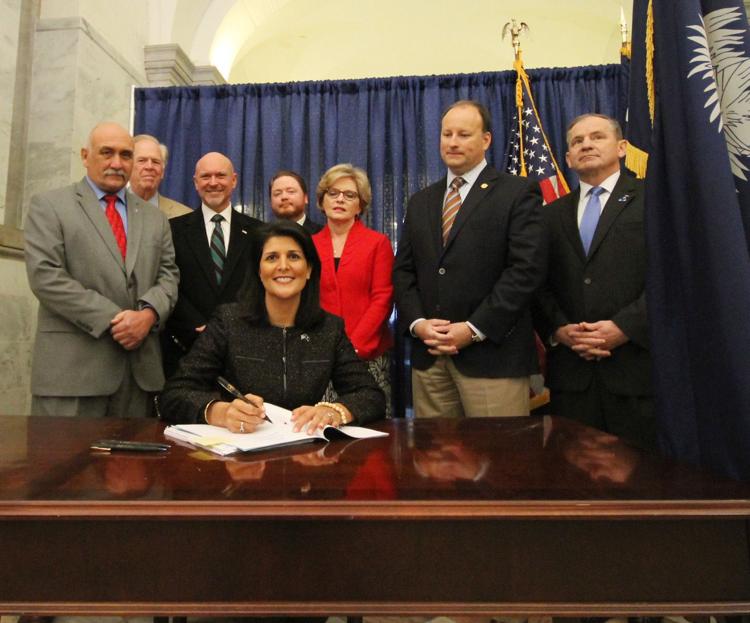 She took a swing at efforts by the state's land preservation agency to hire former Rep. Mike Pitts, a Laurens Republican who voted against a proposal that would have prevented him from taking the agency's top job for a year after leaving the General Assembly. 
"South Carolina should get out of the practice of giving outgoing legislators government jobs. Especially when the person in question voted to allow it," she tweeted. "It does not move SC in the right direction to allow this to move forward. Hoping good government prevails. SC deserves better."
The tweet was "on brand" for Haley, who fashioned herself as a government watchdog while at the Statehouse, said Scott English, who was chief of staff for Gov. Mark Sanford.
But it also was a signal, despite living in New York and spending two years in a top international post, of how she still takes some issues personally from her days in Columbia. She and Pitts did not get along. 
"This goes back to how South Carolina is really a small town with 5 million people," English said. "There's forgiveness but forgetting never happens. No matter where you are, South Carolina is never really that far away."