South Carolina voters stood in lines as long as four hours to cast their ballots Saturday in one of the last opportunities for in-person absentee voting in the 2020 election.
By end of day, 1.25 million votes had been cast so far — 834,000 in person and 417,000 by mail — shattering the 2016 record of 503,000, according to the S.C. Election Commission. Another 46,000 issued mail ballots have yet to be turned in. 
Many of the satellite locations that had been open for weeks were closed, creating extended waits in some counties, including Berkeley, Greenville and Horry. With most satellites cutting off voting at 5 p.m. during weekdays, many workers had to opt for spending much of Halloween in line to avoid the Tuesday crush.
In many places, the hours spent in line exceeded a typical presidential election.
People at the Hanahan Library showed up early in hopes of voting. Early voting ended there Friday, so they were directed to go to the main Berkeley election headquarters in Moncks Corner. That site, the only Berkeley location to vote Saturday, is in the northern part of the large county.
The election office in the county seat had more than 500 people still in line by the 1 p.m. announced closing time. The line had cut in half by 3 p.m. All would be allowed to vote, said Director Adam Hammons.
In addition to the throngs brought out early due to COVID-19 and just plain high political interest, the tight quarters of the elections office made it necessary to move the final ballot scanner outside under a tent that needed to be brought in and set up.
Jamie Collins of Goose Creek got there at 9 a.m. and waited four hours to vote.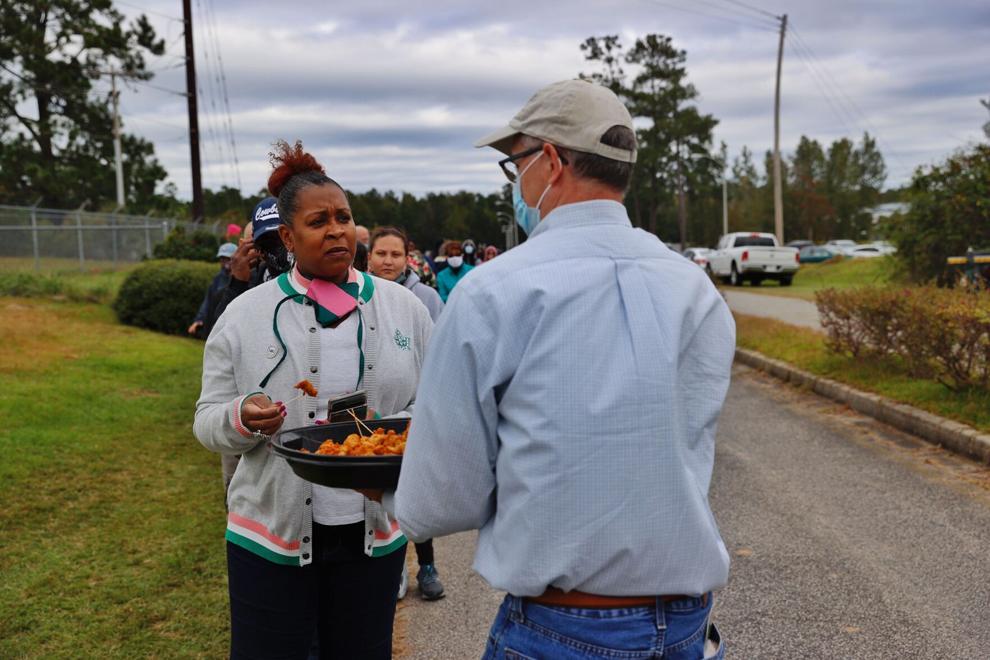 "What do you expect the last Saturday before the election? I don't blame anyone here," he said. "But if I would have known it would have taken this long, I would have just taken off the day on Tuesday."
The process was much quicker in Charleston County, which had four several satellite locations open.
Voting at Seacoast Church in Mount Pleasant took one to two hours, more typical of early voting over the past few weeks. A serpentine line wrapped through the vast parking lot, with hundreds of voters eager to cast their ballots and get on with their day.
Folks staffing a food truck walked up and down the socially distanced line with free water bottles and snacks.
Poll workers announced a first-time voter had stepped up to get her ballot, and workers and voters cheered for the young woman.
At noon, there were approximately 500 people in line still at the North Charleston Coliseum, one of the four satellites. But with the 1 p.m. cutoff, officials confirmed anyone still in line at that time could still vote.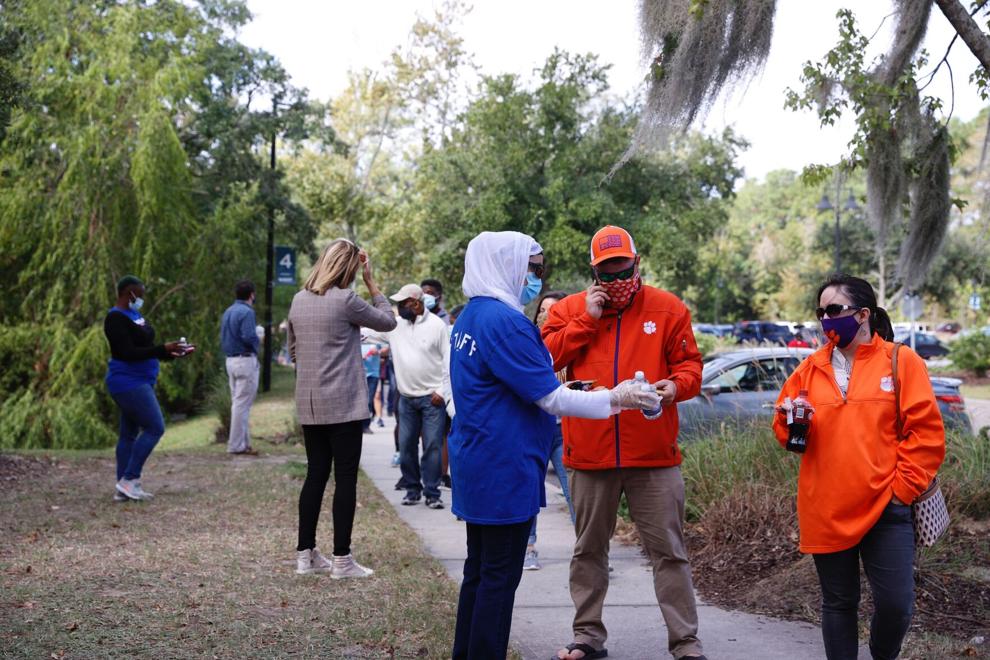 Those there said it took 90 minutes to two hours.
"For the amount of they had to wait, it's been pretty good," said poll manager Howie Schomer.
More than 30 cars were in line to vote curbside as the 1 p.m. cutoff approached. Curbside manager Sara Dent said voters included two World War II veterans and a 101-year-old man.
A line of around 100 people at the Charleston County Library downtown stretched around the block. But poll workers were efficient, and wait times ranged between 20 and 30 minutes.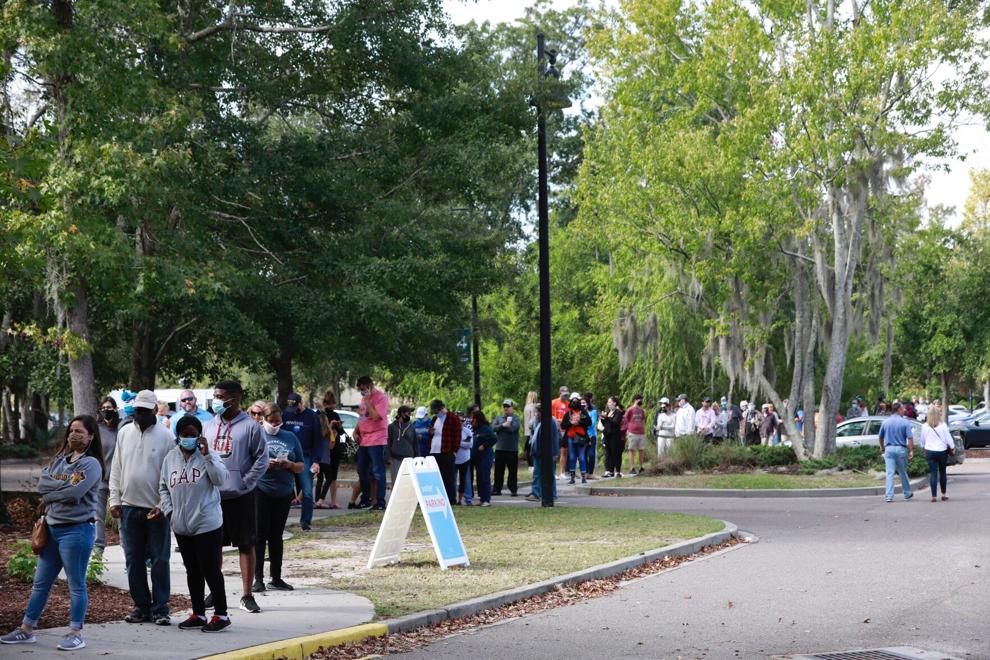 Many in line, including Michael Volkert, were planning to vote wait till Tuesday but after seeing how quick the lines were moving, he decided to get it done.
"I can see why people are coming out like this," Volkert said. "Everything's very charged. People are energized and there's a lot of anger out there."
Some residents walked up and put their ballots at the drop box, not too fazed about the fear of widespread mail delays hyped by some this election season.
Katherine Danielowski of James Island got to the library a little before noon and was at the end of the line. She wasn't discouraged; she wanted to be there.
"I honestly don't understand not voting," Danielowski said. "We all deserve to have a say."
Greenville voters
Ellen Gibson carried a purse and a lunchbox as she left County Square in Greenville County where she'd stuck out a four-hour wait to vote early.
She wore a black coat and hat and a white face mask on a chilly day as she stood in a line that snaked back-and-forth nearly the length of County Square.
"I had water," Gibson said. "I had food and they gave me food. I knew it was going to be a long wait."
A senior citizen, she said she wanted to vote early so she didn't have to stand in line Tuesday.
"Something woke me up this morning and said 'go vote,' " she said.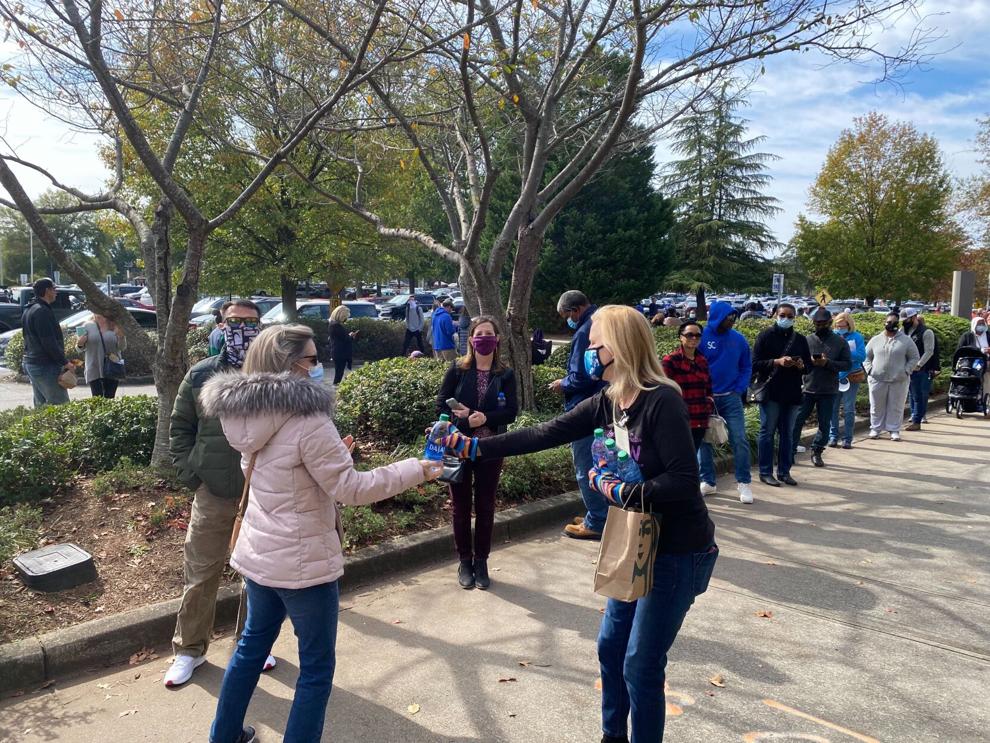 County Square was the only early voting location open. Four satellite locations open throughout the county during the week closed for good on Friday afternoon. County Square will be open 8:30 a.m.-5 p.m. Monday for early voting.
More than 20 volunteers handed out bottles of water and cups of coffee to a line of mostly masked voters. Snacks, hot dogs and pizza arrived at points throughout the day from volunteer organizations like the NAACP and the National Council of Negro Women.
Someone held Ryan Redman's place in line while he smoked a cigarette early in the afternoon. He'd been waiting two hours and figured he had at least an hour more to go. Redman said coming out Saturday was his only option because he's working out of state and would be in Georgia on Tuesday.
"It's not been terrible since people bring out water and snacks and they have a DJ, but I mean, it's just a really long line," Redman said. "I was expecting a couple hours. I wasn't expecting four hours."
Hazel Hardaman wore a lanyard around her neck identifying herself as a volunteer with the NAACP as she handed out bottles of water. She guided people to the bathrooms or stood in line for some who needed to take a break.
She said some in line were agitated at the wait and they'd wheeled two people inside in wheelchairs by 1 p.m. as hundreds still waited outside on cement sidewalks on a cool but sunny day.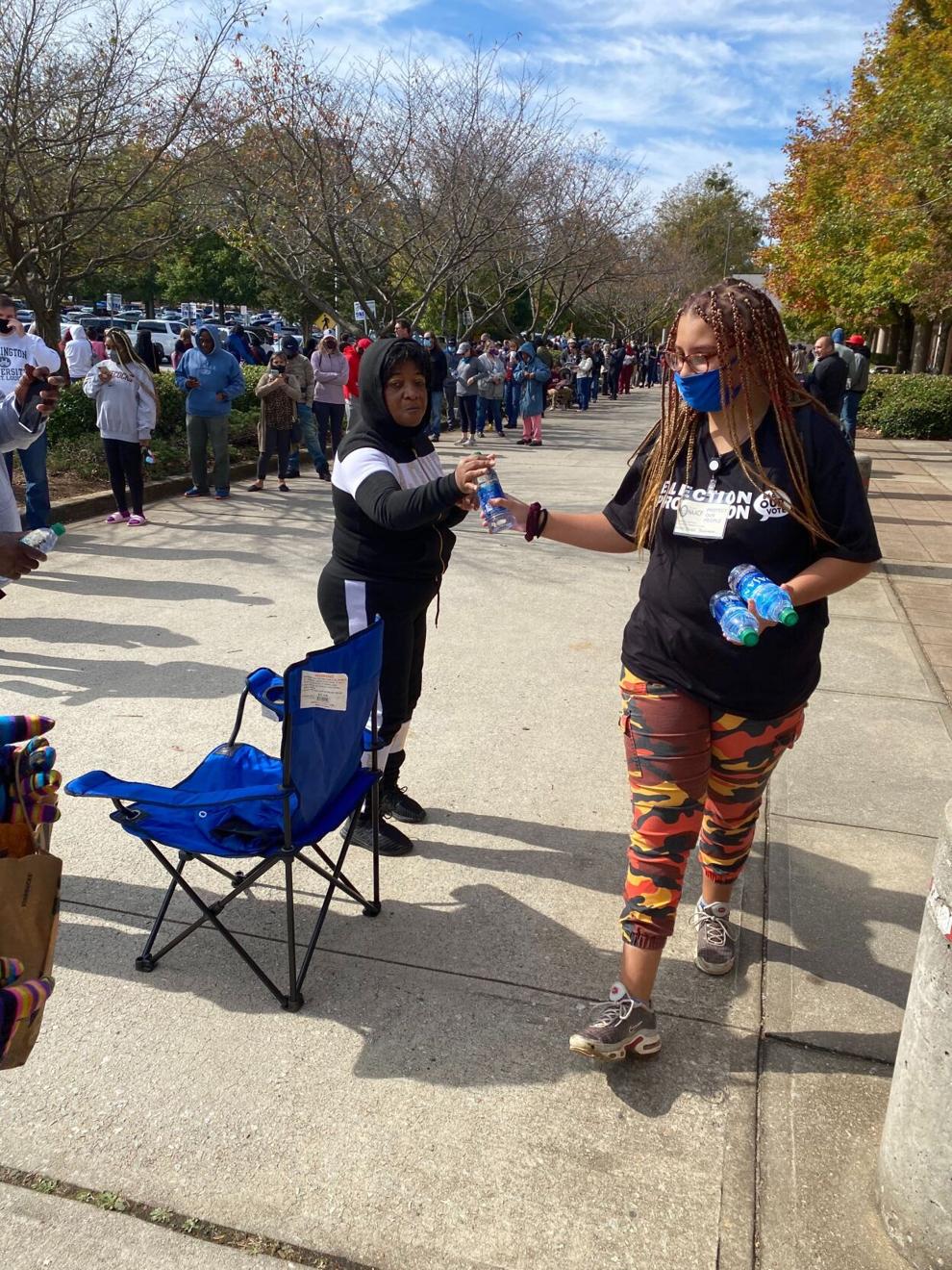 "People shouldn't have to wait this long to vote, they really shouldn't. But given it sort of is-what-it-is right now, people have sort of just been chugging through," said Lawson Wetli, also volunteering with the NAACP and NCNW.
The line cut off at 1 p.m., though everyone in line at that point could vote. Hundreds still waited more than two hours later. Greenville County's director of voter registration and elections said the final voters last Saturday waited until 5:45 p.m. to cast their ballots.
Conway Belangia said his office and every other one in the state underestimated the demand for early voting and have been scrambling to meet the large amount of voters.
He stood at the back of the line Saturday wearing an orange vest and informing stragglers they'd have to come back Monday to County Square or to their precinct on Tuesday.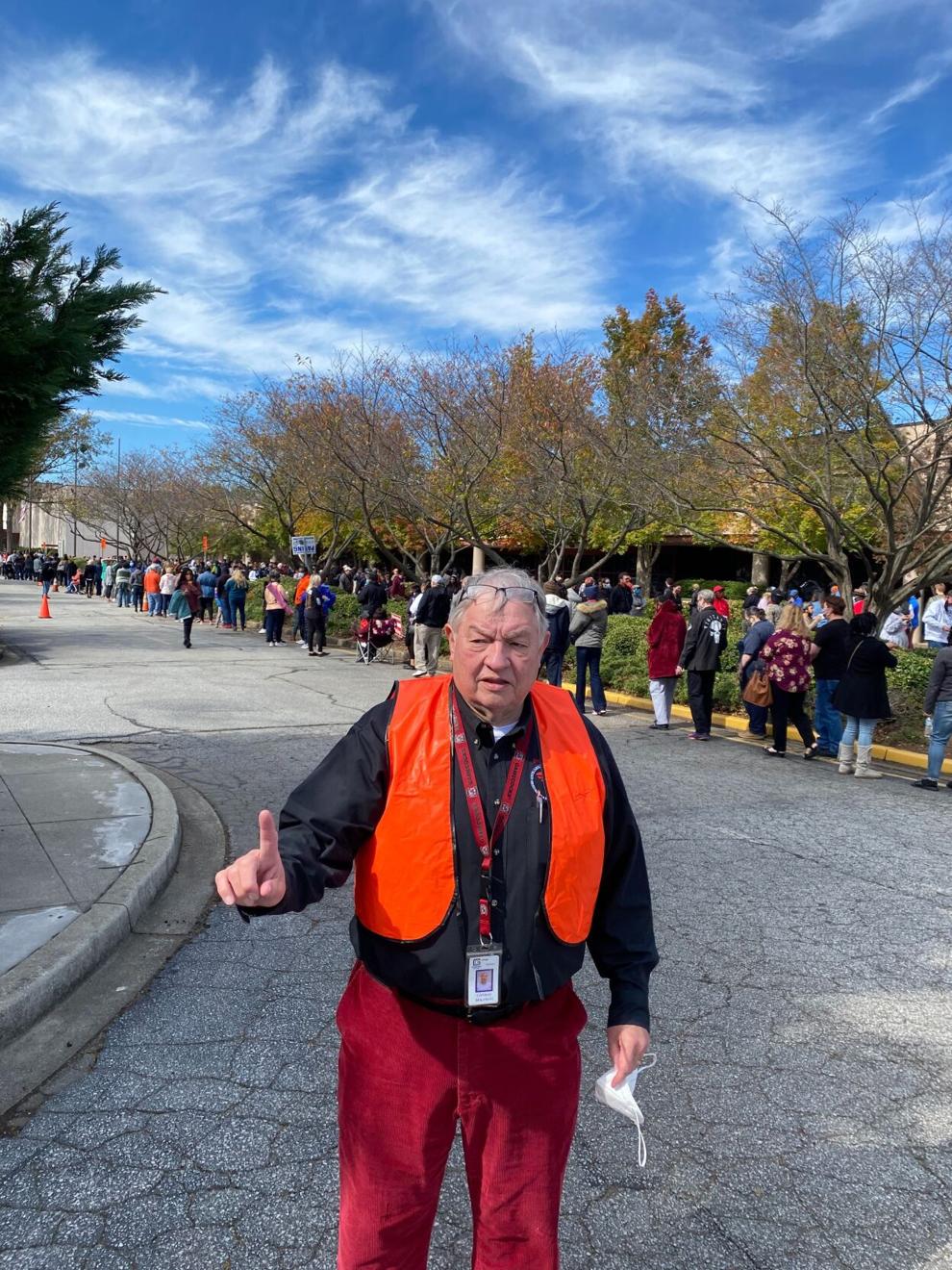 Earlier this week, Belangia said lines should be shorter on Election Day at the 144 polling sites that will be open. He expected about 900 people would vote Saturday, likely the highest tally for a half-day of voting.
"From what I understand, people were lining up at 6:15, 6:20 this morning for a 9 o'clock opening," he said. "People have been incredibly patient, almost all of them masked. ... It's still a good process and people are participating and they're voting."
Columbia area
Rey Pournaras, an 18-year-old freshman at Wofford College, drove more than 120 miles to vote in person with her parents at Lexington County's West Main Street election headquarters.
"I see how hard my parents work, and I would like my country to be the same way," she said.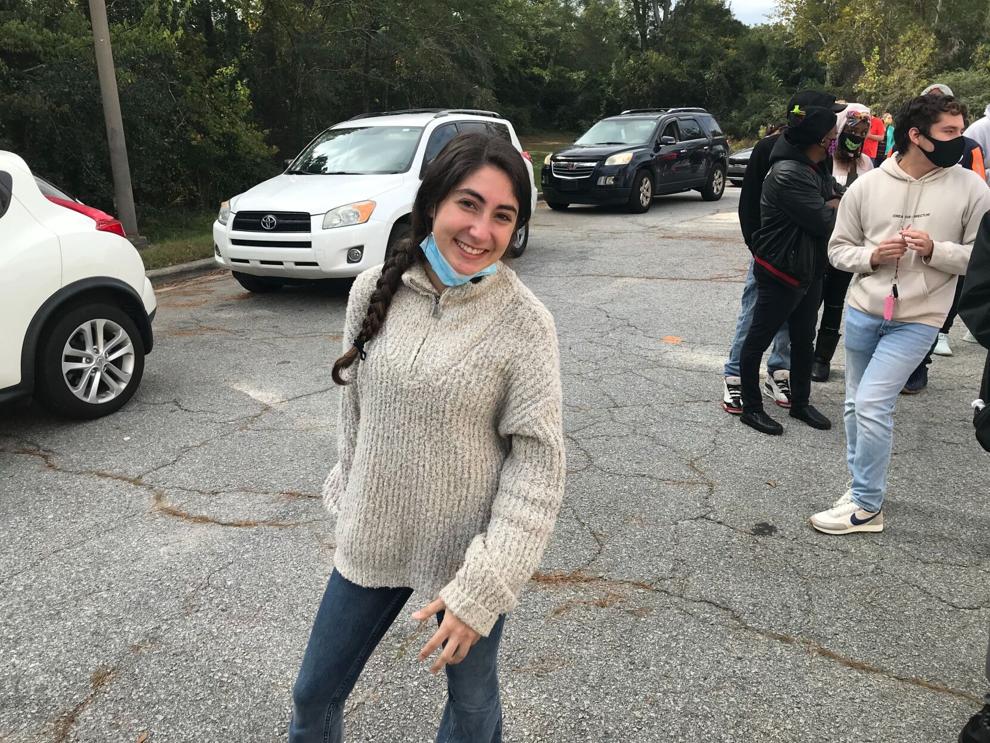 As a first-time voter, Pournaras said the saturation of advertising has been inescapable but also served as a constant reminder about how much attention is being paid to this year's top-ticket races.
"It's a lot. I think for me and a lot of my friends, it kind of clouds what our thoughts are," she said.
Although Pournaras anticipated waiting for hours to vote, she remained excited.
"This is an experience," she said.
By 11 a.m., nearly 6,000 people had already cast ballots on the final Saturday of in-person early voting, according to a read of county scanning machines.
Being South Carolina, many people in line passed time by chatting about college football. Clemson quarterback Trevor Lawrence's COVID-19 quarantine was a popular topic.
As she neared the entrance, Yazzman Hunter said this election year captivated her.
She worries about student loan repayments and affordable health care.
"I didn't really pay attention to politics before, so being aware of the power of my vote is really important," Hunter, 23, said.
Eliza McCarley and her boyfriend, Zach Widener, both 20, stood in line for more than two hours at Columbia's Masonic temple to vote in their first election.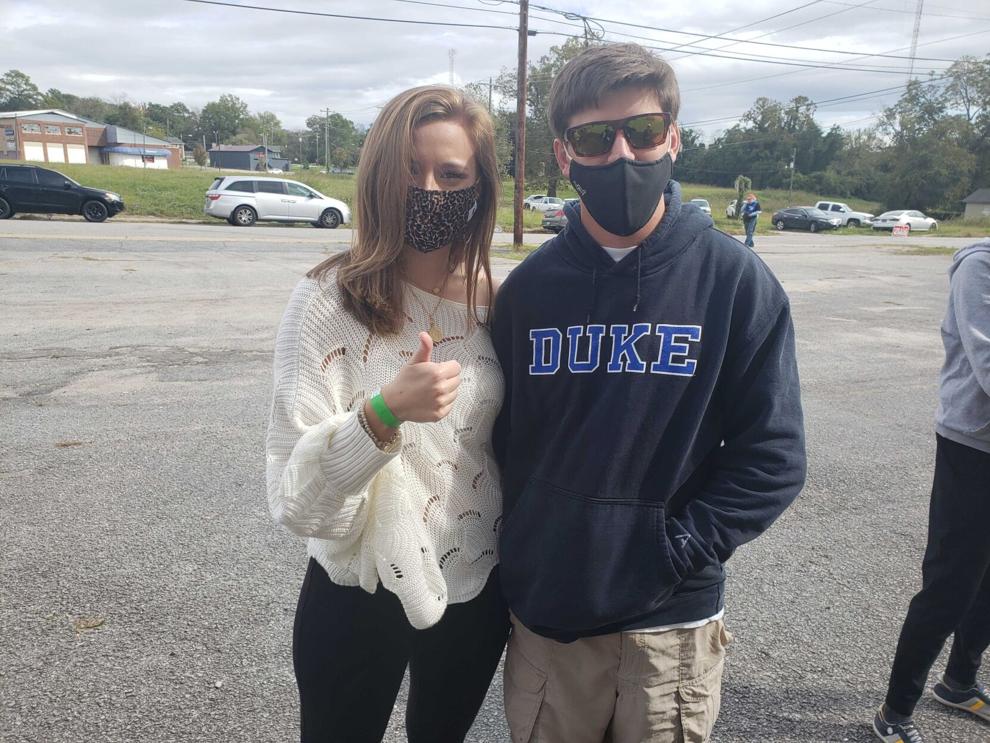 The couple, who attend the College of Charleston, said they felt compelled to take part in the process.
"You've got to get out there and do it for your country," Widener said.
McCarley said the Saturday window was easiest for her to navigate in between classes and other demands on her time.
As voters wrapped around the Gervais Street landmark, Columbia Mayor Steve Benjamin said he was taken by the historic nature of this year's early voting surge.
"This is indeed what democracy looks like," he said. "I have pictures in my office from elections in the 1940s from this very location, and this reminds me of it."
The line to vote stretched around three sides of the main Richland County administration building on Hampton Street in Columbia, with voters waiting more than three hours. The atmosphere was festive, however, with a DJ playing hip-hop and a Kiki's Chicken and Waffles food truck set up across the street.
Voters who had gotten in line about 9:30 a.m. finally were close to entering the election office as 1 p.m. neared.
Keisha Wright, 40, of Columbia wanted to vote on Saturday because of schedule conflicts Tuesday with her work as a manager at a health care company. She expected a big crowd even before arriving around 10 a.m.
"I knew a lot would be voting early," Wright said.
Linda Roberts waited in line for hours to cast her vote. The self-employed Columbia resident said she wanted to get her vote cast before Election Day, and it was worth her Saturday morning to get it done.
"It's my first priority today," Roberts said.
Myrtle Beach area
Cheryl Reynolds didn't plan on voting in Conway on Saturday as she entered the line at the Horry County Elections Office. She wanted to vote at a satellite location on the south end of the Myrtle Beach area — and a political mailer told her it would be open.
But when Reynolds arrived at the satellite location, she found it was closed. She was told Conway was the only office open.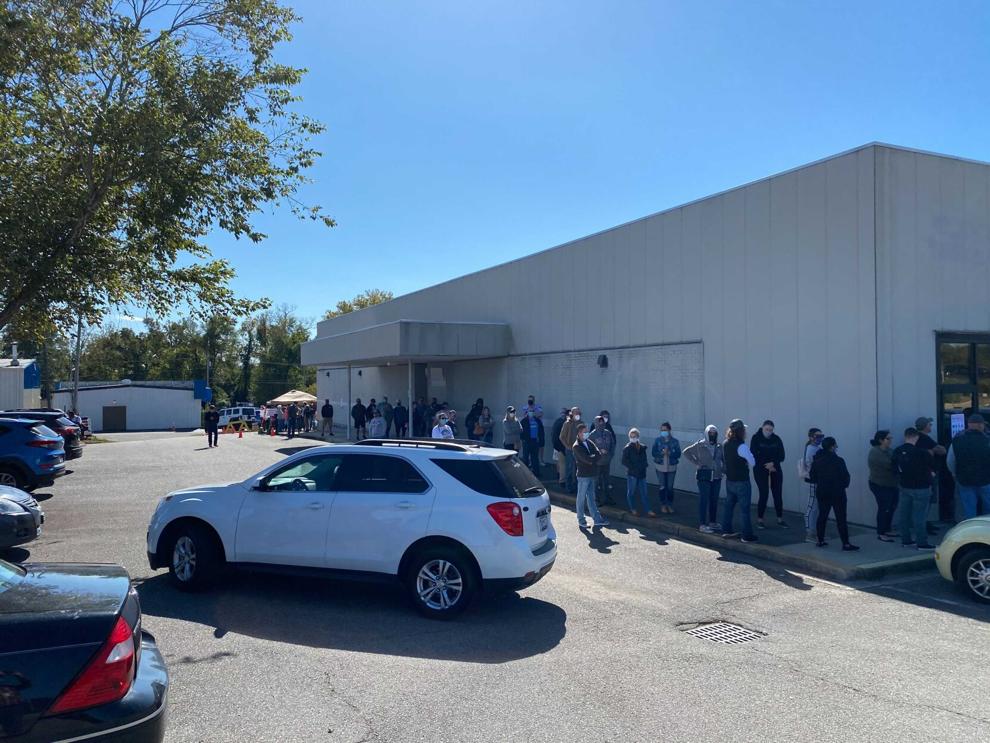 "I expected a line at the location in Socastee, we got a mailer saying that would be the one open," Reynolds said while pulling up a cellphone picture of the mailer. "That's where we went first and it's like half an hour from here."
When Reynolds arrived at the Conway election office, less than an hour before the cutoff, she was at the back of a line that stretched around the building several times. The estimated wait time was two hours as the line slowly inched forward.
"I've never seen anything like this in past elections, Reynolds said. "It's our one chance to make a difference."
In over 20 years as a community activist in Horry County, Cedric Blain-Spain has never seen such a long voting line in Horry County.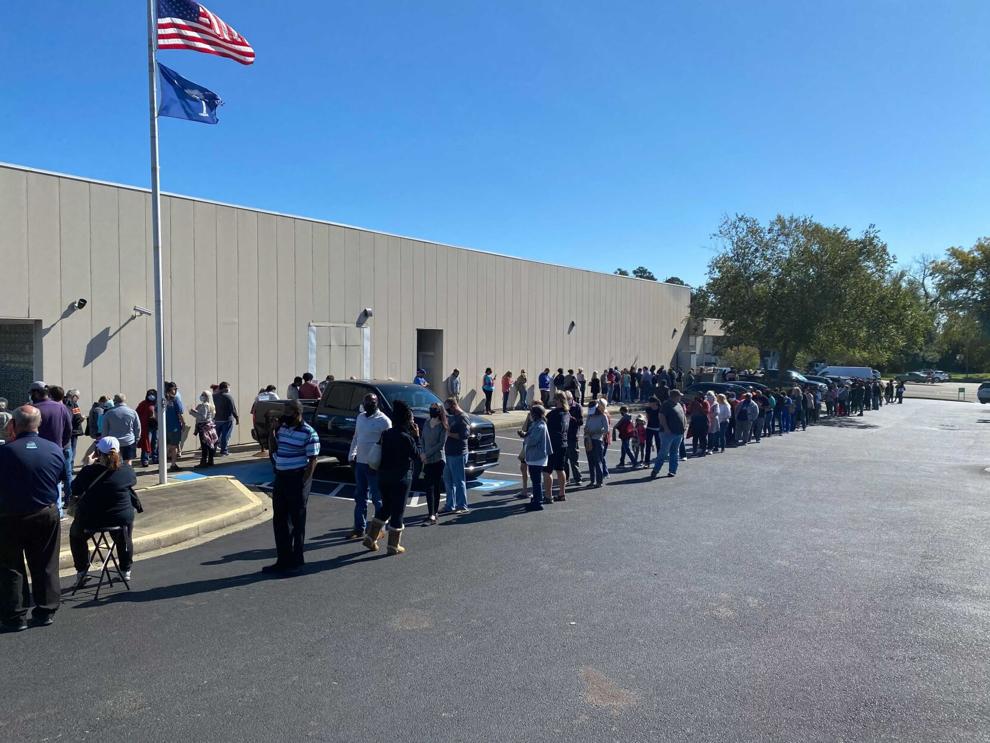 Blain-Spain was standing outside the elections office watching the end of line grow. As a well-known community member, he greeted dozens who recognized him. He said many people he talked to received mailed information with incorrect absentee voting information like Reynolds.
He thanked people for coming out to vote, reminding them once in line they must be permitted to vote.
While Blain-Spain was encouraged by the dedication to voting on display by the hundreds in line, he couldn't help but question if it really needed to be this way.
Horry County has one of the smallest elections staff of a county of its size, and the small office provides little room for voting machines. Elections Director Sandy Martin regularly asks for her staff to be expanded during the budget season, but the county essentially froze spending levels for 2020.
Blain-Spain said the election staff in Horry County are doing the best they possibly can, but he called out Horry County Council for not increasing the budget to provide for more election staff members and a bigger office for coming elections.
"The budget is controlled by the County Council. So who we elect to office determines all of this outcome," Blain-Spain said. "It's just failed leadership, and not on Sandy Martin's part because she runs an office on integrity."
No council member is still in a contested election.
Two voting days left
Time is running out to vote early, either in person or by getting your absentee ballot completed and mailed.
While the state has set record levels of participation, after the close of business Monday, most votes will have to be cast traditionally by visiting your polling place in person on Tuesday.
Polls will be open from 7 a.m. to 7 p.m. 
State Election Commission spokesman Chris Whitmire said the big turnout Saturday was a continuation of the trend that has grown ever since early voting opened during the first week of October.
He said counties adapted to the new coronavirus changes that allowed all residents to vote early by opening up for longer hours and adding 60 more voting locations statewide.
While no-excuse voting is in place for this year because of eased requirements due to COVID-19, Whitmire said that if it is the same for the next election, he hoped the counties expand even more.
"The more opportunities you give voters, the more people will use them," he said.
Mike Fitts, Thomas Novelly, Keith Kohn, Andrew Whitaker and Cleve O'Quinn contributed to this report.