Under former President Barack Obama, two South Carolina congressmen in the hard-line conservative House Freedom Caucus preached more concern about the national debt than any other issue.
A year and a half into the Trump administration, the personal fortunes of the pair — U.S. Rep. Mark Sanford and his former colleague, Mick Mulvaney — have vastly diverged.
Sanford, the Charleston Republican who was once governor, finds himself on the way out of Washington, toppled in a GOP primary after publicly airing his criticisms of President Donald Trump.
Mulvaney, on the other hand, has risen to arguably the most influential fiscal policy role in government as Trump's budget director. He temporarily took the reins of the financial consumer watchdog agency he has long loathed. And in recent months, Mulvaney has even been floated multiple times as the next White House chief of staff.
Yet, when it comes to the foremost policy issue that has driven their political careers, Mulvaney and Sanford have achieved about equal levels of success in the Trump era: Not much.
Trump has denied Mulvaney's entreaties to slash Social Security, Medicare or other entitlements, and Congress rejected cuts to a plethora of other programs. Recent projections from the administration itself suggest the federal deficit will top $1 trillion starting next year.
The politician who spent years clamoring to take a chainsaw to government spending has instead had to settle for a dull scalpel.
If the setbacks have angered Mulvaney, he has not shown it.
Once a radical deficit hawk who helped dethrone House Speaker John Boehner over concerns that establishment Republicans were not listening to movement conservatives, Mulvaney has transformed into a true team player for Trump.
"I'm not the president, and I recognize that. I'm a member of a team," Mulvaney told The Post and Courier. "But I have been able to participate in that process, and I've been satisfied that I am having an influence in the outcomes."
Conservative ideologue
From his arrival on the political scene with his election to the South Carolina House in 2006, Mulvaney has never been shy about his tight wallet ideology, proudly describing himself a "right-wing nutjob."
But colleagues from Mulvaney's days in the Statehouse and Congress said he always quietly evinced a more pragmatic approach than meets the eye.
"He knows what he wants to get done, but he also knows what you have to do to get things done, and that's a rare trait in Columbia and in Washington," said S.C. House Majority Leader Gary Simrill, R-Rock Hill. "One of Mick Mulvaney's talents is to be a hard-line conservative but work within the confines he's been given."
Raised in Charlotte, where he worked early in his career as a lawyer, Mulvaney moved across the border to Indian Land, S.C., just a few years before launching his political career and working for his family's real estate business. 
After rising swiftly from the state House to the state Senate, he toppled longtime Democratic incumbent congressman John Spratt of York County in the Tea Party wave of 2010.
"His 'carpetbagger' status wasn't held against him, mainly because within his party he was of the right ideological bent for the times," said Scott Huffmon, a political science professor at Winthrop University who has followed Mulvaney's political career.
Despite his combative approach in Congress, helping to create the Freedom Caucus in an attempt to force House GOP leadership further right, Mulvaney received ideal committee placements for his policy interests, initially on the budget and small business committees and eventually joining financial services and oversight.
Mulvaney's move to the executive branch has not ended his feuds with other congressional Republicans, who he blames exclusively for his difficulty in securing budget cuts.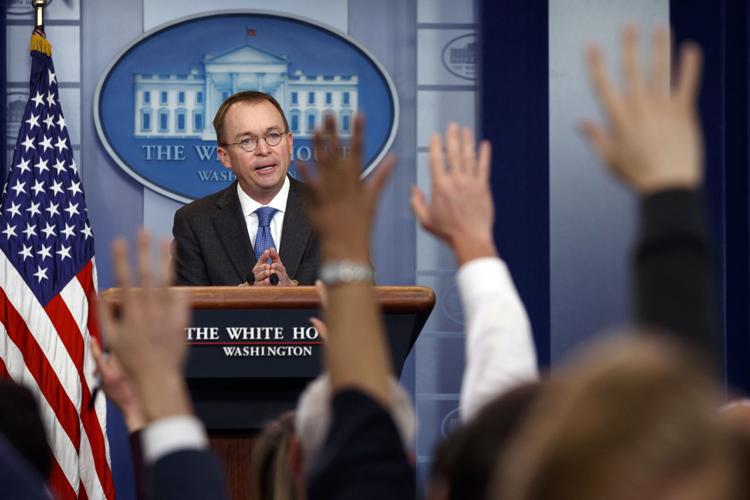 Many congressional Republicans, Mulvaney said, preach fiscal conservatism on the campaign trail but then continue to demand more spending on their favorite programs once they get to Washington.
Spurned on spending cuts, Mulvaney has turned to other ideas as he looks to enact his small government approach.
Last month, Mulvaney rolled out a blueprint for a sweeping reorganization of the federal government, a plan that included merging the federal education and labor departments and privatizing the post office.
The proposal faces an uphill battle in Congress, where it was immediately met with opposition by many Democrats and some Republicans.
But it provided an opportunity for Mulvaney to prove that his focus on shrinking government has not wavered.
Trump salesman
From the get-go of his confirmation hearings, Mulvaney conceded that as budget director, he would no longer be representing his conservative congressional district but rather a president who is less singularly focused on cutting federal spending.
When Mulvaney returns to Congress to sell Republicans on administration proposals, his former Freedom Caucus colleagues have been known to tease him about how different he sounds from the Mulvaney they knew as one of their own.
U.S. Rep. Ralph Norman, the Rock Hill Republican who replaced Mulvaney in South Carolina's 5th Congressional District and immediately joined the Freedom Caucus himself, said it's mostly in jest.
"Everybody understands his role has adjusted," Norman said. "None of us get all we want, but we're in there trying the best we can. We all have confidence that when he's in there with the president, he'll push it as much as he can. But it's the president's decision."
Not all Freedom Caucus members have been amused by Mulvaney's sales tactics.
Sanford confronted Mulvaney about his projections of 3 percent sustained annual economic growth in a congressional hearing last year, saying Mulvaney "assumes a Goldilocks economy."
While gross domestic product growth surged to 4.1 percent in the second quarter of 2018, many economists do not expect that to be a sustainable phenomenon over the long term.
But Mulvaney touts his work on cutting regulations and helping to push through last year's tax cuts — what he terms "MAGAnomics" — as key factors behind the recent economic boost, and he said it has been "very rewarding" to see his predictions of strong growth come to fruition even sooner than he had expected.
Sanford still argues Mulvaney is playing with fire. The bold projections, Sanford recently told The Post and Courier, could "come back to haunt the (Republican) Party" if they prove untrue.
"How in the world Mick Mulvaney, who is a smart guy and who knows the numbers, can stand up there in a budget hearing and say what he says about the budget numbers ... you're selling a lie that somehow we can balance the budget without touching entitlements," Sanford said. "That is not the truth."
For now, it appears Mulvaney will have to wait for that promotion to White House chief of staff.
John Kelly reportedly told colleagues that he has accepted Trump's request to stay on until after the 2020 election.
But the rumors of Mulvaney's rise indicate that he has gained powerful allies in the White House. Freedom Caucus chairman Mark Meadows, a close Trump ally from North Carolina, said before a speech to South Carolina Republicans last week that Mulvaney "has the trust of the president."
When ex-colleagues taunt Mulvaney over his change in tone, he said he tells them that at least now he's "losing at the highest levels" in the Oval Office, rather than in the basement of the Tortilla Coast restaurant on Capitol Hill where the Freedom Caucus has often held meetings.
"It's sort of like losing in the World Series," Mulvaney said. "At least I'm there."
Schuyler Kropf contributed to this report.