You're seeing the Palmetto Politics daily newsletter. Receive the latest political news and in-depth analysis from The Post and Courier to your inbox Monday-Friday here. It's free to join.
SC lawmaker causes social media stir after sharing misleading image on her Facebook page
A South Carolina Republican lawmaker is facing social media backlash after posting a misleading image of Democratic U.S. Rep. Joe Cunningham on Facebook, but so far she's not backing down or taking down the post.
The photo appears to show Cunningham is not holding his hand over his heart during Saturday's commissioning of the USS Charleston.
"What's wrong with this picture?" state Rep. Lin Bennett, R- Charleston, posted at 10:33 p.m. Sunday.
In the 48 hours that followed, more than 200 commenters would weigh in on her question and the image itself.
Republican Katie Arrington, who ran against Cunningham for the congressional seat and lost, commented on the post more than five times.
"Lin he has no clue .. Bless his heart.. no clue of the sacrifice and honor the Navy brings to this town and Nation," Arrington wrote shortly after Bennett posted the photo.
Arrington would also write she found it "so sad he represents SC-1" and, in another comment, claimed Cunningham "just wanted to call himself a Congressman."
Charleston County Councilman Elliott Summey, who is rumored to be mulling a bid for the seat, also shared the image on his Facebook page.
Repeated attempts to reach Bennett for comment about her social media post were unsuccessful. Bennett did, however, tell a Charleston-area TV station on Monday that she "doesn't understand why this post is such a big deal."
For starters, it's misleading.
---
Want to receive this newsletter in your inbox Monday through Friday? Sign up for free.
---
At the time the photo was taken, the band at the commissioning of the USS Charleston had just finished playing "The Star-Spangled Banner."
Video footage from the event shows Cunningham standing with his hand over his heart for the duration of the song. Cunningham claps when the song stopped playing, as did U.S. Sen. Tim Scott, R-S.C., who was standing next to Cunningham but cannot be seen in the photo Bennett shared.
Cunningham has not responded publicly about the image, but his campaign spokesman Tyler Jones sent me this statement.
"It's sad but not surprising that our political opponents are resorting to fake news in order to criticize Congressman Cunningham's successful tenure so far in Congress. These attacks are dishonest, childish and downright desperate," Jones said.
On Twitter, Bennett responded to a user Monday who asked, "Why are you posting a misleading photo? As a veteran from SC, it disgusts me to see your pitiful attempt use a military ceremony out of context."
"Just so you know, he's still not following protocol. You don't 'clap' until the colors are posted or retired with the color guard. Notice everyone else is still at attention and the color guard is still there," Bennett replied.
Bennett shows no signs of backing down.
Late Monday night after many called for her to apologize or remove the picture, Bennett took to social media yet again.
"I guess I upset some Dems today. Wish they were this worked up about letting born alive babies live," she said before sharing a redacted version of a profanity-laced message she received about her post.
The photo was still up as of 8 a.m. Tuesday.
After drawing ire and questions, former state lawmaker withdraws his bid to lead SC Conservation Bank
A former South Carolina legislator withdrew his bid to become the next director of the state's land preservation agency just days after senators sharply questioned his qualifications for the job and accused him of "self dealing."
The Post and Courier's Andrew Brown and Jamie Lovegrove report that former state Rep. Mike Pitts, R-Laurens, sent his withdrawal letter Monday to Conservation Bank Chairman Doug Harper.
In the letter, Pitts cited his health as his reason for withdrawing his nomination to be the next director of the South Carolina Conservation Bank.
The news comes after a testy Senate confirmation hearing last week in which state lawmakers grilled Pitts and questioned whether he had the appropriate qualifications and experiences to lead the state Conservation Bank.
Read more about the development in the confirmation process and how lawmakers reacted to the news.
In other news:
The South Carolina winner of a $1.5 billion lottery ticket has finally claimed the winnings. Read more about why taxpayers could win too.
Nikki Haley is back. Freed from the restrictions of a political job, the former South Carolina governor and United Nations ambassador just in the past week launched a policy group, scored a nomination to a corporate board and posted tweets critical of both the president and Statehouse lawmakers. Read more about what she's up to. 
Federal law enforcement officials continue to monitor SCANA Corp. and the legal fallout surrounding the company's failed V.C. Summer nuclear project — a sign the utility's current and former executives could still face criminal charges. Read more about the latest federal court hearing.
Follow Palmetto Politics on Twitter

AND ONE MORE THING: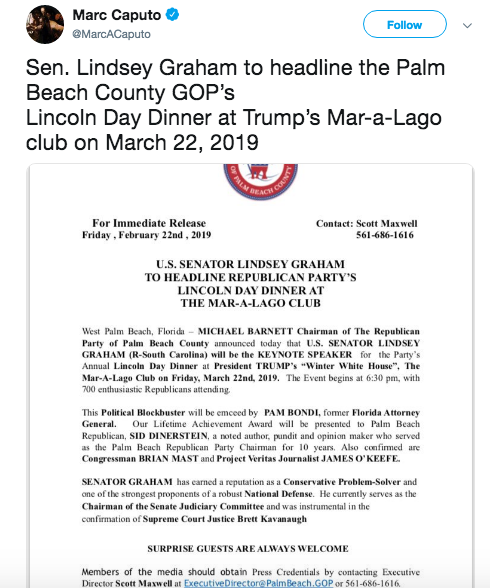 ---
Did your smart, politically engaged friend forward you this email? Subscribe here.
Craving more? Check out the rest of the Post and Courier newsletters.