COLUMBIA — South Carolina officials will soon travel the state in an effort to get every home and business connected to high-speed internet services that can literally save lives
The "Get Connected SC" campaign is the next phase of South Carolina's broadband expansion initiative, aimed at closing gaps, educating people about what's available and helping them access it. But officials must first learn more about the continued impediments.  
The campaign involves a "listening tour" with stops in 26 cities and towns statewide starting in mid-March and a survey all South Carolinians are encouraged to fill out, said Nanette Edwards, director of the Office of Regulatory Staff, which oversees broadband efforts.
Surveys will be collected through April 30. 
The bipartisan initiative was jointly announced Feb. 21 at the Statehouse by Edwards, Gov. Henry McMaster, U.S. Rep. Jim Clyburn and other state officials. 
State agencies will use the information to develop a five-year plan for getting South Carolinians online, which is necessary to access additional federal money approved by Congress in 2021. They intend to submit the plan in August. 
Once the plan's approved, the state will receive at least $100 million more toward broadband investments, as well as tens of millions of dollars for helping people buy what's available, Edwards said.
"We recognize having fiber cable does not improve your life unless you can afford the monthly service, have a working device and know how to use the technology," said Mike Shealy, director of the state Department of Administration's newly formed Digital Equity Office.
About 137,000 homes statewide remain without broadband access, down from nearly 222,000 in fall 2021, said Jim Stritzinger, director of the state Broadband Office.
Earlier this month, his office announced $133 million for the latest round of grants to 15 internet providers. When those projects are completed next year, the number of homes without access should drop to 74,000, he said. 
Clyburn, D-S.C., again thanked McMaster for urging legislators to designate federal COVID aid toward broadband expansion. The Legislature approved the largest chunk, $400 million, last May.
Clyburn said his late wife's 30-year struggle with diabetes is what drove him to push for greater internet access nationwide, as he realized the life-changing potential of doctor visits through the computer.  
"Everybody should have this and the only way for that to happen is telehealth. And you cannot have telehealth without the internet," he said about a conversation he had with his wife Emily's doctor.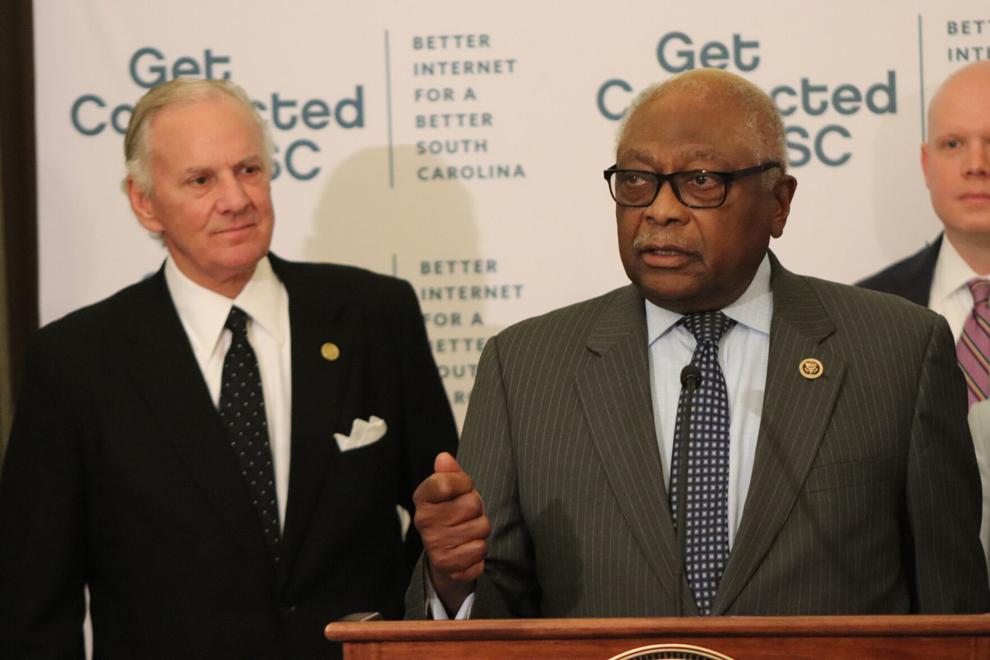 "When I called you and asked for your assistance, you were ahead of the game," Clyburn said, turning to McMaster. "I'm not going to say this pretty often but man, you're doing it with the internet."
The state's commitment "means our children can get connected to their educational pursuits. That means our senior citizens can get connected to their health care needs," he said. "That means our businesses can be more effective with on-time deliveries for their profits."
Noting he attributes his wife's early diagnosis and care with never needing an amputation, he added, "This is so important. This can save lives as well as limbs."
People can learn more about the initiative at a new website that's part of the launch: getconnectedsc.org.