When U.S. Rep. Jim Clyburn talks about the sea change coming to House Democratic leadership in the next Congress, the South Carolina Democrat emphasizes geography almost as much as he praises the generational shift taking place within his party's top ranks. 
The next Democratic leader is widely expected to be 52-year-old Hakeem Jeffries from New York. Its next whip will be 59-year-old Katherine Clark, who represents Massachusetts. And the party's future caucus chair will be 43-year-old Pete Aguilar of California.
But amid this changing of the guard, Clyburn is the lone constant.
The 82-year-old, whose 6th Congressional District stretches from Columbia to parts of the Charleston area, will be the only elder statesman left in the top rungs of Democratic leadership next year, after Speaker Nancy Pelosi and House Majority Leader Steny Hoyer separately announced their plans to step away from the gavel to make way for fresh faces.
"I'm continuing on in order to keep South Carolina and the South in the forefront of the Democratic Party's future," Clyburn said. "I don't want to see the South written off."
Clyburn's comments, made in a wide-ranging Nov. 23 interview with The Post and Courier, come ahead of a three-day meeting in Washington where national Democrats will decide their party's presidential nominating calendar.
The Democratic National Committee is weighing whether to make drastic changes to how the party picks its presidential candidates, including whether to scrap Iowa from its leadoff spot and whether it makes sense to add a fifth state to the pre-Super Tuesday window.
Currently, the Palmetto State enjoys an influential first-in-the-South position, but two other Southern states — Texas and Georgia — are jockeying for a bigger role.
Asked if he's confident that his home state will hold onto its early primary position, Clyburn struck an optimistic yet cautious tone.
"What the future holds, we'll just have to see," Clyburn said after highlighting factors he thinks gives South Carolina an edge, like its cheap media markets and the different types of voters found in each of the state's geographic regions.
"But I think it will do the party well to make sure that South Carolina stays in that pre-primary window, and hopefully, it will continue to be first in the South," he said.
Clyburn has already announced his plans to step down as Democratic whip, and he has instead asked his colleagues to make him the fourth-ranking Democrat in the next Congress. No one is running against him, and his party's leadership elections are set for Nov. 30.
In his role as assistant Democratic leader, which is not as clearly defined as the party's top three posts, Clyburn stressed that he views it as an extension of one of his most enduring political priorities: Making sure that someone in his party's leadership will be able to speak for rural America, and especially for the South.
Clyburn said he envisions acting as an ambassador who can make sure the Democratic Party does not forget the South and keeps the region's unique needs top of mind when making policy decisions and setting legislative priorities. 
He points to his longstanding relationships in the South, especially with the Black faith community and historically Black colleges and universities.
"You cannot be any more than what your experiences allow you to be," Clyburn said. "And if you've never lived the Southern experience, you may not be able to deal with it as effectively as someone who has."
Clyburn also said one of the reasons why he will remain at the leadership table is because he was asked to stay on by Jeffries and other up-and-comers in the Democratic Party.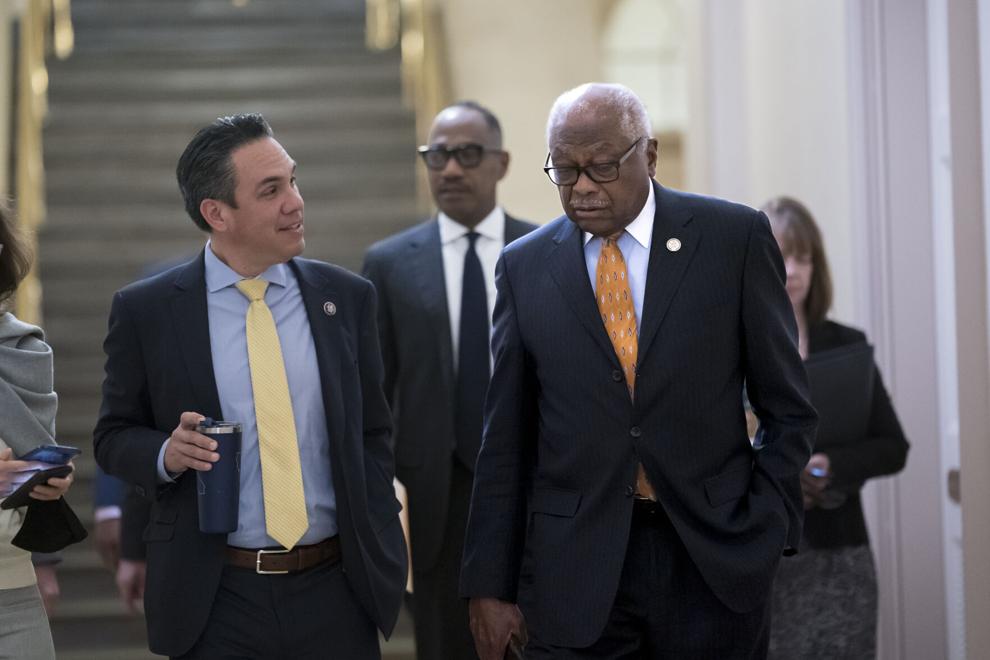 That doesn't surprise Antjuan Seawright, Clyburn's political adviser who was also a senior adviser to the Democratic Congressional Campaign Committee during the 2022 election cycle.
"Barack Obama said it best: When Jim Clyburn speaks, the entire Congress listens," Seawright said. "Him being there gives this new generation of political pilots a chance to fly the plane with a very experienced and trusted co-pilot right beside them."
Gibbs Knotts, a political scientist at the College of Charleston, said congressional leadership roles are pivotal posts that can influence the types of legislation that political parties decide to pursue and prioritize. While Republicans have reclaimed a narrow majority in the U.S. House, Democrats are poised to hold onto a razor-thin majority in the U.S. Senate.
That dynamic, Knotts noted, will call for some careful political maneuvering to get any legislation passed.
"There's a lot of strategy, a lot of behind the scenes stuff that leadership does," Knotts said. "And it helps to have someone there with experience, who has fought some of these battles before and who can help some of the new folks who have not been in a leadership role before."
Clyburn noted that Jeffries has "often referred to me as a mentor" and said Aguilar was one of his chief deputy whips in the Democratic caucus. Clyburn also stressed that he is someone who has always been more comfortable working behind the scenes than in front of the cameras.
"I don't need the headlines," Clyburn said. "I just need to make the headway."
Asked whether he would like to see President Joe Biden, the nation's oldest president, run for reelection, Clyburn replied "absolutely" and cautioned that everyone ages in different ways. 
Clyburn's own yardstick for gauging whether he will run for reelection to his congressional seat in 2024 is simple: Does he still have the support of his constituents, and can he still comfortably play 36 holes of golf a day — 18 in the morning, a lunch break for a sandwich and a Jack and diet, followed by 18 more holes in the afternoon.
Asked if he would like to see former South Carolina Gov. Nikki Haley or U.S. Sen. Tim Scott, R-S.C., run for president on the GOP ticket, Clyburn replied, "Whatever the Republicans do, I'm going to just be prepared to meet them on the other end. When they are finished, whoever they nominate, I'm going to be prepared to defeat them with Joe Biden or whoever his successor might be."