Four Republican women, including South Carolina congressional candidate Nancy Mace, are calling themselves the "Conservative Squad" as part of a new effort to reclaim GOP control of the U.S. House and win in 2020.
The group introduced itself to the nation during a live studio interview on "Fox & Friends" Thursday morning. 
"This is not your grandfather's GOP anymore," Mace said.
The members of the newly formed group are all 2020 congressional candidates. And, in contrast to the four minority Democratic congresswomen known as "the Squad," the GOP alternative is all white.
The Conservative Squad includes Jessica Taylor, who is running for Alabama's 2nd Congressional District; Michelle Fischbauch, in Minnesota's 7th Congressional District; Beth Van Duyne, in Texas' 24th Congressional District; and Mace, who is running in South Carolina's 1st Congressional District.  
"This is about our future. This is the American dream. You see the Democrats, and they've taken a sharp left turn under the influence of the Socialist squad. You look at us and, and this is socialism versus American values and freedom and job creation," Mace said in explaining why she joined.
"And we all understand up here today that people flourish under freedom, and 2020 next year is pivotal for our country," Mace continued.
The ultimate goal of the group is to take aim at the four progressive Democrats known as "the Squad": Alexandria Ocasio-Cortez of New York, Ilhan Omar of Minnesota, Ayanna Pressley of Massachusetts and Rashida Tlaib of Michigan.
The group has become go-to villains in Republican attacks against Democrats running for Congress.
The newly formed "Conservative Squad" comes after Taylor, an Alabama businesswoman, called for the creation of a "Conservative Squad" in her campaign announcement video that ultimately went viral.
"I'm just honored that they want to join in this fight, and that's exactly what it is. We are losing the younger generations of this country and I'm so grateful that they're willing to join up and help this squad," Taylor said Thursday morning.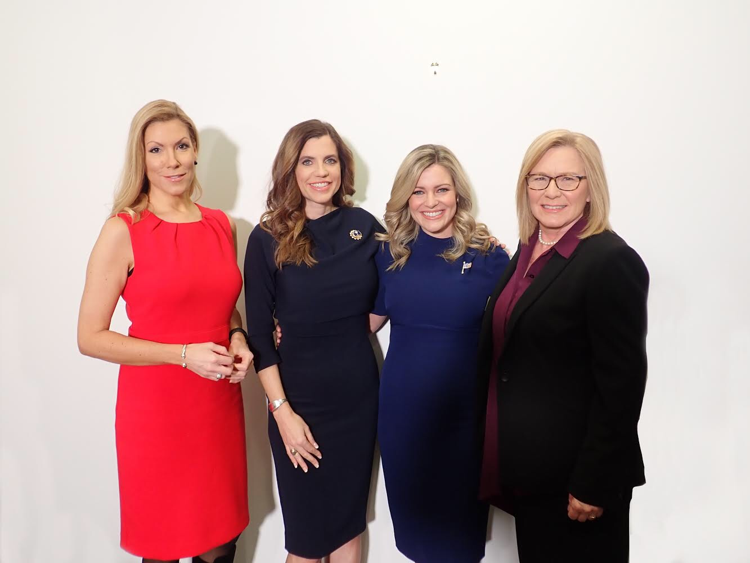 In her viral campaign video for a U.S. House seat, Taylor said she was "sick of arrogant Socialists like AOC (Ocasio-Cortez), who've never even run a lemonade stand, trying to tell us how to live in Alabama and that more government is the answer."
The group plans to raise money together for their respective congressional campaigns, and will split it evenly four ways. In addition to that, a percentage of the money they raise will also go to the nominee funds for the Republicans who will ultimately take on each Democratic member of the squad in their 2020 general elections.
The female-powered push also comes as Republicans are trying to make the upcoming 2020 elections a referendum on Socialism rather than a referendum on incumbent President Donald Trump.
"I'm worried about the direction our country is headed because of Socialists like the Squad. We need a new Squad based on solutions," Mace said in a statement released regarding the GOP initiative.
Mace is one of five Republicans currently running to unseat Joe Cunningham, a freshman Democrat seeking reelection in South Carolina's coastal 1st District that voted for Trump in 2016.
Cunningham's campaign manager characterized the effort as a partisan ploy at a time when voters want bipartisanship.
"While Representative Mace is running to be the Republican version of AOC, Joe has been ranked one of the most independent members of Congress with a record of passing landmark bipartisan legislation in his first year in office. We don't need another partisan squad in Congress, we need leaders who can work together to make life better for the folks at home," Cunningham campaign manager Alli Watters said in a statement provided to The Post and Courier.
So far, Mace is leading in fundraising efforts on the GOP side of the race.
The latest publicly available federal election filings show Mace has $452,000 cash on hand after raising a total of $513,000 since launching her campaign in June.
National Republicans are eager to win back control of the House next year, and see South Carolina's 1st Congressional District as a key part of that strategy. The National Republican Congressional Committee identified it as one of 55 targeted House districts they want to flip in 2020. 
Early projections indicate the high-stakes race could get expensive.
With Election Day 11 months away, Advertising Analytics estimates more than $700,000 has already been spent on advertising in South Carolina's 1st Congressional District race. Many of the TV spots that take aim at Cunningham have featured the image of Ocasio-Cortez.  
The nonpartisan Cook Political Report has labeled the upcoming 2020 House race as a tossup.