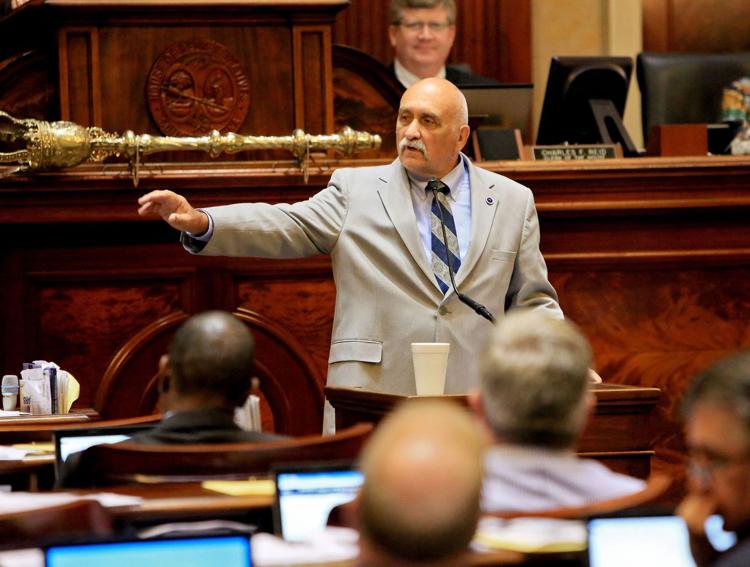 Three conservative state lawmakers want South Carolina prepped to secede from the Union — again.
They've sponsored a bill requiring South Carolina lawmakers to consider secession if the federal government "confiscates legally purchased firearms."
The bill by Reps. Mike Pitts, R-Laurens; Jonathon Hill, R-Townville; and Ashley Trantham, R-Greenville, has absolutely no chance of becoming law this year since there's only about a month left in the session. 
Pitts said he filed the bill to "generate dialogue and debate for next session."
"That's a serious bill," he said. "I certainly don't take it lightly."
This isn't the first time Pitts has offered especially crafted legislation to make a political statement. In 2016, he filed a bill requiring journalists to register with the state government and created fines for those who didn't.
That bill, Pitts, a staunch gun-rights supporter, told Palmetto Politics, was meant to highlight the penalties people suffer when they don't obtain a weapons permit.
The secession bill wasn't the only parody Pitts offered this week. He sponsored two other measures that would make it illegal for people to sell video games or show movies that depict gun violence in South Carolina.
Pro-McMaster ad arrives in time for The Masters
A third-party group started airing a new TV ad Saturday backing Republican Gov. Henry McMaster by highlighting the endorsement he received from Donald Trump and his support of the president's policies.
Citizens for a Working America, a politically active Virginia-based non-profit, is behind the spot with a six-figure buy statewide. The ad is slated to run during the final round of The Masters golf tournament Sunday in Charleston, according to online federal documents.
A political action committee with the same name ran more than $250,000 in TV ads opposing veteran Democratic congressman John Spratt of South Carolina in the race he lost to Republican Mick Mulvaney.
The PAC has received funding from the Ohio-based Government Integrity Fund, which paid for a pre-Super Bowl ad in South Carolina backing McMaster's call to stand during the game's national anthem.
McMaster and his chief GOP gubernatorial fundraising rival, Catherine Templeton, have yet to start broadcasting TV ads from their own campaigns, letting third-party groups do the promoting so far.
Greenville businessman John Warren, another Republican contender, started airing his own spots last week.
No license plates for corrupt lawmakers
If you're a South Carolina lawmaker who turns crooked, don't even think about asking for a special license plate.
The S.C. House, looking for a way to reward its veterans, approved blinging up the vanity plate available for retired legislators by adding the state seal and allowing them to get two plates, instead of one.
A plain plate that recognizes holders as a "former member" of the General Assembly has been available since 2003, though only 18 are on the road.
"If you serve up here long enough to retire, you ought to be able to have one if you want it," said bill sponsor, Rep. Jimmy Bales, D-Eastover.
However, any former legislator convicted of a crime need not apply. And if they're convicted after getting a special plate, they must give it up.
"If you're a bad actor, please don't advertise you were in the Legislature," said Rep. Bill Taylor, R-Aiken, another co-sponsor.
Galivants Ferry Stump is next Saturday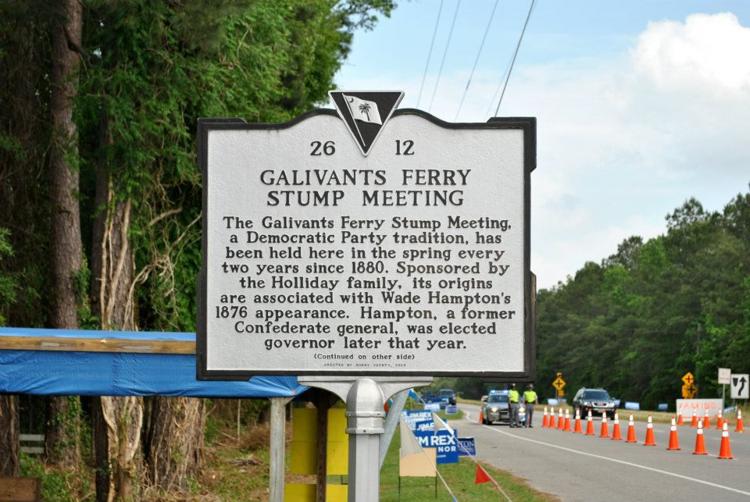 For the first time, one of the nation's oldest continuous political gatherings for Democrats will be held on a Saturday.
The 142-year-old Galivants Ferry Stump is April 14 at the Pee Dee Farms General Store, 125 U.S. Highway 501, near the farm fields of western Horry County.
Officials moved it to a weekend, instead of its traditional Monday, and moved it up one month from its previous May date to get more college students and families involved, organizer Sally Howard said.
As many as 45 candidates are expected, including all three Democratic candidates for governor. Entertainment starts at noon and speakers begin at 2 p.m.
Andrew Brown, Andy Shain, Seanna Adcox and Schuyler Kropf contributed.