Third-party television and radio ads played a big role throughout the South Carolina Republican governor's primary race, but they were huge in the runoff.
Groups such as the Palmetto PAC, Palmetto Prosperity PAC and A Bright New Day spent $1.1 million during the two-week battle between Gov. Henry McMaster and Greenville businessman John Warren, according to data from Medium Buying, an Ohio firm that tracks political ads.
By comparison, the McMaster and Warren campaigns combined to spend a little less than $1 million on advertising between the June 12 primary and June 26 runoff, Medium Buying found.
That means about $150,000 a day was being spent on advertising in the GOP runoff that McMaster won.
The pro-McMaster Palmetto PAC, which worked with a sister company of Medium Buying, aired the bulk of the third-party ads. The PAC was funded mostly by Citizens for a Working America, an Ohio political nonprofit that does not have to disclose its donors.  
The pro-Warren Palmetto Prosperity PAC that lists an address at a UPS store in Columbia has not filed a disclosure with the Federal Election Commission. 
A Bright New Day, another pro-Warren PAC, got its biggest contribution from a source close to the campaign — Warren's lieutenant governor choice, Pat McKinney.
The former Kiawah Island developer kicked in $100,000 a week before the runoff.
Efforts to reach McKinney last week were not successful.
National GOP group ups activity in governor's race
The opening salvo of the general election race for South Carolina governor did not come from either of the two candidates. Rather it came from the Republican Governors Association, a national group focused on electing GOP governors around the country.
In a 15-second web video, the RGA labeled Democratic nominee James Smith as a "liberal politician" who has supported tax increases.
Both the RGA and their Democratic counterparts have been following along with the South Carolina race and sending out statements as it progresses.
But some Democrats took the latest move as a sign that Republicans are worried about defending their hold on a state that has historically been viewed as safely red.
Republicans said it's standard for national GOP groups to get behind their candidates, particularly for a longtime Republican stalwart with D.C. connections and a fundraising history like McMaster.
The RGA has also accumulated an unprecedented $87.5 million war chest, meaning it can afford to play in more states than just the typical battlegrounds.
"Getting started early is usually not a bad idea if you have plenty of money, which they do," said former S.C. GOP Party Chairman Katon Dawson. "Making sure James Smith doesn't get within 10 or 12 points any time in the near future is probably a pretty decent investment."
RGA spokesman John Burke said the group is going "all-in" for McMaster.
"Democrat James Smith's out-of-touch record of supporting numerous tax hikes and costly schemes would take South Carolina backwards, and we want to ensure South Carolina voters understand that," Burke said.
Some Dem Statehouse challengers lead fundraising
Two Democratic challengers have more money in their campaign accounts than the Republican incumbents they're running against, according to the latest round of fundraising disclosures for the second quarter of 2018.
John Kraljevich, a Fort Mill historian, now has around $31,000 in the bank, compared with state Rep. Raye Felder's $28,000.
And West Ashley filmmaker Dan Jones has $17,000 to state Rep. Lin Bennett's $9,000.
Both Felder, R-Fort Mill, and Bennett, R-Charleston, come from districts that have historically voted reliably red. 
Republicans dismiss the early figures, noting that the incumbents were in session for part of the fundraising quarter and some had primary challengers to fend off first.
But Democrats tout the strong early numbers as an indication that they have recruited a stronger field of Statehouse candidates this election cycle than in years past and have a chance to stage some upsets.
A few other Democrats, including a pair in the Charleston area, outraised their opponents from April to June but remain behind in cash on hand.
J.A. Moore hauled in $20,000 to Goose Creek Rep. Samuel Rivers' $5,000. Jen Gibson raised about $9,500 to Daniel Island Rep. Nancy Mace's $4,500. Judi Buckley raised $4,600 to Taylors Rep. Mike Burns' $2,400.
Louisiana AG to speak at SC congressman's BBQ fundraiser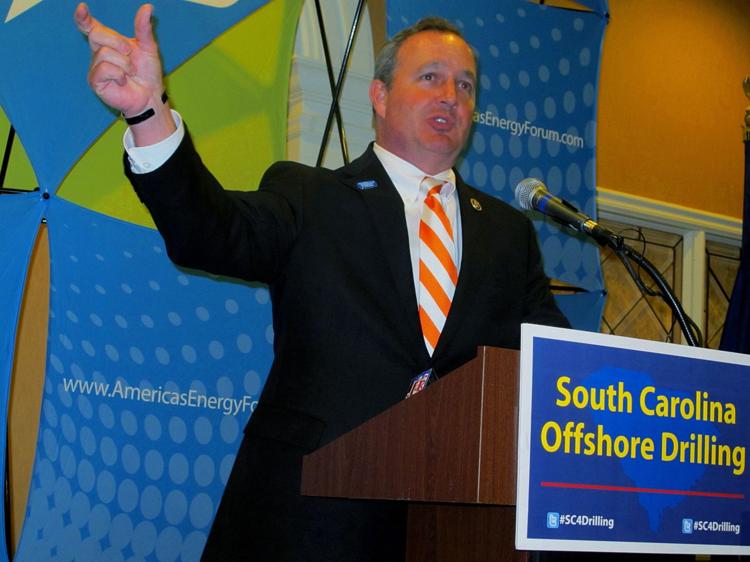 U.S. Rep. Jeff Duncan's annual Faith and Freedom BBQ manages to bring Republican up-and-comers to Anderson to meet with conservatives in the early presidential primary state.
Previous headliners at the Laurens Republican's marquee event include Sens. Marco Rubio of Florida, Ted Cruz of Texas, Rand Paul of Kentucky and Joni Ernst of Iowa, as well as Wisconsin Gov. Scott Walker.
Next month, Louisiana Attorney General Jeff Landry will headline Duncan's soiree. 
Landry, a former congressman, has risen fast in the ranks of top state legal officials since taking office two years ago. He already is president of the National Association of Attorneys General and is nominations chairman in the Republican Attorneys General Association.
Landry also took control of a Louisiana political committee that in the past helped Republicans win majorities in the Statehouse and is now focused on ousting what he calls "Republicans in name only."  
Andy Shain and Jamie Lovegrove contributed in this report.