There's a price for having the country's top-two politicians come visit.
Gov. Henry McMaster's campaign already has a bill from the White House for trips by President Donald Trump and Vice President Mike Pence in the last three days before the GOP runoff. 
The campaign paid $97,001.96 to the Republican National Committee last month to cover the costs of Air Force One flying into Columbia and Air Force Two flying to Myrtle Beach, according to a state disclosure filing last week. 
No breakdown was available from the campaign. Based on a previous Trump visit, more bills could be coming from the Secret Service.
McMaster paid $21,400 for Trump's visit in October to headline a Greenville fundraiser. The bill included using Air Force One, Marine One and Secret Service for a 25-minute speech and a private meeting with top donors.
The McMaster campaign so far has spent at least $118,000 for two Trump visits and one from Pence.
The price was worth it since the governor, promoted to the job in early 2017, managed to win the GOP nomination in a runoff. 
Scott visit sparks 2024 watch
Taking a trip to Iowa for a politician, especially one with a growing national profile, never means just a chance to see some farms and talk about Hawkeye football.
U.S. Sen. Tim Scott is going to the early presidential caucus state next week, the latest in a series of visits to the Midwestern political hub state in recent years.
The North Charleston Republican will be the featured speaker at an Iowa Republican Party fundraiser on Friday in Des Moines. The party touted Scott as "a rising talent within our growing Republican Party" who "will be an essential voice in the efforts to win future elections."
According to local media, Scott brushed aside the idea of any presidential aspirations last time he was in Iowa, saying he remains focused on his job as a senator.
But U.S. Sen. Joni Ernst, the Iowa Republican who had invited him, jumped in to say Scott "would be great if he ran for anything else."
SC conservative headed to liberal-heavy NY event 
While Scott heads to the Heartland, one of his South Carolina colleagues is heading to Yankee-land. 
U.S. Rep. Mark Sanford, the recently defeated Charleston Republican, will appear on July 21 at OZY Fest, New York City's version of South by Southwest, which brings together an eclectic group of performers and speakers in Central Park.
The musician and speaker list in one of America's most progressive cities features several liberal heroes: Hillary Clinton, Sen. Kirsten Gillibrand and comedians Chelsea Handler and Michelle Wolf, to name a few.
But Sanford won't be the lone conservative. Anti-tax activist Grover Norquist will be speaking that same day, and the next day will include Karl Rove, the strategist for former President George W. Bush.
Explaining the speaker choices, OZY Media founder Carlos Watson told the New York Daily News that the mission of the festival is to bring "diverse voices to one stage" and expose the audience to new perspectives.
"In years past, people who purchased a ticket to see Jason Derulo have been totally wowed by Jeb Bush," Watson said.
Alien candidate in debt
The third-place finisher in the GOP primary for South Carolina's 1st Congressional District — a perennial candidate who has a Bernie Sanders tattoo and spent the last few weeks of the race dressed in an alien costume calling himself "chief of galactic police on the planet Zenon" — now has some more earthly concerns.
According to his latest fundraising disclosure filed this week, Dimitri Cherny ended his eccentric bid with his campaign more than $5,000 in debt.
The space cop could not be reached for comment last week.
Bill is coming back
Last seen around South Carolina during his wife's 2016 presidential campaign, former President Bill Clinton will return to Columbia Aug. 6 for a private event honoring the addition of papers from his former Education Secretary Dick Riley at the University of South Carolina.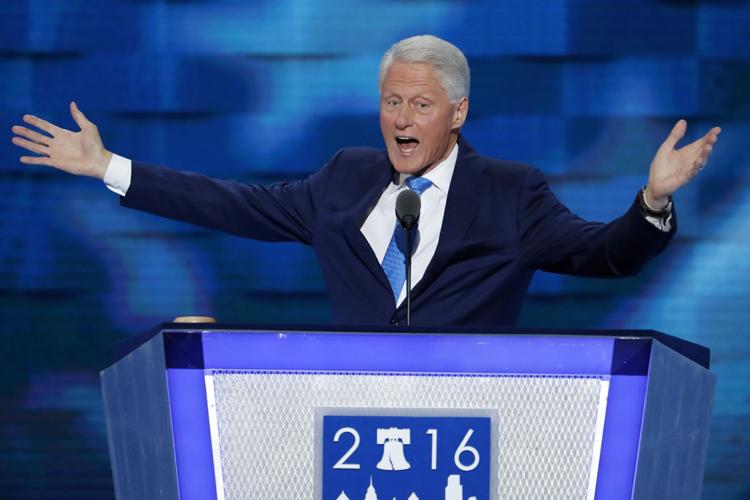 Clinton will speak to university leaders, government officials and invited guests on behalf of the former governor and state lawmaker.
Riley's collection includes more than 3,000 photographs, speeches, research notes and correspondence along with campaign materials from his work on the presidential campaigns for Clinton, Jimmy Carter and Al Gore.
Other recent acquisitions by USC's Political Collections include papers from Congressman Jim Clyburn, former S.C. Chief Justice Jean Toal and Gov. Henry McMaster.
Perhaps Clinton will drop a copy of his current chart-topping novel "The President is Missing" at USC's Thomas Cooper Library on his way out of town.
Andy Shain and Jamie Lovegrove contributed to this report.