Is hindsight 20-20? Some state lawmakers want to bring back the driver's license eye test requirement dropped last year.
But the director of the S.C. Department of Motor Vehicles still contends his employees don't need to be in the ophthalmology business.
People correct their vision on their own, he said, so they can see the TV.
"Why do people get their eyes checked?" DMV Executive Director Kevin Shwedo said at a recent press event. "They get their eyes corrected so they can see a TV, and it has a positive impact on society at-large."
A bill approved by the House last week would re-require vision tests for people renewing their license.
Shwedo opposes the idea as a money waster that will increase lines at the DMV without improving safety.
Accident rates are no higher in the 12 states without an eye test for renewals, he said.
Last year's law allowed South Carolina drivers to renew their license online. They couldn't previously because of the vision test mandate.
"So, if you can demonstrate that we're going to improve public safety – all in, baby," Shwedo said. "But if you can't and we see what we've seen in every other state where we can renew online and shorten the lines for the citizens of this great state, we're good."
He prefaced his remarks by saying he hadn't cleared his opinion "with my boss."
No worries there. Gov. Henry McMaster said he agrees with Shwedo.
No new constitution without reparations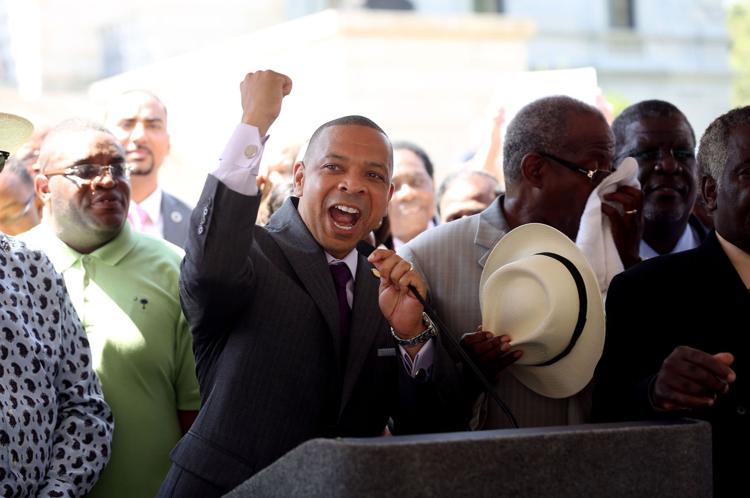 Sen. Marlon Kimpson wants reparations to slaves' descendants to be part of any debate on rewriting the state's 1895 constitution.
A bill introduced last week by freshmen legislators would ask voters in November if they support holding a constitutional convention. Supporters say the current system gives a handful of legislators too much power.
It's not expected to get any traction. The same handful of legislators will likely make sure of that.
Kimpson, D-Charleston, may have helped doom it.
"As you know, many African-Americans arrived to this nation" on a boat to Charleston as slaves, he told senators as the bill was introduced.
"I want us to contemplate the subject of reparations," he said. "We ought to put all subjects on the table, including reparations to the descendants of people who essentially built South Carolina."
Kimpson said he's not sure a new constitution is needed, but "if they open the subject, we're going to introduce the material."
S.C. Senate finally has sex harassment policy
Senators and their staff soon will be trained on the chamber's first no-harassment policy.
The five-page document was adopted Thursday by a committee led by Senate President Pro Tem Hugh Leatherman, R-Florence. It bars "any unwelcome verbal or nonverbal comments or behavior," including touching, graphic texting, and leering.
The Senate, whose 46 members have historically been nearly all males, hired a law firm last November to draft the policy amid the near-daily revelations of sexual harassment and abuse that forced many powerful men out of their elected or corporate jobs.
Leatherman, the Senate's 86-year-old leader, said he's yet to receive complaints against senators or staff.
A Columbia labor attorney will conduct the training. Exactly when that will happen is unknown.
Failure to honor the policy means "those responsible will be dealt with swiftly," Leatherman said.
House members got a reminder session in January of that chamber's existing no-harassment policy, last updated in 2015.
Duncan on NRA boycotts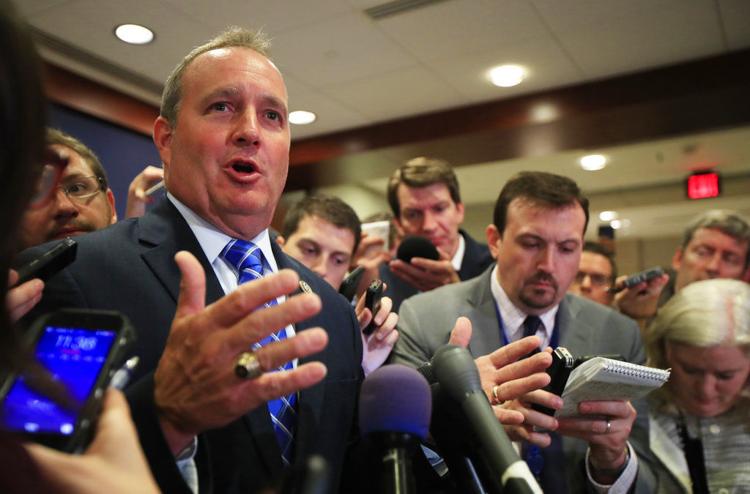 While there is a growing backlash against companies cutting their affiliations with the NRA, the South Carolina congressman most associated with gun-rights isn't saying if he'll join in.
But U.S. Rep. Jeff Duncan, R-Laurens, said it's okay for anyone who does.
Duncan gave Palmetto Politics a statement when asked if he planned to join any boycotts. While he didn't confirm he would, he said it's okay for anyone who does.
"The NRA has been standing up for the Second Amendment rights of United States citizens ever since 1871, and it's unfortunate that many companies are now bowing to liberal pressure and shunning the NRA for protecting these God-given rights," he said.
"I support everyone's right to curtail business with companies as a result of advancing or succumbing to leftist agendas."
Various companies have dropped NRA membership discounts in the wake of last month's deadly shooting at Marjory Stoneman Douglas High in Florida.
Seanna Adcox and Schuyler Kropf contributed.