After successfully dinging U.N. Ambassador Nikki Haley last year, a federal ethics watchdog has set its sights on another pair of South Carolinians in the Trump administration.
Citizens for Responsibility and Ethics in Washington filed complaints Thursday against budget director Mick Mulvaney and White House press secretary Hogan Gidley for using the abbreviation of Trump's campaign slogan "Make America Great Again" in tweets from their official government accounts.
Because Trump has already announced his re-election campaign for 2020, the U.S. Office of Special Counsel advised the administration in March he should technically be treated as a political candidate, not just a public official.
As a result, government employees were told they are not allowed to "use hashtags such as #MAGA or #ResistTrump in social media posts or other forums" because it would violate the Hatch Act, a 79-year-old law that prohibits executive branch employees from engaging in political activity.
CREW pointed out that Mulvaney, a former South Carolina congressman, has used the hashtag #MAGAnomics in at least two tweets and an op-ed.
#MAGAnomics is a simple formula, you just have to believe in capitalism, hard work and our people. You must believe in America. We certainly do. https://t.co/wrErZiRTFs

— Mick Mulvaney (@MickMulvaneyOMB) April 5, 2018
As for Gidley, who once served as executive director of the S.C. GOP and has worked on multiple campaigns in the Palmetto State, CREW highlighted a tweet he sent with a picture of the White House that included the #MAGA hashtag.
But CREW acknowledged that it is unclear whether Gidley's tweet was sent before or after the Office of Special Counsel sent out their new guidance cautioning against the use of #MAGA in official tweets because it happened on the same day. He has not used the phrase since then.
Eight other White House officials were named in the complaint.
It's always humbling to walk into work at this amazing place. When the morning sun hits the @WhiteHouse & you see the American flag waiving atop the building, there's a deep sense of honor, pride & appreciation for this incredible country. #MAGA @realDonaldTrump @POTUS #America pic.twitter.com/boWjjFWPVd

— Hogan Gidley (@hogangidley45) March 5, 2018
South Carolinians have been targets for Hatch Act complaints before. After CREW complained about Haley for retweeting Trump congratulating U.S. Rep. Ralph Norman on his special election victory last year, she received a warning from the Office of Special Counsel and took down the retweet. 
South Carolina Republicans leave 3D-printed gun issue to the feds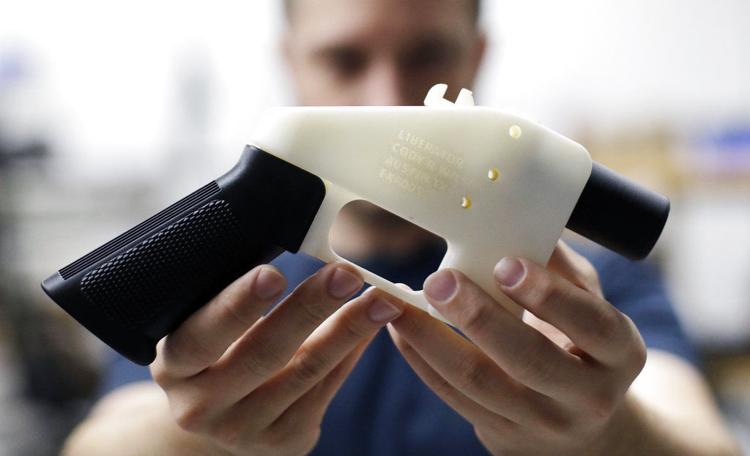 Republican lawmakers in this gun-friendly state want no part of a lawsuit that's already temporarily stopped a company from publishing downloadable blueprints for a 3D-printed gun.
The suit, filed Monday in Seattle by attorneys general from eight states and the District of Columbia, seeks to permanently block the Trump administration's settlement with Defense Distributed, which allows the Texas company to make the plans available online.
A federal judge issued a temporary restraining order Tuesday while the case is pending. A hearing is set for next week.
The attorneys general who sued worry the settlement will put hard-to-trace plastic weapons in the hands of terrorists and criminals.
But S.C. Attorney General Alan Wilson says it's not an immediate concern.
"The president said he's looking into the situation," said Wilson's spokesman, Robert Kittle, referring to a Trump tweet Tuesday morning. "We'll let the president take care of it."
People can use the blueprints to make a plastic gun using a 3D printer. Wilson's office echoed the stance of gun industry experts who doubt criminals would go to the trouble, since the printers themselves are very expensive and the guns tend to disintegrate quickly.
"It's easier for criminals to get regular guns. It's just not practical in terms of cost and benefits," Kittle said.
Gov. Henry McMaster was unaware of the lawsuit Tuesday but noted his strong support for the Second Amendment.
Three S.C. lawmakers ranked as most productive
Three Republicans in the South Carolina House have made a top-10 list as the nation's most productive state representatives.
Washington-based technology company FiscalNote puts Rep. Alan Clemmons of Myrtle Beach at No. 1 nationwide, saying 84 percent of the 4,002 bills he's sponsored over the past 16 years have become law.
Rep. Garry Smith, R-Simpsonville, ranked ninth, with a 79 percent success rate on the 3,849 bills he's sponsored since 2003. And Rep. Mike Pitts, R-Laurens, ranked 10th, after 82 percent of the 3,734 bills he's sponsored over 16 years became law.
FiscalNote says it ranks lawmakers using a propriety algorithm that factors in the number of bills, how far they get in the legislative process and whether they attempt meaningful change, as opposed to congratulatory resolutions or memorials.
When looking at substance alone, Smith comes out on top. The company considers 16 percent of Clemmons' bills, 18 percent of Pitts' and 20 percent of Smith's bills substantive.
Perhaps most surprising is that FiscalNote considers all three Republicans "fairly conservative" on the liberal-to-conservative spectrum.
Pitts, a retired officer, is known for his pro-gun, pro-law enforcement measures. Smith is known for his hard-right stances on social issues. And Clemmons is known for pushing through GOP election law changes and pro-Israel measures. 
Jamie Lovegrove and Seanna Adcox contributed to this report.