It may be heresy, but the South Carolina man who founded Bikers for Trump is sticking with the president in his feud with Harley-Davidson motorcycles.
Chris Cox of Mount Pleasant has been a faithful Harley loyalist but thinks Donald Trump's battle to win the global trade and tariff war will keep his biker buddies supporting Trump over their Harley allegiance.
"Harley-Davidson has been kept above water because of the blood, sweat and spit of the veterans and the blue collar," Cox told Palmetto Politics.
Those are the same veterans and blue collars who helped put Trump in the White House, he said.
"All the bikers are behind the president on this," Cox added, pointing to comments on his Bikers for Trump 2020 Facebook page.
Milwaukee-based Harley-Davidson announced recently that production of its motorcycles sold in Europe will move from U.S. factories to facilities overseas. The move was prompted by the retaliatory tariffs the European Union is imposing on American exports.
Company officials said the EU's levy on its motorcycles jumped from 6 percent to 31 percent, adding about $2,200 in cost per average motorcycle exported from America. 
Trump tweeted he was surprised the iconic brand was first "to wave the White Flag."
Cox, who has a busy national schedule stumping for candidates Trump supports, said one biking option for some is switching to another American motorcycle brand: Indian.
"They are the Coke and Pepsi of the motorcycle industry," he said. 
Charleston congressmen reunion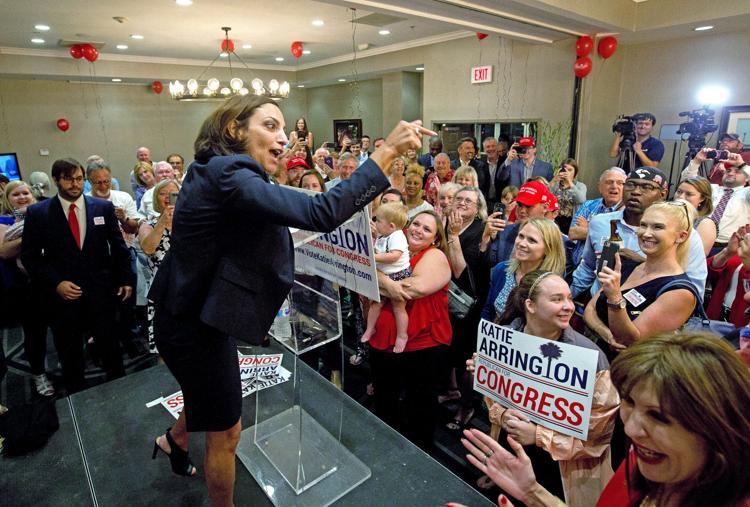 There's a chance all five of the Charleston area's veteran and current Republican members of Congress will be on stage together in August.
Tommy Hartnett, Arthur Ravenel Jr., Henry Brown, Tim Scott and Mark Sanford — representing 38 years of continual service — have been invited to take part in a recognition and fundraiser sponsored by the Charleston, Berkeley and Dorchester GOPs. 
The date is Aug. 17 at Alhambra Hall in Mount Pleasant.
"The goal is to honor all of them," said party Chairman Larry Kobrovsky. "I hope all of them can be there."
Each will be invited to give remarks, and current district nominee Katie Arrington is expected to be the keynote speaker, Kobrovsky said, which would put her on stage two months after her severe car accident from a week ago.
Hartnett led off the GOP domination of the 1st Congressional District when he was elected in 1980.
The 1st District hasn't had a Democrat in charge since the late Mendel Davis served for 10 years before Hartnett.
Democrat Joe Cunningham will try to change that in November.
Gov. Henry McMaster is also invited.
Parnell rekindles campaign, not money stream
Now that he's the Democratic nominee against U.S. Rep. Ralph Norman, R-Rock Hill, Archie Parnell has ramped his campaign activities back up, tweeting a flurry of criticisms about Norman's conservative policy views in recent days.
But if anyone still wants to donate to Parnell after divorce records came out showing he abused his ex-wife decades ago, they may have to send him a check in the mail.
Parnell's campaign website and fundraising outlet remains out of service, taken down by disgruntled staffers after they ditched his campaign following the revelation.
Some Democratic officials have risen to Parnell's defense, including longtime Orangeburg state lawmaker Gilda Cobb-Hunter.
But nationally, Democrats have moved on from the race. The Democratic Congressional Campaign Committee has formally removed the district from its list of GOP-held seats to target and has continued to urge Parnell to withdraw.
Trump likes one thing about Mark Sanford
President Donald Trump has said he flat-out does not like Mark Sanford, but apparently he does like one of Sanford's D.C. budget ideas.
During a Tuesday lunch with members of Congress, Trump voiced his support for a plan to reign in federal spending. It was the same concept Sanford outlined in a bill he sponsored in April.
Known as the "penny plan," the bill calls on Congress to reduce federal spending by 1 percent each year. Put another way, the bill seeks to cut one cent of every dollar in the federal budget.
Trump's support came during a conversation with Georgia Rep. Tom Graves.
"There's a group in the House that's ready to cut spending," Graves said.
"You know, I'd like you to take a look at the penny plan because, as small as it sounds, it's a very effective plan over a five-year period," Trump said, before asking Graves to take a look at it.
Trump then eyed his White House Budget Director Mick Mulvaney, who was formerly a South Carolina congressman.
"Maybe, Mick, you can take a look at it," Trump said.
"Yes, sir," Mulvaney responded.
The plan has been pushed in the past by Sanford and others.
Trump's vocal support of the concept came the same week he publicly criticized Sanford during a rally in Cayce for Gov. Henry McMaster.
Trump did not mention Sanford during the luncheon.
Compiled by Schuyler Kropf, Jamie Lovegrove and Caitlin Byrd.