NORTH CHARLESTON  — Police Chief Reggie Burgess officially announced his campaign for mayor, ending months of speculation and entering a race that will determine the next leader of the state's third-largest municipality.
If he's successful in his first-ever political bid, Burgess, 57, would be the first Black mayor of a proudly diverse city.
His long-awaited campaign announcement came March 24, one day after Burgess announced his plans to retire from the Police Department in May.
In a statement shared by his campaign, Burgess declared that he is running "today, tomorrow, and every day" to earn the votes needed to become the next mayor of North Charleston in the Nov. 7 election. 
"Over the past couple of years, my role in the next phase of my life began to become clearer," Burgess said in his announcement. "I knew that when the time was right and Mayor (Keith) Summey had completed his service as Mayor of North Charleston, my thoughts and vision would become reality."
His expected run was the worst-kept secret in local politics.
Earlier this month, Summey named Burgess as his preferred pick for the city's top job, praising him as a well-qualified individual who loves North Charleston and knows how to lead.
It wasn't technically an endorsement, but only because, as Summey put it at the time, "It wouldn't do me any good to endorse anybody until they decide they are running."
Now it appears Burgess is hoping to emerge as Summey's successor. 
Earlier this month, Burgess quietly filed paperwork with the S.C. Ethics Commission showing he has already raised cash for a mayoral race, totaling $1,300.
The initial candidate report was filed March 10, the same day Summey announced he would not seek reelection for an eighth term.
Burgess becomes the latest entrant in the race to decide the next leader of North Charleston. The job also comes with the highest pay for a mayor in South Carolina, with an annual salary of $218,310.
Councilwoman Rhonda Jerome and North Charleston businessman John Singletary have both formally announced mayoral bids. 
More could enter. Other potential candidates include Charleston County Councilman Teddie Pryor and former City Attorney Brady Hair.
Burgess was born and raised in North Charleston, and is well-known in the city. He has lived in Union Heights, Horizon Village and Liberty Hill — some of the North Charleston neighborhoods where gunfire is common.
A local football star, Burgess graduated from Bonds Wilson North Charleston High School with a football scholarship and played wide receiver at Maryland's Morgan State University.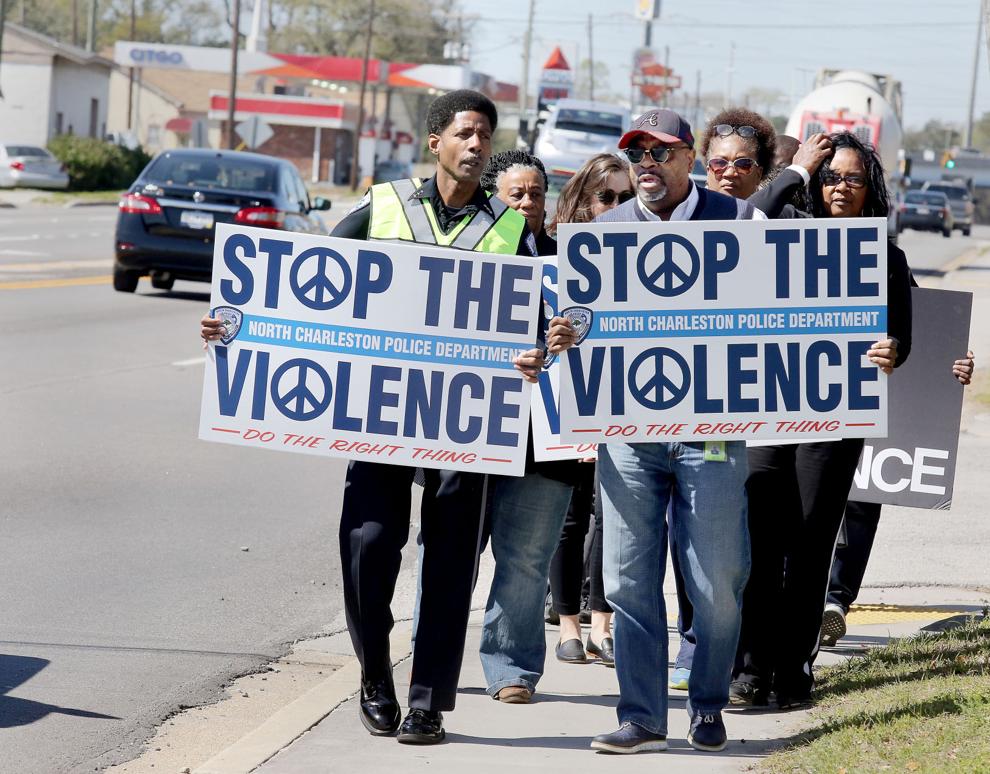 He later earned degrees in criminal justice and sociology at Claflin University in Orangeburg. He joined the police force in 1989, taking a job as an entry-level patrolman. 
He worked his way up through the ranks, becoming assistant police chief in 2013.
In 2016, Burgess offered what is believed to be the first public apology from the Police Department after the fatal April 4, 2015, shooting of Walter Scott, a Black motorist who was gunned down by police officer Michael Slager. 
He made history in 2018 when he became North Charleston's first Black police chief. 
As chief, he has sought to rebuild community trust, whether it was walking through crime-ridden neighborhoods with a sign pleading for communities to "Stop the Violence" or overseeing a racial bias audit of the North Charleston Police Department.
"My mother told me … listen, if you come back home, you have to make a difference here," Burgess said at the time of his appointment to lead the department. "That's what I've been trying to do."
In 2020, Burgess withdrew his name for consideration to be the next director of the S.C. Department of Public Safety, citing unforeseen strain on his family after questions were raised about unpaid income taxes; he has said the debt he had was paid in full in 2018.
Burgess has never run for political office, but he already has a campaign slogan: "Win. Every. Day."
The election will be held in November. Whoever wins will be the first new mayor to lead North Charleston in nearly 30 years.