BAMBERG — As part of kickstarting her private life after leaving the Trump administration, former Gov. Nikki Haley returned to her rural South Carolina hometown Wednesday where she told elementary school students that their dreams, like hers, could come true.
"When I was 7 years old and eating my hair in the second grade, I didn't know that I'd be governor. I didn't know that I'd be ambassador," Haley told 15 students at a Richard Carroll Elementary School after-school program run by her foundation.
"But everything I learned in Bamberg, taught me to do well. So you're in the right place, at the right time."
Since leaving as United Nations ambassador in December, Haley has started a policy group called Stand for America, begun writing her second book, gone on a speaking tour and accepted a seat on the Boeing Co. board.
"Everyone who knows Nikki knows she's ambitious, and there's nothing wrong with that ambition," said Bakari Sellers, a former S.C. lawmaker who is a CNN political commentator.  
Haley also re-engaged with The Original Six Foundation, which she had to step away from while working at the United Nations. She again chairs the foundation named for the six members of her family who grew up in Bamberg, a town of 3,300 residents some 90 miles northwest of Charleston.
The group sponsors three after-school homework programs in Bamberg, Clarendon and Union counties and a literacy program in Barnwell County. Expansion plans are in the works to meet Haley's goal of supporting needy kids.
"I want them to think big and dream big and know that growing up in a rural town is special," she told reporters.
Haley, 47, is trying to navigate private life where she needs to earn money after nearly 15 years in public service while maintaining a public profile for future political aspirations.
"She's got to walk that fine line between being a national political celebrity and being a good ol' gal from home," said Terry Sullivan, a South Carolina political consultant who worked on Florida Sen. Marco Rubio's 2016 presidential campaign. "But her work has always transcended South Carolina. It's always been about greater ideals and ideology."
Everything she does will prepare her for a 2024 presidential run, political observers say.
"Nikki Haley is next up for the Republican party," Sellers said. "They'd be stupid not to pick her." 
Haley is expected to join the Boeing Co. board Monday at the jet maker's annual meeting. Boeing directors receive more than $300,000 in pay and company stock a year, according to regulatory filings. The total compensation at Boeing, which is going through a crisis, is more than what Haley earned in a year as governor or ambassador.
She also is earning up to $200,000 for speaking engagements. She has at least 10 speeches scheduled through the fall, half of them to Jewish groups because of her strong support for Israel while at the United Nations. 
Stand for America, a policy group she formed in February less than two months after leaving the UN, is her main political mouthpiece. The group pushes her views on issues like the Green New Deal and capitalism on social media and in email blasts that are aimed at younger voters. 
She has sent contribution requests to supporters but donors records are not available. Stand for America has $2.5 million in revenue with expenses totaling $2.15 million, according to an online filing with Florida state officials.
Haley did not offer specifics when asked about the Stand for America's donors Wednesday but said she plans to talk at colleges.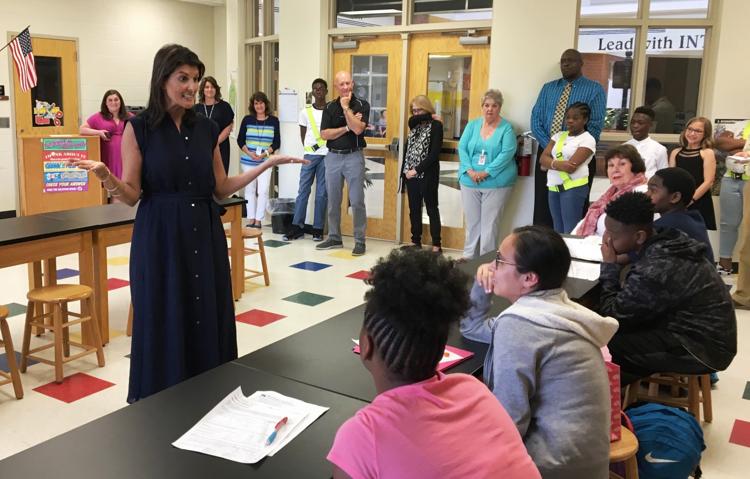 The leadership of Stand for America includes close allies.
Haley's husband Michael is listed as the group's president while her former chief of staff in the governor's office, Columbia attorney, James Burns, is treasurer and secretary, according to filings with the New York Secretary of State office. The address listed on state documents for the Stand for America is a UPS Store three blocks from the New York Stock Exchange in Manhattan. Haley is living in New York while her son finishes high school. 
But it's The Original Six Foundation that provides her with a connection to her home state. 
Started in 2011 soon after Haley took office, the foundation sponsored events in rural counties to provide health care and employment aid.    
The foundation had $675,113 in the bank in July 2017, according to the latest tax returns available publicly. Haley seeded the foundation with her $500,000 advance from her first memoir, "Can't is Not an Option." The Original Six raised more than $1.4 million between 2012 and 2017, according to tax records.
She said she will not give her foundation the advance from her second untitled book due this fall.
Asked about the amount of her advance, she gave an answer she enjoys now: "I am a private citizen."