ORANGEBURG — No sooner had U.S. Sen. Cory Booker wrapped up a fiery speech here Thursday to hundreds of Democratic activists at an annual cook-off, waxing poetic on the struggles of the civil rights movement, when a swarm of selfie-takers rushed to make the same request he heard up and down the state.
"Please," Nathaniel Jacobs, 27, implored, "tell me you're running for president."
Meanwhile in Greenville and Hopkins on Friday, rapturous crowds chanted "Madam President" as U.S. Sen. Kamala Harris took the stage visibly blushing.
A day later in Columbia, U.S. Sen. Bernie Sanders headlined a "Medicare-for-All" rally, reviving many of the same progressive themes from his upstart 2016 presidential campaign.
Like the many other Democratic presidential contenders who have visited the Palmetto State in recent months to test the waters, all three top hopefuls played coy about their White House ambitions, insisting they will wait to think about it until after the Nov. 6 midterms.
Their message focused resolutely on turning out Democratic voters for the contests two weeks away. But as the latest crowd of nationally recognized Democrats swung through the early presidential primary state this week, their fans could not help but look two years ahead.
"To me it speaks to the enthusiasm Democrats have," said Charleston County Democratic Party chairman Brady Quirk-Garvan, "but also the hunger for these 2020 contenders to start coming down here."
Booker, Harris cross demographics
Regardless of the politicians' reluctance to admit their underlying intentions, Democratic voters at the events around the state praised them for getting a head start on what is expected to be a hyper-crowded 2020 field.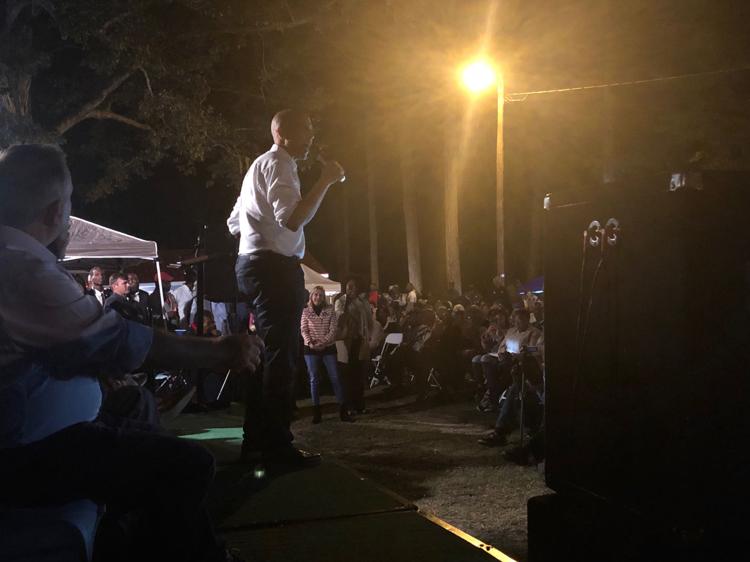 "With all the things people see happening in politics today, 2018 is important but I think it has really spurred people to start looking ahead," said Marie Murphy, 67, of Easley after cheering for Harris in neighboring Greenville.
Retired teacher Priscilla Robinson, 67, said it was "extremely smart" for Booker, D-N.J., to speak at the annual Orangeburg County Democratic Cook-off, one of the most popular party events each year.
"He gets a feel for the people and the people get a feel for him," Robinson said. "So when he starts running, they can say, 'We met this guy, he's been here, he's passionate and he understands our concerns.'"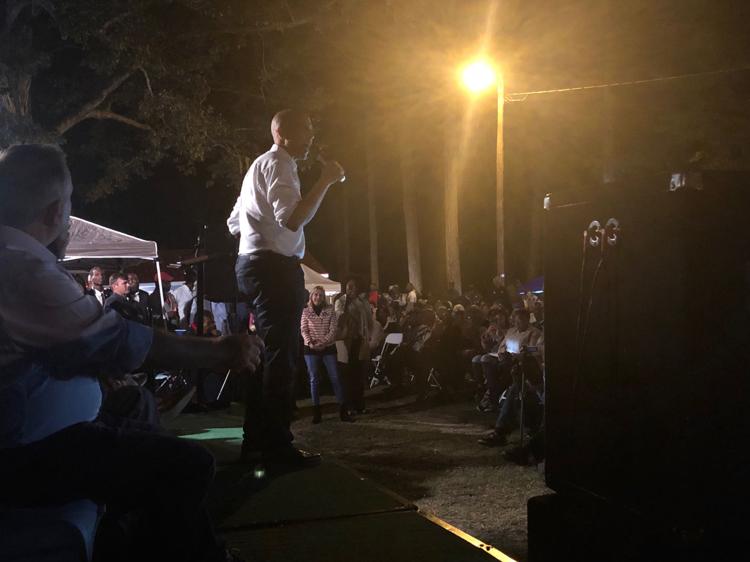 For first-time Democratic congressional candidates running in historically conservative districts, like Sean Carrigan challenging U.S. Rep. Joe Wilson, R-Springdale, or Mary Geren challenging U.S. Rep. Jeff Duncan, R-Laurens, attention from national figures offers both positives and negatives.
"Having all of these people coming to South Carolina is great for South Carolina because it gets people excited about what's going on on the national stage, and when there's a high voter turnout it generally favors Democrats," Carrigan said. "At the same time, does it give targets for incumbent Republicans to use to rile up their base? Absolutely."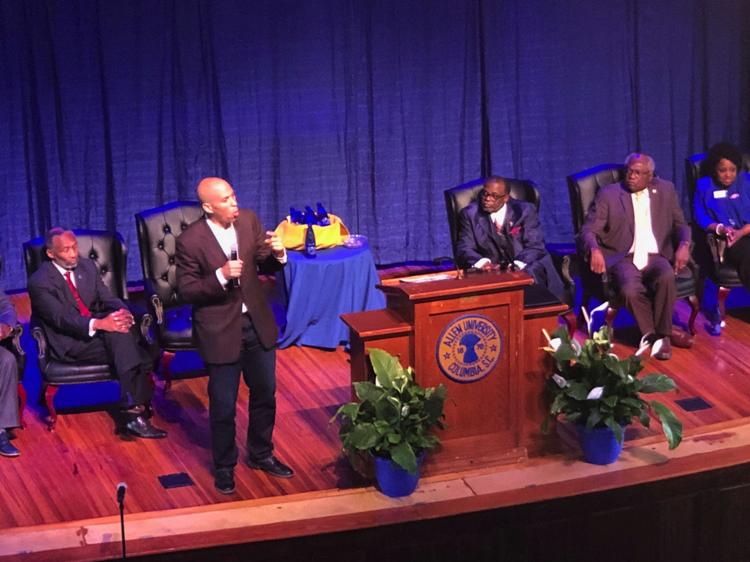 Since vacationing in South Carolina as a child, Booker told reporters he has always felt "a connection to the people of this state" — and to its Democratic electorate, the first primary state with a substantial African-American voting bloc.
"Look, I am who I am," Booker said. "I'm the former mayor of a majority black city. I'm the only senator in Washington that lives in a majority black community. I grew up in the black church. I am here because of so many great movements, like the civil rights movement... So I want to connect to people heart-to-heart while I'm here."
Harris, D-Calif., argued that the path to turning historically red states like South Carolina more blue is by emphasizing shared concerns, repeatedly saying that Americans "have so much more in common than what separates us" and all worry about "the health of their children or parents, can they get a job, keep a job, pay their bills by the end of the month and retire with dignity."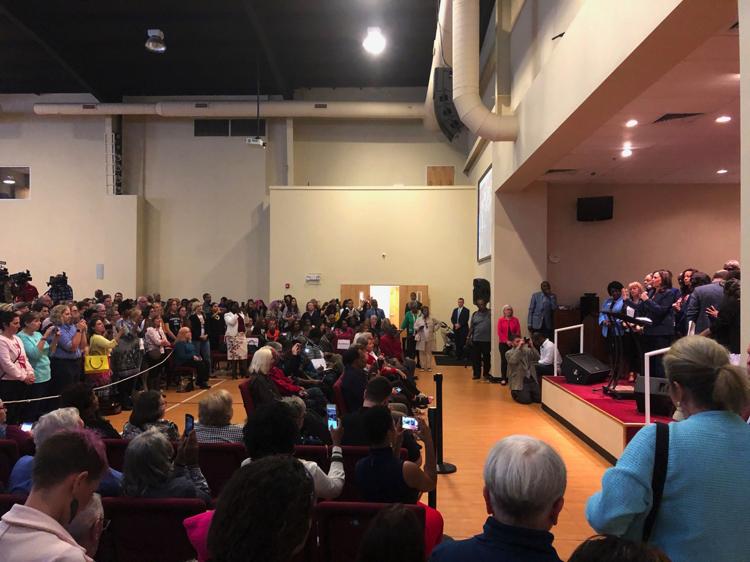 "It can't only be about political expediency in terms of appealing to the most people," Harris said of the minority party's outreach. "I think that if we're going to really do our job it's about being relevant to the most people."
Sanders hails progressives
After struggling in South Carolina in the 2016 primary, losing by almost 50 percent to Hillary Clinton, Sanders and his supporters insisted that his message still has the potential to perform well in the future.
State Rep. Justin Bamberg, one of the only elected Democrats in South Carolina to endorse Sanders in 2016, addressed the fact that some party officials "weren't too excited" to see Sanders return to the state when they hadn't invited him.
"I look around the room and I think it's pretty clear why the senator is here," Bamberg said to a crowd of around 900: "Because the people wanted him here."
In his familiar Brooklyn accent, Sanders called for more government-led efforts to address economic inequality and confronted claims that this state is not as receptive to assertively left-wing rhetoric as some others.
"It's kind of funny, I was told there were no progressives in South Carolina," Sanders said as he took the stage to a standing ovation.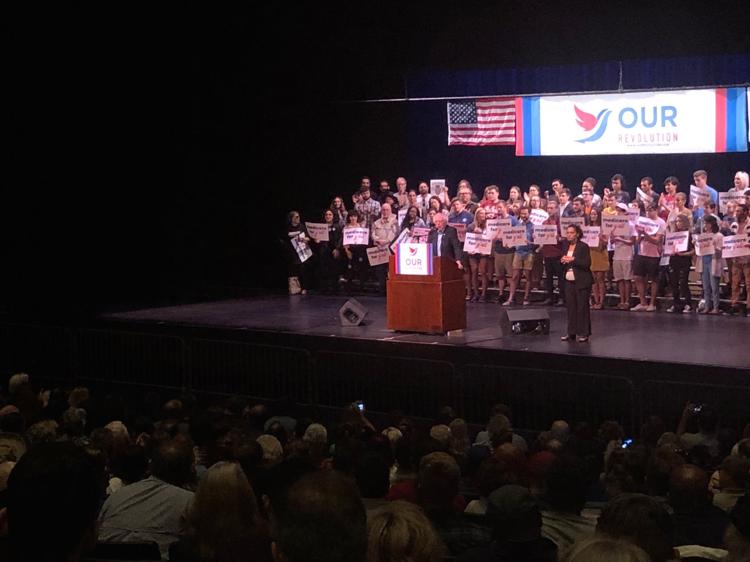 While Sanders' focus on universal healthcare and economic opportunity could have been delivered at any of the other rallies he's been holding around the country for years, he did briefly touch on some issues specific to South Carolina as he looked to tailor his message.
Running through a litany of private industries that he claims charge too much for essential services, he paused when he got to electricity bills — "which, I gather, in this state are pretty high" because the public "has to bail out the nuclear industry."
Columbia native John Springer, one of several attendees wearing a shirt that read "Hindsight is 2020" with an outline of Sanders' glasses and famous white hair, said he would love to see Sanders for president again but is more concerned about expanding the progressive movement.
"We all love Bernie," Springer said. "But if other candidates are willing to start pushing for the same bold ideas, I'd consider that a victory."
After wrapping up his South Carolina trip, Sanders took his nationwide "Medicare-for-all" tour on an all-too-familiar route: To Iowa.