Republican Nancy Mace sat in her home office on Daniel Island wondering whether she still believed in President Donald Trump, the very man she helped elect nearly one year ago.
Mace paused. Seconds passed.
It was the day after the Realtor won the special election for the Legislature's House District 99. Already things were different, and her phone buzzed every couple of minutes.
Mace launched into describing Trump as a "change-maker." She said Trump is facing an uphill battle in Washington, where groups and even his own Congress are fighting him tooth and nail.
She also talked of the president as someone who entered politics determined to break up the good ol' boys system, or, as the Trump campaign coined it, "drain the swamp."
"I think it's going to take time. I think with any presidency, with someone new in the office, it takes time to adjust. But he's up against the wall not only with Democrats but, you know, Republicans, too," Mace said.
She added, "I do think that people are with him."
Even now, Mace said, she still is, too.
In 1999, Mace became the first woman to graduate from The Citadel's Corps of Cadets. With her victory Tuesday night over Democrat Cindy Boatwright, Mace becomes the first member of Trump's South Carolina campaign team to get elected to the Statehouse. 
From September 2015 until August 2016, she worked as coalitions director and field director for the campaign. Her  work earned Mace more than $43,000 in 2016, and spanned seven states: Texas, Ohio, Indiana, Nebraska, Wisconsin, California and South Carolina.
Gerri McDaniel, a GOP leader in Myrtle Beach who worked as Trump's state field director, said Mace's win sends a message.
"I don't think it's a small victory. It's a big one. We have another Trumpster that is going to be helping our legislation process in Columbia," McDaniel said.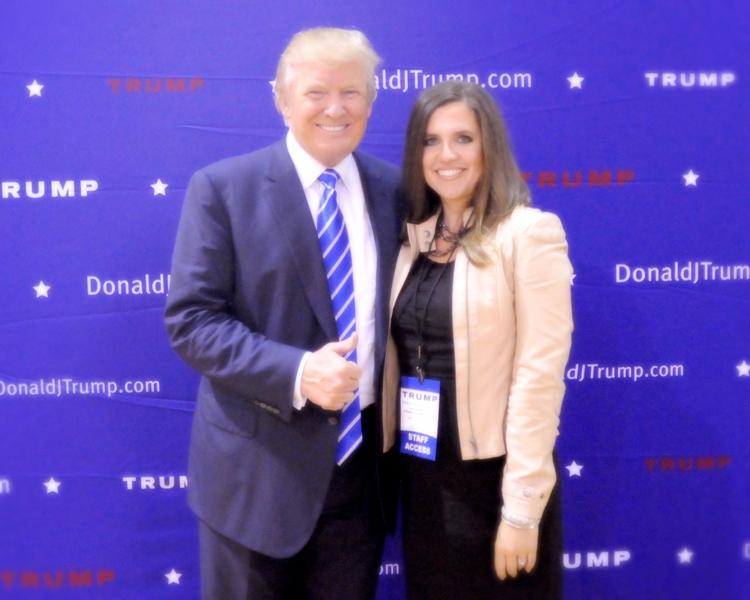 "I know Nancy and the background that she has," added McDaniel, who helped former House Speaker Newt Gingrich win the South Carolina presidential primary in 2012. "She is very disciplined, she is grassroots and she is female, which we desperately need."
Mace fills the seat left vacant by Republican state Rep. Jim Merrill, who resigned his seat before pleading guilty in the ongoing Statehouse corruption probe. Merrill held the seat for 22 years. He, too, worked on the Trump campaign as a communications professional and Trump's state director.
Mace's win in the Statehouse comes at a pivotal time for Trump, whose first year in office has been marked by Twitter fights, a failed attempt to repeal Obamacare and a string of gaffes, including his most recent in which he made disparaging remarks about immigrants from African countries and the Caribbean.
"It's some good news for Trump given what he has been through," said Gibbs Knotts, a political scientist at the College of Charleston. 
The district Mace won, House District 99, spans portions of both Charleston and Berkeley counties, covering parts of Mount Pleasant, Daniel Island, the Cainhoy peninsula, Hanahan and Goose Creek. It leans Republican. In 2016, Knotts said the district handily voted for Trump, with close to 60 percent of voters casting a ballot his way. Part of that played out in her win, he said.
"Mace had name recognition separate from Trump, but this race also shows there are still folks that support Trump in the district," Knotts said.
He estimates Trump's approval rating in the district is about 10 points higher than nationwide figures.
Mace's time spent on the Trump campaign became an unexpected arc in her own political story. After an unsuccessful U.S. Senate bid in 2014 against U.S. Sen. Lindsey Graham, Mace said she did not plan to return to the political arena as a candidate.
At the time, she was, as she put it, "the candidate people wanted me to be" instead of herself.
For her Statehouse campaign she wore her hair how she wanted (up or down, depending on the day), dressed how she liked (mostly all in black) and gave speeches without critiques from a consultant.
"That realism — that being yourself and speaking your mind and telling it like it is — is what people want right now," Mace said.
On her campaign website, a photo shows Mace standing next to Trump. She is smiling. He is giving the camera a thumbs-up.
Back in her home office the day after her own victory, Mace leans forward when asked about starting her first legislative session. A white board is filling up with new words like "legislative priorities," "fundraising" and "in-district needs." In the corner are notes about legislation on her radar.
"I'm ready," she says.
She will be sworn into office Tuesday.