It's a Monday morning and Amanda Cunningham is in Charleston with her 1-year-old son Boone when her phone lights up with a now-familiar Washington number.
"I know this is last minute," her husband's congressional staffer begins, "but I just received information that spouses are invited tonight."
He paused before daring to ask, "Can you make it?"
The dinner for new House Democrats starts at 7:30 p.m. but Boone's bedtime is at 7 p.m.
Public and private lives collide. She runs through the logistics.
Who can take care of Boone? Who can watch Teddy, their energetic 5-year-old mutt? And, at this hour, can she even catch a D.C. flight in time?
For the opportunity to meet former President Barack Obama, Amanda Cunningham is determined to make it work.
With help from a friend and an assist from her mother-in-law, Cunningham is there when Obama sings "Happy birthday" to House Speaker Nancy Pelosi. After dinner, new lawmakers and their spouses approach the nation's former president for a photo, their movements cautious and rigid to her, a registered yoga instructor.
When it's Cunningham's turn, she can't contain herself. "Can I give you a hug?" she asks Obama.
He lets her.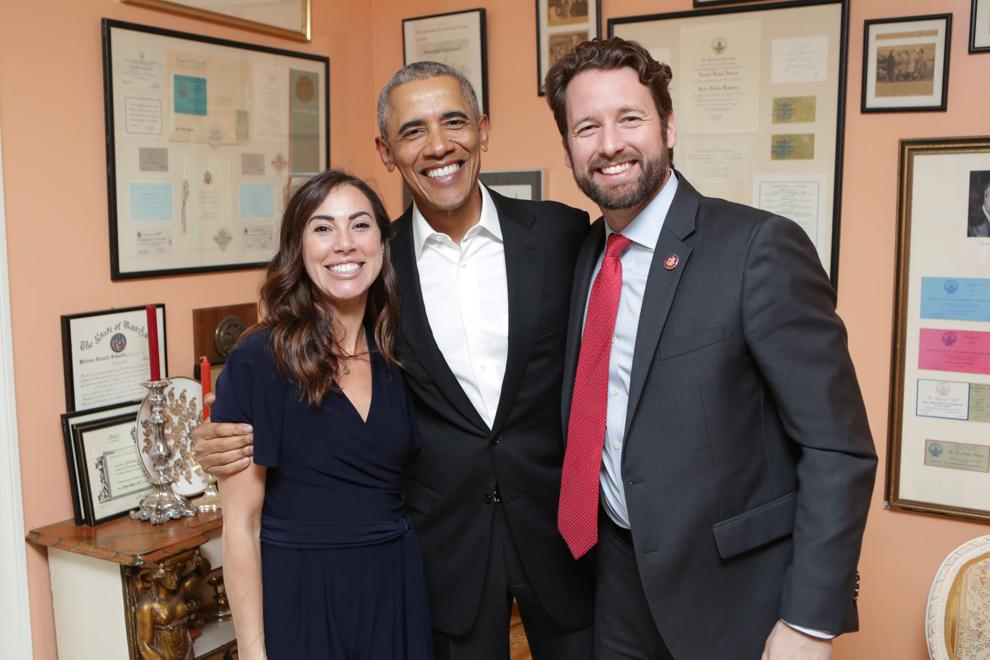 Two years ago, Amanda Cunningham's life did not include fish dinners with a former president, or last-minute flights to Washington or even baby Boone.
Instead, it was filled with teaching yoga classes at Soul Yoga + Wellness, building websites, and raising money for a nonprofit that works to help survivors of human trafficking.
Life is different now.
When her husband was sworn in as U.S. Rep. Joe Cunningham earlier this year, she watched it on a closed circuit TV in his D.C. office and cried.
"The hardest year of my life flashed before me and tears rolled down my cheeks. I love this part of our story even though it tells of struggle," Cunningham posted on her Instagram account. "I wish for everyone, they get the opportunity to not only chase their own dreams but, to support someone else as they chase theirs. Both are equally worth all the parts it takes to see the finish line."
She, too, is chasing dreams.
This month, Cunningham became the development director at Her Future Coalition, the nonprofit she raised more than $120,000 for in the past three years.
In March, she officially sold Soul Yoga + Wellness, the West Ashley yoga studio she had co-owned with Jennifer Hess Mitchell since 2016.
Now, Cunningham finds herself navigating the new normal as a mother, the wife of a congressman and as a 34-year-old whose life was thrust into the public eye when her husband's surprise win stunned the nation.
"I probably underestimated once Joe won how much would really be on all of us, especially given the district that we're in and the weight that he holds to say yes to everything," she said in an interview with The Post and Courier. "But I enjoy my aspect of it, my unspoken part."
Finding each other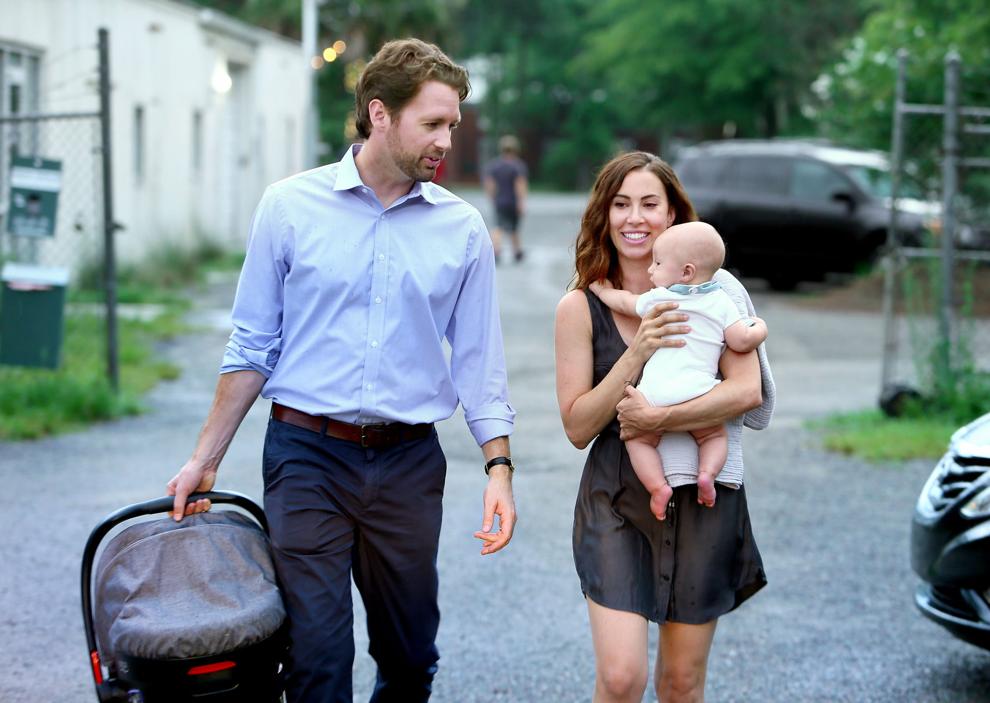 They fell in love somewhere in the Pacific. Amanda insists it was in Nuku Hiva. Joe will say it was Panama. 
It was 2011, and both of them were working as crew members on a luxury yacht.
It was something of a surprise detour for her. After graduating from Kent State University in 2007 with a degree in marketing, she initially found herself working in medical sales. It wasn't a good fit.
She wanted to be untethered.
"I had wanderlust, for sure — that sense of wanting freedom and that feeling that I needed to see the world. Just that sense of needing to do something other than what I was doing," she said.
That's how she eventually wound up cleaning toilets on the yacht with the man who would become her husband.
"You get to know people really, really well because you are bobbing in the middle of the largest body of water that exists, and you see nothing for days. Not even a bird," Cunningham said. "You also sit eight hours of navigational watch."
Joe would join her on those watches, and the two of them would chat for hours. He made her laugh, she said, and he always asked if she needed coffee.
Exactly two years to the day after they crossed the equator together, Joe proposed. They got married in 2014 at Lowndes Grove Plantation and made Charleston their home.
People will often ask Cunningham how she's doing now that her husband has gone off to Washington. It's tiresome, she said, but not because her husband is gone. 
"People assume all the time that I just moved up there with him," Cunningham said. "But just because he won, it doesn't mean that my life stops."
Finding her (new) mission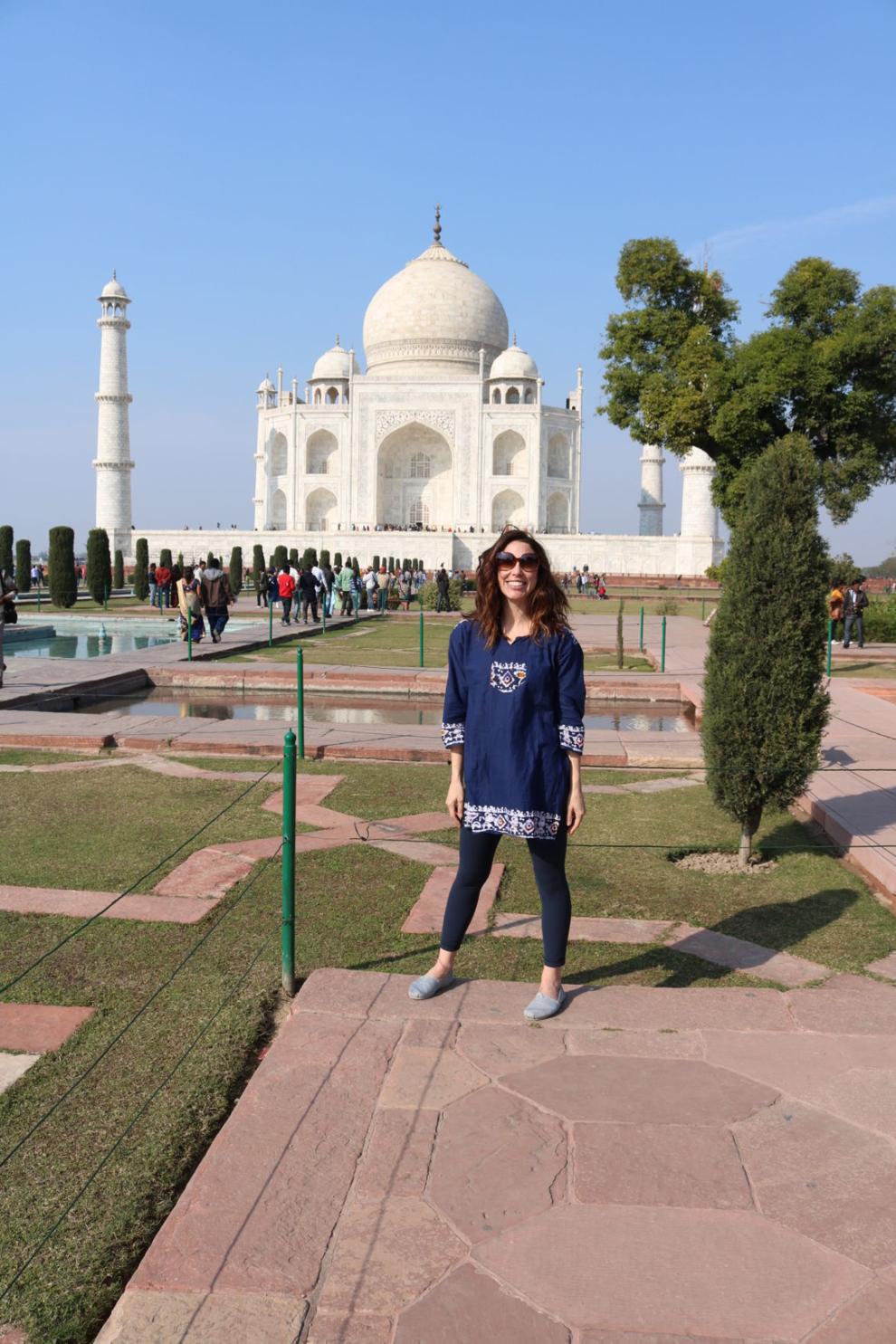 In January, Cunningham flew to New Delhi, India, for nine days where she co-led a service trip with Sarah Symons, the founder and executive director of Her Future Coalition.
The group works to provide shelter, education and vocational training to survivors of human trafficking and gender violence. This trip, which is also a top fundraiser that supports the ongoing work, was focused on support to the sheltering efforts.
While there, Cunningham conducted a healing arts workshop, taught yoga and took the survivors to visit the Taj Mahal.
Symons founded Her Future Coalition in 2005 with her husband John Berger. She worked alongside Cunningham during the January trip. Even then, Symons said, she knew Cunningham would be a natural fit as the nonprofit's new development director.
"She is compassionate and effective, and those don't always go hand in hand. A lot of people have huge hearts but are a hot mess, or they're efficient but aren't really looking beyond themselves. She is the rare combination," Symons said. 
The paid position will include overseeing many aspects of Her Future Coalition, including community building and programming.
While in India, Symons said Cunningham talked to her about her new life as the wife of a congressman. 
"It was a very intentional decision for her to give up her beloved privacy to have a larger impact," Symons said. "They are the dream team."
Finding her support system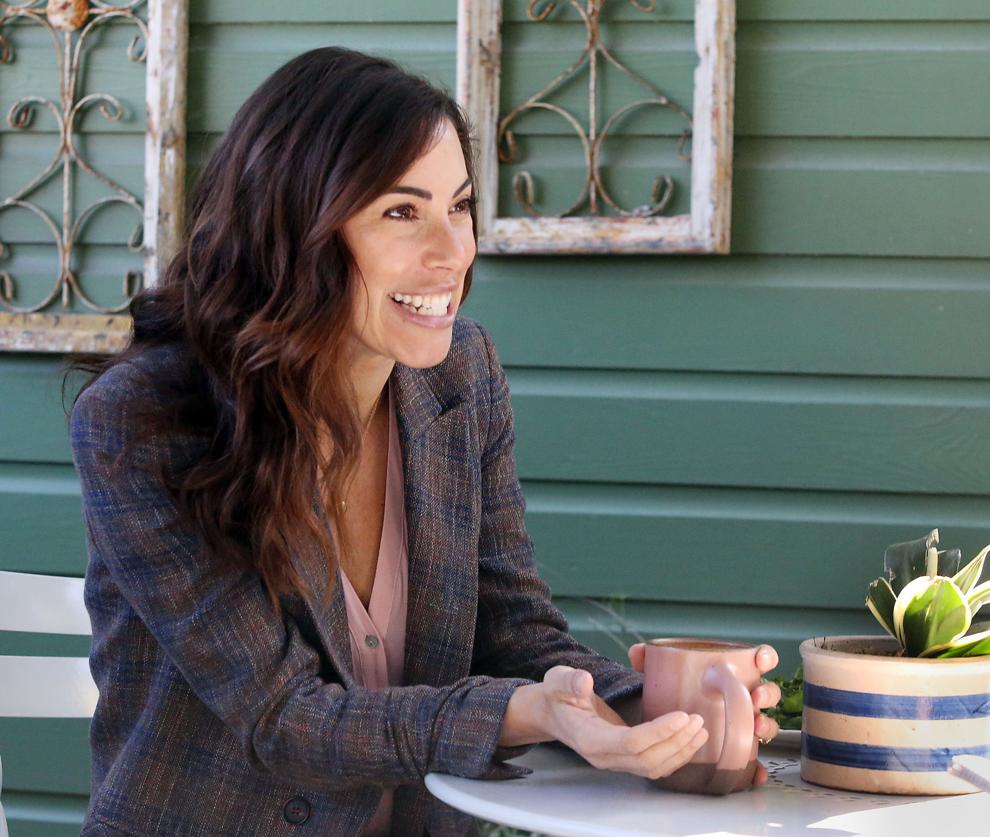 On Instagram, Cunningham has tried to open herself up to her new role and regularly takes questions from users. She's talked about mom guilt, how she prepared for Joe's congressional run and her love of pasta.
When asked about her goals and how she plans to use her platform, Cunningham said she had "Like a million!" Some areas she's specifically identified include improving public schools in South Carolina, promoting equality and environmental issues.
"I try to be raw and honest where I can be in my blogs, or in the way I teach yoga, or in the way I communicate. I think it's the raw parts of us and the reality of who we are that connect us and unite us," Cunningham said.
She has also sought connection, too.
Wrenzie Rice is one of the few people who understands what Cunningham is going through. As the wife of U.S. Rep. Tom Rice, R-Myrtle Beach, Rice decided to reach out to Cunningham after the election to let her know she could ask her questions about what life is really like after a spouse becomes a statesman.
They have called and emailed ever since.
"All your friends think you're up in Washington driving around drinking champagne and it couldn't be further from the truth," said Rice, who is the owner and broker-in-charge of her commercial real estate business in Myrtle Beach. "You still have to keep doing all that you did before, plus you probably have more responsibilities."
Rice has also been giving advice to Sarah Anderson, the fiance of U.S. Rep. William Timmons, R-Greenville. 
The most important thing for Cunningham and Anderson to realize, Rice said, is that they can't go to every event. No one is forcing them to be an extension of their congressional husbands.
"I may not even agree with him on every single thing he does, but people think I'll be some sort of inside connection to Tom to help them get what they want," Rice said. "I've gotten a lot better at saying, 'Here's our office number.'"
For Cunningham, she hopes people are realizing that sending someone to Congress isn't just about the leader itself. It's a package deal.
"We are slowly making these strides to show that you've elected a family and I think that's powerful, that it's not only the member anymore," she said. "It's the family and this force of energy."