WASHINGTON — The recent prison riot that led to the deaths of seven inmates at Lee Correctional Institution in Bishopville threw an issue that Mignon Clyburn has grappled with for years back into sharp focus.
As the longest-serving member of the Federal Communications Commission, Clyburn repeatedly faces questions about why the regulatory agency won't approve cellphone jamming technology in prisons to stop inmates from illicitly communicating with the outside world. 
South Carolina Gov. Henry McMaster and prisons director Bryan Stirling partially attributed the Lee riot to lack of cellphone jamming, and both have long fought for a change in the regulations.
Clyburn, a Columbia native who became the first African-American woman to serve on the commission when President Barack Obama appointed her in 2009, approaches the issue with the same kind of nuance she sought to apply to a host of technology topics over the course of her eight-year tenure.
"We need to be extremely careful that we're taking a scalpel, as opposed to a sledgehammer, approach when it comes to these types of technologies and services," said Clyburn, whose father, Jim Clyburn, represents South Carolina in Congress. "Because if we don't strike the proper balance, not only will there not be service there but those people around them might not have service."
But any role in fixing this issue, or any other she has tackled in recent years, will have to come outside the commission. Clyburn announced last week she would be stepping down from the agency within a few weeks.
In an interview with The Post and Courier at her Washington, D.C., office on the day she made her announcement, Clyburn said she had been thinking about leaving for some time. By the end of this year, term limit rules would have forced her out anyway.
But the final decision, announced during a commission hearing, was spontaneous.
"I was not 100 percent sure when I woke up this morning that this was the day," she said. "But I think it's the right time for me and it's a good time to have a reset to allow someone else to come in and pass that baton."
Champion of public interest
Clyburn, 56, earned plaudits from public interest advocates for her approach to FCC issues. 
When she was first nominated, Gigi Sohn, who worked as an adviser for former FCC Chairman Tom Wheeler, said many advocates in the public interest community were suspicious of her because she had previously been on South Carolina's Public Service Commission, which is tasked with regulating the state's utilities.
Due to the powerful influence of AT&T in the Palmetto State, some observers feared Clyburn would only look out for the big telecommunications companies.
"From the get-go, she acknowledged that suspicion and basically said, 'I'm going to prove you wrong,'" said Sohn, who is now a distinguished fellow at the Georgetown Law Institute for Technology Law & Policy. 
"I don't think she acted the way she acted or voted the way she voted to prove us all wrong," Sohn added. "I think she is a person who cares deeply about vulnerable populations — the poor, the imprisoned, communities of color — and she really used her pulpit there to represent the underrepresented."
Despite their disagreements over the years, executives from both of the nation's two largest telecommunications companies, AT&T and Verizon, wished Clyburn the best when she announced her exit.
Joan Marsh, executive vice president of Regulatory and State External Affairs at AT&T, praised Clyburn's "tremendous legacy at the commission of helping Americans most in need." Kathy Grillo, senior vice president and deputy general counsel of Verizon, described her as a "passionate and effective advocate for the public interest."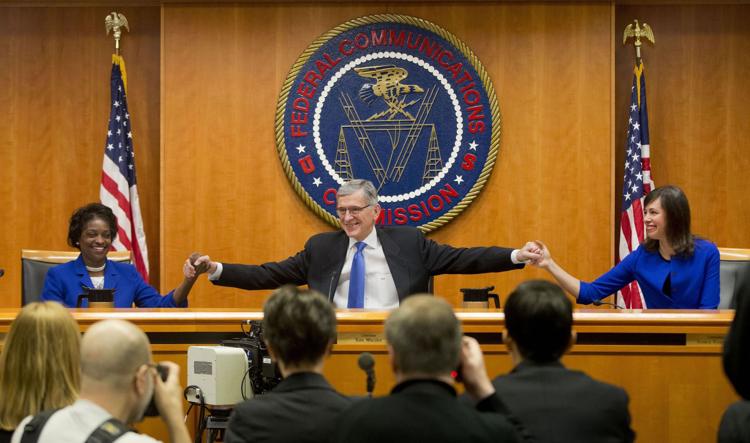 Net neutrality and prison phone rates
The most high-profile issue Clyburn dealt with during her time in office was net neutrality, which is the idea that internet service providers should treat all websites and content in their system equally and not offer "fast lanes" for larger companies.
Clyburn worked for years to help develop national net neutrality rules that passed in 2015, but she ultimately ended up on the losing side of the issue when the new GOP majority undid the effort last year.
When Ernesto Falcon, now the legislative counsel at Electronic Frontier Foundation, was working on the issue of reducing prison call rates for inmates' families years ago, he said Clyburn was "enormously helpful" in taking the fight to Congress and pushing for change at the FCC.
"Clyburn was our champion," Falcon said. "She cared deeply about this community of really powerless people."
Like other issues, the FCC has changed course to end a cost cap on prison calls since Chairman Ajit Pai took over last year.
"I am very upset, I'll just say, about the direction we're heading," Clyburn said. "When you don't strike a balance, usually the people who are on the losing end lose even more. That's my fear."
Next step: Congress?
As the daughter of South Carolina's lone Democratic congressman, Jim Clyburn of Columbia, Mignon Clyburn has often been viewed as a potential successor to her father on Capitol Hill.
Her travel around South Carolina's sprawling 6th Congressional District, which stretches from Jasper County to Lake City and includes much of Columbia, further stoked speculation that she may be interested in elected office in the future.
Clyburn insists that's not the first move on her mind. Her 77-year-old father has not given any indication he will step down soon, and she says she is initially more interested in applying her "entrepreneurial spirit" to some of the issues she encountered at the FCC.
But she won't rule out a possible congressional run later down the line.
"While I can't say that that is something that I entertain on a regular basis, to be honest with you, I'm not taking anything off of the table because I think that would be limiting to me," she said.