COLUMBIA — Cars line the side of Kilbourne Road, bumper-to-bumper for hundreds of yards. Hordes of local Democrats wearing name-tags pack into a cozy living room. Crackers, cheese and a selection of other hors d'oeuvres are laid out on the table. The first few bottles of wine are uncorked underneath photos of the homeowners with Hillary Clinton.
And someone hoping to be the next president of the United States strolls through the front door.
It's another evening at the Columbia home of Carol and Don Fowler, two stalwart figures in South Carolina Democratic politics with an unassuming white brick house that has become a central location in the earliest stages of the state's pivotal "First in the South" 2020 Democratic presidential primary.
So far, in the first few weeks of the race, the couple has hosted U.S. Sens. Kirsten Gillibrand of New York, Amy Klobuchar of Minnesota, and Sherrod Brown of Ohio. New York City Mayor Bill de Blasio came by this past weekend.
Before the midterms, they welcomed South Bend, Ind., Mayor Pete Buttigieg as he explored his own eventual campaign — an event that also included an unplanned appearance from celebrity lawyer Michael Avenatti, who was also in town considering a bid at the time.
More candidates or prospective candidates are expected to come visit the Fowlers in the weeks ahead, including former Virginia Gov. Terry McAuliffe next Tuesday.
The gatherings can feel like private fundraisers, the type of intimate events that well-connected donors from around the country regularly host for candidates at their homes to collect hundreds of thousands of dollars in a single night. Some attendees have even emailed the Fowlers asking how much the price of entry is, assuming there is one.
But the events are free, intended solely as a way for candidates — particularly those who are not already well-known — to introduce themselves to active Democrats in the Columbia area, and vice versa. 
After decades of working to build the stature of the state's primary, the Fowlers said they are happy to offer a staging ground for the candidates to get acquainted with some of the S.C. Democratic voters and activists they'll need on their side if they hope to win.
"If we had not fallen into this pattern, there would have been a need to create it somehow," Don Fowler said. "We have so many candidates, and a lot of them know little about South Carolina, and a whole lot of South Carolinians don't know anything about them. So, functionally, this is something we're glad to do, but also something the party and the candidates need."
Longtime Democratic activists
Both natives of South Carolina — Don from Spartanburg and Carol from Walterboro — the Fowlers knew each other for decades before getting married in 2005.
Don led the state party from 1971 to 1980, a tenure bookended by two Democratic governors, John West and Dick Riley, with Republican Jim Edwards winning a term in between. Don would go on to oversee the 1988 Democratic National Convention and spent two years as chairman of the Democratic National Committee from 1995 to 1997.
Years later, Carol took the helm of the state party from 2007 to 2011, overseeing the state's Democratic apparatus during the historic 2008 primary win that helped launch Barack Obama toward the nomination.
Carol Fowler met her future husband when he led the state party in the 1970s and went on to work for him at the Democratic National Committee and for his advertising and public relations business.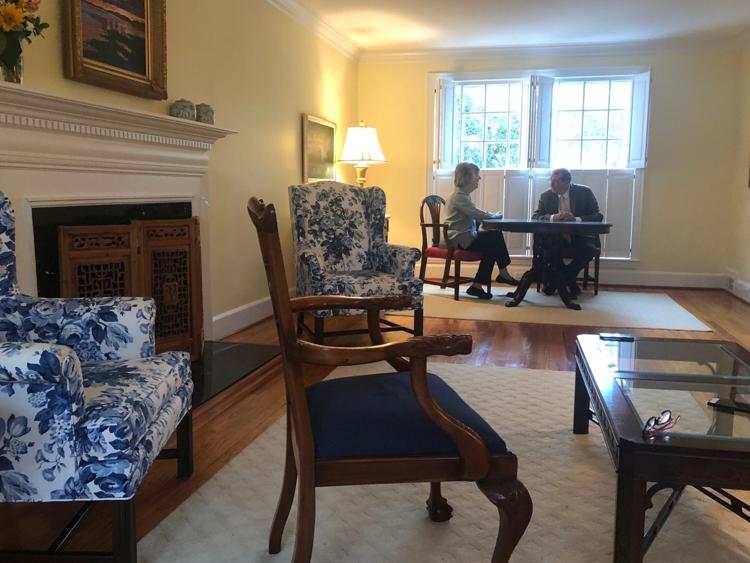 Now in his 80s, Don Fowler continues to teach at the University of South Carolina, including a particularly timely class this semester on the presidential nominating process. Carol Fowler serves as a member of the Columbia Metropolitan Airport commission, as well as with a host of other community groups.
S.C. Democratic Party Chairman Trav Robertson said he often turns to the Fowlers for advice in difficult situations and appreciates their willingness to continue to be engaged with the process.
"Their experience is invaluable, both on the national level and state level," Robertson said. "Most people don't realize how widely respected both of them are. After the number of years they've been involved, they've crossed a lot of paths with a lot of people."
Both remain active members of the DNC. Ever the institutionalist, Don Fowler played a leading role in unsuccessful efforts last year to stop the party from stripping power from "superdelegates," the party officials and elite figures who had previously been able to vote on the first ballot at the nominating convention.
"I think that, in the long run, will damage the viability of the DNC," Don Fowler said of the party's decision. "A mass-participation membership organization has to have continuity."
During the 2008 campaign, when Carol Fowler was state party chairwoman, the couple drew the attention of the New York Times due to the fact that she was backing Obama while Don Fowler was sticking with a longtime friend, Hillary Clinton.
Neither of the Fowlers have endorsed any 2020 candidates yet. With several of their personal friends running for president this time around, the couple isn't ruling out the possibility that they will end up on opposing sides again.
"But as long as we're together in November, we're OK," Carol said.
'We want to open gates'
The meet-and-greets at the Fowlers begin a similar way each time. Don Fowler will quiet the crowd, jammed into every nook and cranny on the ground floor, and introduce the candidate by talking about how long he has known them — often many years.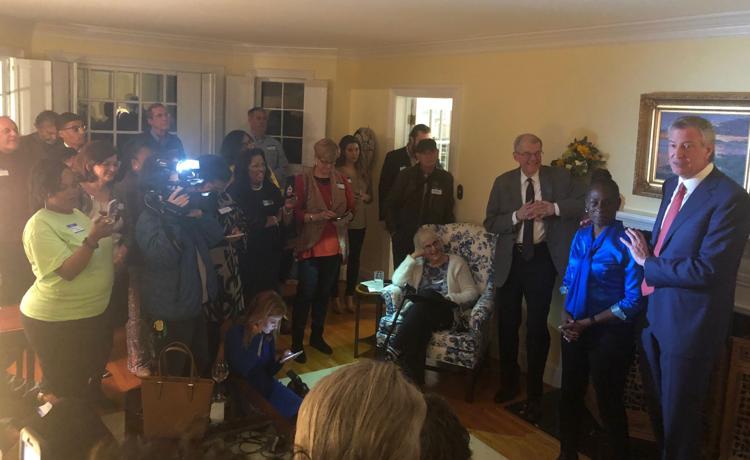 In the case of Klobuchar, Carol Fowler recalled how she had headlined an annual dinner in 2008 to kickoff the state party's convention weekend in Columbia. When Don Fowler was DNC chairman, he met de Blasio while on a 1996 trip to Staten Island in New York for a Democratic county luncheon.
Occasionally, the gatherings allow the Fowlers to meet candidates for the first time.
"When Sen. Gillibrand walked through that front door, that was the first time either one of us had ever seen her," Don said. "And we would be happy to do that for the other candidates who we don't know personally."
After the introduction, the candidate typically offers an abbreviated version of his or her stump speech, leaving some time for questions, photos and mingling at the end.
Getting up close with the candidates offers South Carolina voters the type of personal interactions more traditionally associated with the caucuses and primaries in smaller early states like Iowa and New Hampshire — which, the Fowlers said, is the whole idea.
What the Fowlers don't want to be known as is "gatekeepers," a term that Carol Fowler felt implied they are selectively choosing who they want to come.
"We want to open gates, we don't want to close gates," she said. "We don't want to keep people out. We want any of our candidates and anybody who wants to meet any of our candidates to come. And we want to get to know them, too."