Note: Story has been updated with the latest results. Greenville County data did not arrive until early Wednesday morning.
COLUMBIA — Gov. Henry McMaster is in a position to win the South Carolina Republican nomination for governor in a runoff against Greenville businessman John Warren after receiving a larger-than-expected share of support from voters in Tuesday's primary.
McMaster was forecast to lead the five-candidate field, though not win the majority needed to avoid a runoff on June 26.
But with success in the GOP voter-rich Upstate, he nabbed 42.4 percent of the vote, a number that pundits think could make a runoff all but a formality for the veteran Columbia politician. McMaster won 39 of the state's 46 counties.
Warren, a political newcomer, finished second at 27.7 percent in a campaign that he self-financed with $3 million. He won his home county, Greenville, by a wide margin that cut into his deficit with the governor. He also won neighoring Pickens County.
Mount Pleasant attorney Catherine Templeton placed a disappointing third at 21.4 percent after she and a third-party group backing her spent more than $5 million in her first election.
Lt. Gov. Kevin Bryant of Anderson received 6.7 percent, while former Lt. Gov. Yancey McGill, who switched parties to run for governor, finished last with 1.7 percent.
The Republican governor's race came down between a political insider versus a pair of outsiders, who attracted nearly half of the vote on Tuesday. But Templeton's support could be split among those who see McMaster as a direct connection to the White House and Warren as an ex-Marine ready to shakeup Columbia.
"I just wanted a change," said Marygrace Hollingsworth, a health care sales professional from Columbia who voted for Warren. "I didn't want anyone from the good ol' boys."
Warren told supporters in Greenville after reaching the runoff: "Tonight, we have hope for the future of our state. A clear majority of Republicans voted against Henry McMaster's failed leadership and voted for a new conservative leadership that Pat and I are going to bring."
But after struggling to gain traction to give him a large edge in the race, McMaster peaked at the right time while collecting support from voters who have now seen his name on a statewide ballot for the fifth time in 16 years.
McMaster made the race, where candidates couldn't stop talking about their admiration for the president, about how he was Donald Trump's choice. He and a pro-McMaster group used clips of the president's 25-minute speech at a Greenville fundraiser last fall to create ads and videos.
The governor mentioned often how he visited the White House in debates and stump speeches. The president tweeted his support for McMaster on Saturday shortly before heading to Singapore for the summit with North Korea leader Kim Jong-un.
"He's endorsed by Trump," said Carol McKenzie, a Chester voter who went with McMaster. "I think right now we should just stay the course."
While his rivals tried to unsettle voters with concerns about waste in Columbia, the governor remained positive about the state's successes under his and Nikki Haley's administrations, especially on jobs and economic investment.
"Anyone who does not understand where we stand now in this county and the world is missing something very important," McMaster told supporters late Tuesday. "We're on the edge on the greatest prosperity we've ever had."
As he wrapped up his speech, the crowd chanted, "Four more years!"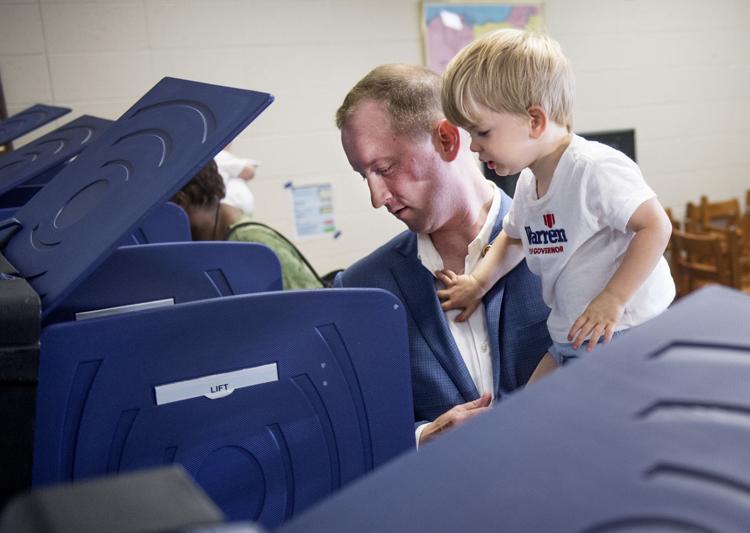 Warren and Templeton could not sway enough voters by mentioning McMaster's ties to a linchpin in the Statehouse corruption probe, his former longtime political consultant Richard Quinn, a powerbroker for dozens of candidates. But since the governor was never a target himself, the investigation was not huge issue with voters.
"Everybody worked with Richard Quinn," said Samantha Armstrong, an administrative assistant from Columbia who voted for McMaster. "I think (McMaster) is solid. He's an anchor."
In the campaigns' final days as the race for the second runoff seat heated up, Templeton and Warren turned on each other. They spent months firing at McMaster, who became governor by promotion after Haley left for the United Nations last year.
Templeton's attacks against Warren, a former combat officer who served in Iraq, were stark. She and a pro-Templeton third party group aired TV ads repeating that Warren was not conservative enough because of small difference on guns and abortion that created doubt with voters. One Templeton ad spliced a video from Warren that made it appear he was pro-choice.
Responding to some voters saying her campaign attack ads against Warren backfired, Templeton told reporters Tuesday, "The Marine hit the girl a lot. ... I'm sorry he's upset his own words were used against him. But he's going to have to put on his big boy pants if he's going to be the governor of this state."
She also criticized Warren for spending millions of his own cash in the campaign. "The governor's mansion is not for sale," she said after voting in Mount Pleasant.
Warren fired back more mildly, fitting with a placid personality he conveyed as a former military officer. He launched a website calling Templeton "conveniently conservative" for criticizing Trump early in his presidential campaign and voting for the Democrat running against Nikki Haley in the 2010 governor's election.
His willingness to avoid dirtier campaign tricks won him some support among voters, who have grown tired of negative campaigning.
Templeton's constant negative drumbeat as a "buzzsaw" who would rip apart state government and decision to grab onto fringe issues, such as backing the Confederacy, shooed away voters. She kept referring to herself as a Columbia outsider when she held jobs at four state agencies between 2011-2015.
And reaction was mixed to her most talked about campaign ad where she pretended to shoot a snake with a handgun.
"Kinda turned me off," said Ben Bullinger, who voted for McMaster in northeast Columbia.
McMaster was able to remain above the fray as he traveled the state last week on a bus tour, his first extended period of campaigning.
Still, he got in a few jabs. McMaster called Warren a rookie who should not replace the veteran coach.
With Templeton, he tried to paint her as underhanded with a claim that she was running for governor after he turned down her request to be his running mate. Templeton denied the story but the surprise allegation made during a debate a week ahead of the primary was a distraction for her.
Templeton spent 18 months campaigning versus four months for Warren, who was a blank slate even to political insiders. He had no public record to pick apart. The worst criticism was that no one knew what he would do in office, a barb thrown at Haley when she won the governor's office in 2010.
Warren said he was three things over and over in his monotone delivery: a conservative, a businessman and a Marine. Voters who wanted a new voice at the Statehouse gravitated to that branding. Several voters also liked that he was willing to discuss his Christian faith on the trail and in ads.
"He's refreshing," said Lindsay Agostini, a Columbia-area voter. "He's young. He's got a vision."
If Warren has any chance of an upset in two weeks, it would have to come from the Upstate where turnout was boosted by a highly competitive 12-candidate congressional primary. A runoff in that race to succeed Republican U.S. Rep Trey Gowdy will also take place on June 26.
Many voters said they were choosing between Warren and Bryant, who live in the region and were the race's top social conservatives.
A firm supporter of Trump, Don Singleton, a 73-year-old retired lawyer, said the president's endorsement of McMaster made little difference in his mind. He voted for Warren.
"They all love Trump," he said. "I want someone tough, and it doesn't get much tougher than the Marines."
Seanna Adcox, Jamie Lovegrove and Andy Brown contributed to this report.