It was Mark Sanford's last full week in his Capitol Hill office, and each box he packed to the brim with binders, papers and framed photographs of his sons punctuated a fact that has been sinking in for months: He's leaving Congress.
It was here, in room 2211 of the Rayburn House Office Building, where Sanford met with what he called the "endless parade of humanity," from lobbyists to lawmakers, constituents and children.
It was here where he prepared for early-morning and late-night sessions with staff.
And it was here where Sanford laid his head at night on the futon he set up in the office whenever the House of Representatives was in session.  
But ever since this year's August recess, Sanford and his staff have been packing up the personal effects he has collected during his latest stint in Washington. For weeks, they've loaded it up and hauled it out one cardboard box at a time.
"To make matters worse, I'm something of a pack rat," Sanford said of the process.
The 58-year-old has come across old notepads with lists of names and phone numbers he once scribbled down. He's found thank-you notes from a third-grade class he spoke to years ago. And while going through his Mount Pleasant office last week, he found papers from his days as governor.
"I guess I can let it go now," Sanford said.
On Tuesday, newly elected House members descended on Washington and got their first glimpse of life as a lawmaker when they started congressional orientation. At the same time, Sanford was physically preparing for his new life outside of public office.
U.S. Rep.-elect Joe Cunningham, the Democrat who Lowcountry voters elected to take over Sanford's 1st Congressional District seat, arrived at check-in with his newborn baby, Boone, in his arms.
That day, Sanford was getting his D.C. office ready for its next occupant, whether it's Cunningham or another House member who lays claim to it.
What doesn't end up back home with Sanford will likely be sent to the South Carolina Political Collections at the University of South Carolina. That's been his depository since 1999.
Matthew Taylor, Sanford's chief of staff, estimated that 90 percent of the items Sanford's team has come across while packing up will be sent to the collection for archival purposes.
"His speech notes," Taylor said as an example of some of the items they have already sent. "I've always been fascinated by them, whether he was preparing for an interview with the media or preparing to give remarks at a community event."
Sanford said he has until Nov. 28 to pack up his Capitol Hill office. His district offices in Mount Pleasant and Beaufort are also shutting down, but they won't close until the first week of January.
Speaking between packing sessions this week, Sanford characterized the move-out process as both nostalgic and torturous.
"It's something of a very vivid reminder of the energy, focus, and time spent to advance ideas that matter,"  he said.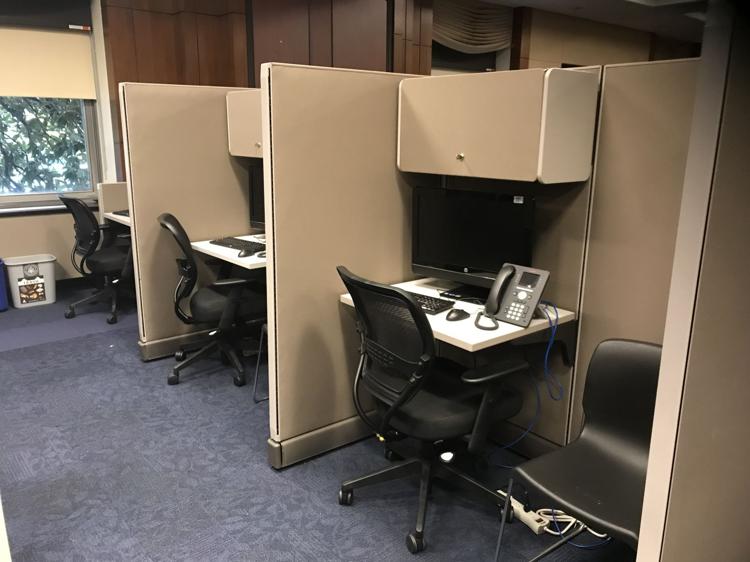 Makeshift office space
In just a few weeks, Sanford will be one of 67 outgoing U.S. House members who will soon descend into what D.C. staffers refer to as "the basement."
It's the ground floor of the Rayburn House building. In the coming weeks, it will fill up with partitions and desks, transforming itself into a makeshift office space for lame-duck politicians trying to finish their final weeks in office.
They'll get a phone, one computer workstation and a few chairs. Taylor, Sanford's chief of staff, has heard there will only be two printers for everyone to share.
That edict applies just the same to outgoing House Speaker Paul Ryan as it does to Ruben Kihuen, the one-term Democratic representative from Nevada.
Everyone down here is headed back to the same place: home.
"About a third of Congress is going to be down there this time," Sanford laughed. "It's going to be like a frat house."
Some are parting ways with Washington on their own terms, like outgoing House Oversight Committee Chairman Trey Gowdy, R-Spartanburg, who announced in January he was leaving politics and would not be running for re-election. His offices will be transitioning as well.
Voters made the choice for Sanford when he lost his Republican primary this spring to Katie Arrington, a one-term state lawmaker who made loyalty to the president a key part of her campaign.
At its height, Sanford's office had 18 team members. Now, they are down to 10.
Taylor said some staffers have left for positions within the administration, while others have found work in other congressional offices.
Then, Taylor said, there are the ones who will be there until the very end or, as he put it, "those of us who will be here to turn out the lights."
Both Sanford and Taylor confirmed the office is also looking ahead, and is trying to assist Cunningham in the transition process.
"The people of the Lowcountry elected this guy," Sanford said of Cunningham. "It is incumbent upon me to help in the ways I can."
What's next for Sanford?
As for Sanford's next steps for life outside of Congress, he's still mum on details and won't talk about returning in 2020 for any race, be it Congress or a possible protest run for president. Already, he's looking forward to spending time with his sons.
In the weeks between now and Jan. 3, Sanford said he will be staying with his oldest son, Bolton, who lives near Washington in a house he shares with six other guys.
"It's great for me, maybe not for him," Sanford joked.
If Sanford overstays his welcome, the father of four said his back-up plan is to stay with his son Blake, who is currently attending Georgetown University.
Sanford, a former governor and soon-to-be former congressman, admits that transitioning into private life won't come easy.
When asked about his Lowcountry Palmetto PAC, Sanford said he had no specific plans for the $66,691 in it at this time. But he was quick to say he'll keep pushing to make a 450-acre Tri-County Waterfront Park a reality.
"This project is of immense importance to the people living in the Lowcountry," he said, adding, "I will use all the tools in my toolkit to make it happen."
But after years of meeting with constituents in hardware stores, parking lots and grocery stores, Sanford said the end of his time as a public servant doesn't have to mean the end a life spent largely in public service.
"There are many reasons for me to still be knocking on doors, calling people and visiting with them at grocery stores," Sanford said.