You're seeing the Palmetto Politics daily newsletter. Receive the latest political news and in-depth analysis from The Post and Courier to your inbox Monday-Friday here.
SC on the Sunday political shows: Lindsey Graham does not trust Michael Cohen
U.S. Sen. Lindsey Graham on Sunday questioned whether President Donald Trump's longtime personal lawyer Michael Cohen can be trusted, saying on national television that he thinks Cohen could be prone to "making things up."
"I've never seen a lawyer behave this way in my entire life, and I've been a lawyer most of my adult life," Graham told Fox News' Maria Bartiromo on "Sunday Morning Futures."
The Seneca Republican's comments came five days after CNN obtained and aired a September 2016 recording between then-candidate Trump and Cohen, his then-lawyer. In the audio, the pair is reportedly discussing paying for the rights to a Playboy model's story.
"When it comes to Michael Cohen, you should be very suspicious of anything he says. He's on the hot seat. He's looking at going to jail, so people who are like him are subject to making things up," Graham said when asked about the Trump-Cohen tape.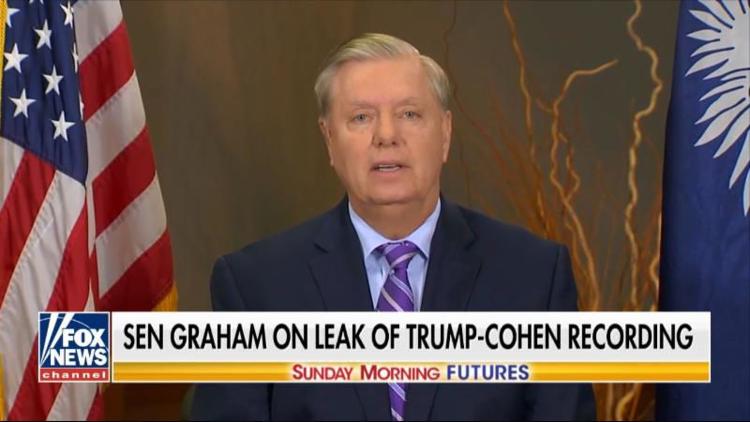 ---
Want to receive this newsletter in your inbox Monday through Friday? Sign up for free.
---
Graham said Cohen already has testified before Congress about conversations he had with Trump.
But on Thursday, a source told NBC News that Cohen plans to say Trump knew about a meeting at Trump Tower that took place between Trump's son Donald Trump, Jr. and a Russian lawyer.
Graham, in his interview Sunday, said Cohen had told Congress that Trump did not know about that meeting.
"This idea that he told Trump about the Russia meeting before it happened is, to us, very much new news," Graham said, noting he had discussed the news with U.S. Sen. Richard Burr, R-NC.
"So, Mr. Cohen, if you've got something new to say," Graham said, looking into the camera, "you need to come to Congress and say it under oath."
It's not the first time Graham has been critical of Trump's former attorney. Graham called Cohen "an idiot" in an April interview on "The Brian Kilmeade Show."
Graham, in his interview Sunday, did not provide any additional clues or insight as to what "the Charleston thing" Trump is heard referencing in the Trump-Cohen tapes released last week.
Another SC Republican a target of Sacha Baron Cohen
It would appear Sacha Baron Cohen has a propensity for trying to trick South Carolina Republicans — even if they aren't in office anymore.
Former state Rep. Chip Limehouse of Charleston was the latest Republican from the Palmetto State to appear on Cohen's satirical Showtime series "Who Is America?"
But unlike U.S. Rep. Joe Wilson, Limehouse did not read a script saying he supported arming toddlers with guns.
Instead, the interview with Limehouse and Atlanta rapper Bone Crusher veered into issues of race.
Political editor Schuyler Kropf has the breakdown on the interview:
"The interview goes to the bizarre early with Cohen asking Bone Crusher if he thought the term "black" was offensive and then asking Limehouse how he would feel if his daughter had a black pimp.
Limehouse says he would not be pleased but then says "first of all my daughter would not be involved with any pimp. So it's an irrelevant question. Let's move to the next topic because we're not getting anywhere."
Cohen's character goes on to praise Will Smith's rap lyrics, ask both men if they had seen the black-themed Academy Award-winning film "Moonlight" and then describes a homosexual encounter he once had."
But Limehouse did not seem to take the bait, saying he knew almost immediately that the actor was being intentionally outrageous.
Others have not been so astute.
Jason Spencer, a Republican Georgia lawmaker, resigned from office after he used racial slurs during his appearance on Cohen's show.
Read more: Sacha Baron Cohen targets former Charleston lawmaker Chip Limehouse in spoof
In other news
Follow Palmetto Politics on Twitter

AND ONE MORE THING:  John Warren comes around

The second-place finisher in South Carolina's Republican gubernatorial primary race decided to back the man who beat him. Greenville businessman John Warren on Friday tweeted his support for Gov. Henry McMaster in the governor's race, noting he had met with McMaster earlier in the week.
His support came just hours before the state GOP's 51st annual Silver Elephant fundraising dinner.
During the primary, Warren touted himself as a political outsider with business smarts and characterized McMaster as a lifelong politician who had lost touch with the people in the state.
But on Friday, Warren essentially announced that he would let bygones be bygones.
"While Gov. McMaster and I had a spirited primary campaign that highlighted differences, we cannot elect a pro-choice, liberal Democrat as governor," Warren wrote. "As I said during the primary campaign, I have always supported Republican candidates and 2018 will be no different."
McMaster is facing Democratic state Rep. James Smith in November.
But as we've told you, this probably won't be the last  we hear from Warren in the political arena.
Did your smart, politically engaged friend forward you this email? Subscribe here.
Craving more? Check out the rest of the Post and Courier newsletters.