Letter shows S.C. utilities knew Westinghouse's reactor designs would lead to increased costs and schedule delays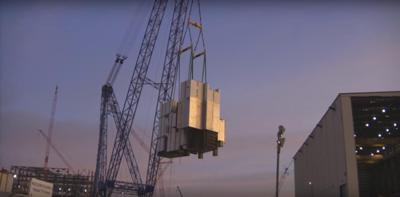 COLUMBIA — Top SCANA and Santee Cooper officials knew in early 2014 that engineering snafus had caused costly setbacks and overruns at the V.C. Summer nuclear plant — three years before they pulled the plug on the $9 billion project.
"Your unexcused delays will cause our project costs to increase greatly," SCANA CEO Kevin Marsh and Santee Cooper CEO Lonnie Carter wrote in a May 6, 2014 letter to leaders of Westinghouse and Chicago Bridge and Iron, their contractors.
Obtained by The Post and Courier through the Governor's office, the previously undisclosed letter adds to a growing body of evidence that SCANA and Santee Cooper had longstanding concerns about the progress of the project — concerns they kept to themselves while painting a much more positive picture to state regulators and the media.
SCANA CEO Kevin Marsh and Santee Cooper CEO Lonnie Carter sent a letter to the leaders of Westinghouse and Chicago Bridge and Iron in May 2014…
SCANA did not respond to requests for comment, and Westinghouse declined to comment.
But officials with Santee Cooper said the public utility started pushing for changes at the construction site following the letter. 
"We had concerns about the project in 2014," said Molly Gore, Santee Cooper's communications manager, "and based on those concerns pushed for an independent project analysis and changes to our contract with Westinghouse." 
The sharply worded letter comes amid state and federal investigations into the failed project and a growing number of lawsuits filed by investors and electric customers. 
It also raises more questions about SCANA's oversight of the ambitious energy project as the Cayce-based utility attempts to charge customers roughly $4 billion for money spent on steel, concrete and labor over the past decade. 
"It is just more proof, concrete proof, that these guys knew this project was in bad shape," said Rep. Russell Ott, a St. Matthews Democrat and vice chair of a special legislative committee investigating the nuclear cancellation. "It's a shame we had to go this far and spend this much money to get to this point."
SCE&G, owned by SCANA, is collecting $37 million per month, or a nearly a half-billion dollars per year from its customers to pay for the failed project. About 18 percent of each customer's monthly bill goes toward the debt.
Santee Cooper raised its customers monthly bills twice since 2014, including the rates of many electric cooperatives. 
The utilities'  letter was 14 pages long. "We regret that this letter is necessary and regret its length," it said. "Your poor performance has made both necessary. A complete description of our grievances would make this letter even longer ... We selected these examples to illustrate our dissatisfaction. They are not an exhaustive listing of your every shortcoming."
The letter showed that SCANA and Santee Cooper identified serious problems with Westinghouse's designs more than a year before they commissioned Bechtel to do an independent audit. Bechtel went on to say the drawings were "often not constructible."
According to the letter, Westinghouse's failure to produce usable blueprints on time started in May 2012, less than a month after workers began pouring concrete and erecting steel at V.C. Summer. 
That was the same month Westinghouse's attorneys drafted a legal opinion at SCANA's request arguing South Carolina's professional engineering law didn't apply to the construction of the two nuclear reactors. That set the stage for the use of unlicensed engineers, an issue that The Post and Courier showed contributed to numerous design flaws and costly delays.
But in the years that followed, SCANA and Santee Cooper officials put on a public face that gave little hint to the behind-the-scenes turmoil. They continually reassured lawmakers, regulators and the public that the project was in the best interest of the state. They increased the overall budget by billions of dollars. And they collected billions more from their customers to cover financing costs for the yet-untested reactors.  
The letter also highlights the caustic business relationships and incessant infighting that emerged by 2014 between the utilities, Westinghouse and CB&I, which would soon leave the project. 
Changes to the executive boards of CB&I and Westinghouse resulted in an attitude change, the utility leaders argued. The contractors seemed "intent on taking advantage" of SCANA's and Santee Cooper's "cooperative nature," Carter and Marsh complained.   
Westinghouse and CB&I constantly shifted deadlines and altered schedules, the letter shows.  
In early 2011, Westinghouse reportedly told SCANA and Santee Cooper that 95 percent of the construction blueprints were complete and reported progress on the other 5 percent. 
But by the time Marsh and Carter wrote their letter, the Pennsylvania-based company revised that number. Only 88 percent of those drawings were ready for thousands of ironworkers, electricians and pipefitters assembled in South Carolina, Westinghouse said.  
Two years into construction, the letter suggests the trust between the companies had disintegrated. 
"As a result of these events, our frustrations continue to mount," Marsh and Carter wrote. "You have made promise after promise, but fulfilled few of them." 
It took Westinghouse's bankruptcy to finally convince the companies to halt construction on one of the first new nuclear reactor projects in the country in 30 years.
Reach Andrew Brown at 843-708-1830 or follow him on Twitter @andy_ed_brown.