MARION — A park that brings people together on common ground is a fitting tribute to the late Sen. Clementa Pinckney, who sought to unite South Carolinians of all races and ages, his family said at its official opening.
The dedication of Amazing Grace Park on July 30 — which would have been Pinckney's 48th birthday — came six years after a white supremacist gunned down the pastor and eight Black parishioners at Emanuel AME Church in Charleston following a Bible study session.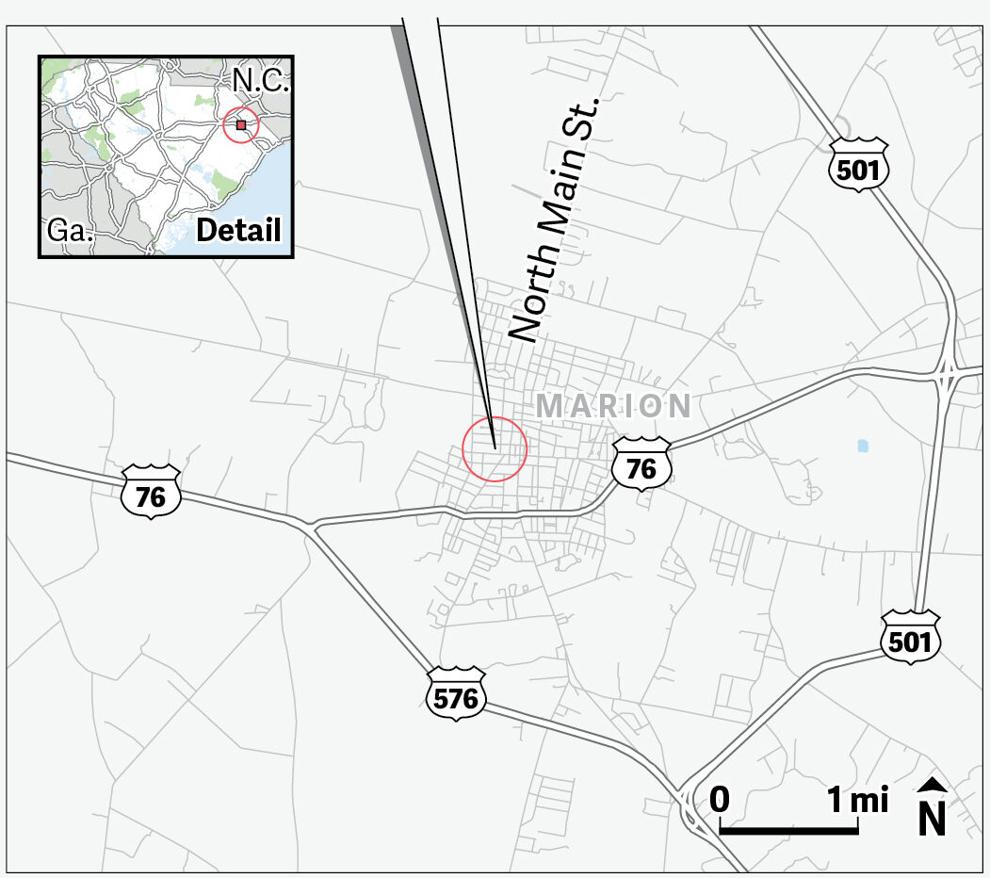 The park, also named The Clementa Pinckney Memorial, seeks to ensure he's not forgotten in a way that promotes fellowship, love, laughter and healthy living, while inviting people to visit the rural Pee Dee county he called home, family members said.   
"This park is a physical representation of the legacy he left behind," his oldest daughter, 17-year-old Eliana, told a crowd of several hundred people.
"But, to me, the most important part is the impact it will have on every single person who comes in and out of this park," she added. "I'm hoping every person can leave changed for the better because they were able to see a glimpse of what my father stood for."
The 3.1-acre park includes a pavilion with an outdoor kitchen intended for weddings, family reunions and other events and a three-quarter-mile meandering walking and biking trail made from recycled rubber. Wi-Fi internet access throughout enables students to do their homework in the park and teachers to bring their classroom outdoors.
Children are invited to climb a 13-foot-tall fox made of rot-resistant black locust wood — a nod to the town's namesake, Revolutionary War hero Francis Marion, known as the Swamp Fox — and play any of the six musical instruments fixed along the trail.
"I love this park so much. You can come here with a family. You can have a great time," said 12-year-old Malana Pinckney, noting that beyond being a "man of God" and a family man, her father was also a "man of music." His instrument was a saxophone. 
"So go around. Bang the drums. Hit the xylophones," she told the crowd. "It's going to be amazing."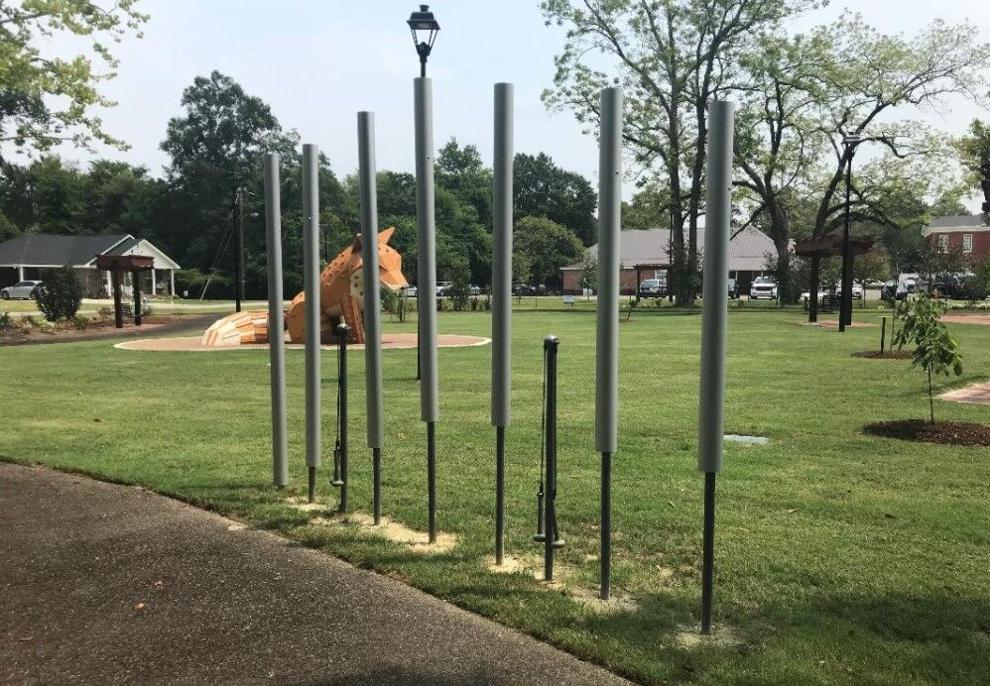 She went on to tell The Post and Courier that "the park embodies not just family but taking the time to get away from your screens and really look outside. Enjoy the life you have while you have it." 
A fountain with nine spouts at the park honors all nine victims of the June 17, 2015, slaying. Behind a bust of Pinckney are copper and steel angel wings in various stages of flight, meant to depict their heavenly ascension, said his cousin, state Sen. Kent Williams, D-Marion, who led the park effort over the last four years.   
The idea, he said, was to create a place of beauty, reflecting Pinckney's character while transforming what was a vacant, overgrown lot in the heart of Marion, a town of 6,500 people.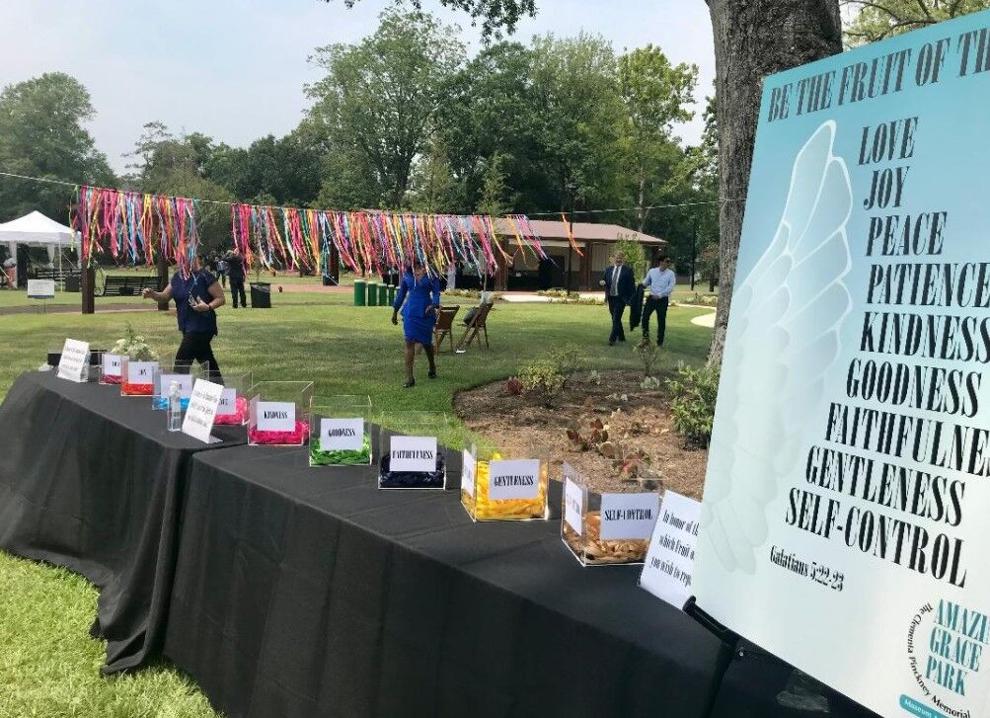 Pinckney lived in Jasper County, represented a rural Senate district that included parts of five other counties in South Carolina's southern corner and was senior pastor at the Charleston church known as Mother Emanuel. But his family was from the rural Pee Dee county of Marion, where he spent his childhood summers.
Pinckney is buried at St. James Cemetery about 10 miles from the park, next to his mother, who died in 2005. His grandmother Gracie, who died in June, lived in nearby Mullins. 
"This is home," said his widow, Jennifer Pinckney. "You have to have that home spot where everyone could come together, and this was it for him."
The total project included about $500,000 to renovate the Marion County Museum, which sits on 2 acres next to the park and features an exhibit on Pinckney. The park itself cost $2.5 million, half of which came from earmarks Williams requested in the state budget over three years. Dozens of other donors include the Medical University of South Carolina, Carolina Panthers, the State Ports Authority and various utilities.    
Pinckney's family said they preferred honoring him with a park people can enjoy, rather than a stodgy building with his name on it.
"Clem's life was about building bridges and tearing down walls. There are no walls on the outside of the park," and the only fence is for dogs, said Sen. Gerald Malloy, D-Hartsville, who sat beside Pinckney in the Senate and is the family's attorney. 
"You'll have children who will come here and get more from this with the interaction of people than you would a building," he said.
The world has changed since Pinckney "left his earthly home," Malloy said, noting his legacy includes the removal of the Confederate battle flag from Statehouse grounds. Within weeks of the tragedy, the controversial symbol that had flown for decades at the Capitol was forever taken down by act of the Legislature.
As "people from all walks of life" come to the park to learn and play, it can continue the work of healing the divisions of society, he said. 
"For us to be here today, a serious price was paid. Do not allow it to be in vain," political commentator Armstrong Williams, the older brother of Sen. Williams, told the crowd. "Freedom comes from God, not from man. Make this man's legacy mean something."       
The park's name, Amazing Grace, recalls the eulogy President Barack Obama delivered at Pinckney's funeral in Charleston, when he sang the first stanza of the beloved hymn penned in 1772 by an English slave-ship captain who later worked to end slavery.
Following the singing of "Amazing Grace" at the dedication, Bishop Michael Blue noted in his concluding prayer that Clementa means merciful. 
"Thank you for a park named Grace because of a man named mercy," said Blue, of the Door of Hope Christian Church in Marion.