Former Vice President Joe Biden continues to build ties to South Carolina.
Over the years, he befriended South Carolina's longtime U.S. senators Fritz Hollings and Strom Thurmond, campaigned for president in the early primary state and vacationed in the Lowountry.
Now Biden's getting involved in state politics as a muse for ally, state Rep. James Smith, the first Democrat to formally join the 2018 governor's race.
Supporting Smith is seen as way for Biden, 74, to ramp up a 2020 presidential bid, speculation that he's brushed off. In an interview with The Post and Courier, Biden said he's backing a candidate who is a kindred spirit of his late son and could bring a sense of service to the state's highest office.
Twice this year, Smith said that Biden urged him to run when they met in Charleston, first at the unveiling for a statue of Hollings at the federal Waring Judicial Center in April and then during the Charleston Branch NAACP 100th Anniversary Gala in September.
Biden has not committed to help with fundraising, Smith said, but the former vice president's encouragement is what he needs for now.
"I know he's in my corner," said Smith, who supported Biden's 2008 presidential bid and tried to get the former Delaware senator to run again in 2016.
Biden spoke with The Post and Courier on Friday, a day after Smith officially entered the governor's race. Here are excerpts of the interview that ranged from how a Democrat could win South Carolina governor's race to the impact of President Donald Trump's foreign relations policies to what Thurmond would have thought about the current political climate.
Why Biden is backing Smith: "I have met a lot of guys in my career … but this is a guy, I swear to God, that I would trust with anything. This is a guy who I watched, he never puts himself before anybody else."
"He's not about tearing the house down. … I look at him and I think this is a guy with the energy, the integrity, the experience that can really have South Carolina get up and start to walk."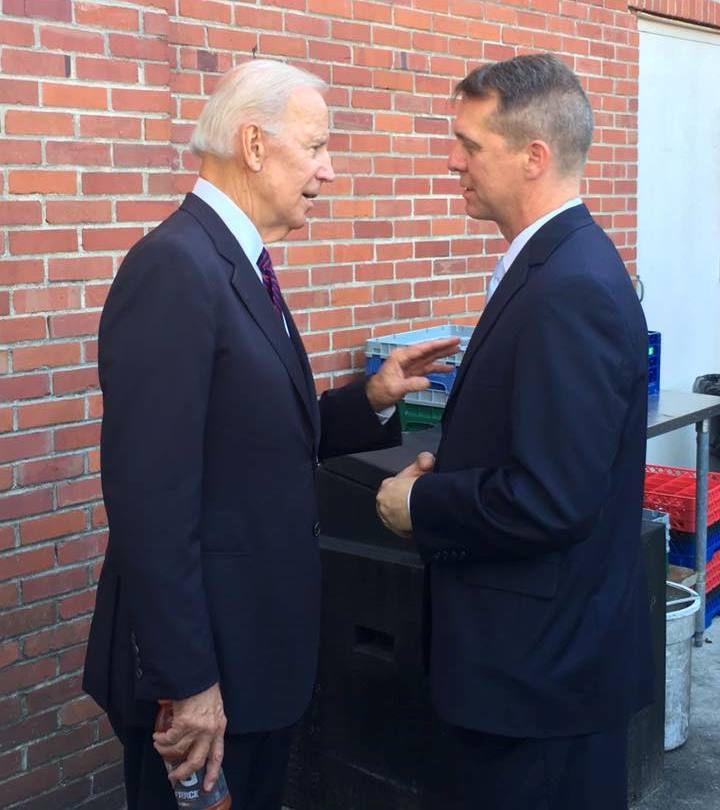 How Smith reminds Biden of his son: He said Smith possesses the sense of duty of his late son, Beau, who passed on taking his father's Senate seat when Biden become vice president to remain Delaware's attorney general. Both younger men went on military deployments to the Middle East while in political office.
"They're kindred spirits. … I know it sounds corny but it comes down to honor, duty and again the guy (Smith) has all tools. He knows the issues. His instincts are right. He thinks you should be able to make a billion dollars if you could, but you ought to take care of people and just give everybody a chance.
"I remember saying to him once that I thought that one of the problems with the elites in both our parties, we don't have a lot of faith in ordinary people any more. And James started talking about his grandfather and great-grandfather (working class men from poor backgrounds). Ordinary people can do extraordinary things if you give them half a chance. I'm convinced he believes that."
Why a Democrat could win in a GOP-dominated South Carolina: "What could be different this time around, the national environment has changed with the current president in the White House. It's not changed so much ideologically. It's changed in terms of what constitutes self and self service. And it's changed in what constitutes duty, sacrifice, honor. There's just a different feeling out there today.
"Look, I know South Carolina fairly well, but I don't claim be an expert on South Carolina. But with the corruption stuff going on (and) with people seeing Washington and, not only is the swamp not drained, but the swamp's filling up. I'm not talking ideology now. People are looking for men and women who can reach across the aisle and who can sit down with somebody and can talk.
"I have no doubt in my mind if (Smith) were in the bluest state in the country, if he was in Massachusetts, that he would put his state before his party and his interests. I'm confident when he's out there people can feel that about him. And I may be dead, dead wrong I have no polling data but I think that is the most sought after commodity in the country today. And I think it's in short supply. People see it as being short supply.
"When I got involved (in politics), it was era of the Kennedy era and it was noble, I don't think people think people get into it for noble reasons any more. They want that. I think James communicates that."
How Trump's foreign policy decisions, including pulling out of major agreements, is hurting the U.S.: "One of the reasons why the world reveres us is the power of our ideas even more than the exercise of our power. Now, granted the power is the underlying strength of everything. … One of the reasons why countries will take a chance — like the Baltic states, the Balkans, some Iraqis, Latin America where there is so much corruption — is that they really think that we mean what we say and we're with them and that we're going to stay with them when we make a commitment.
"Otherwise, what happens is they're going to accommodate to the most powerful neighbor they have, they're going to yield. But if they think we're behind them, we're going to stay with them economically, physically in terms of political support then they tough it out.
"They all take chances to join these agreements. … Even China, which is not what you call our closest friend, put some skin in the game and put themselves on the line with regard to climate change. The biggest emitter in the world says they're in and then we walk away? What do you think the rest of the world says?
"Or for example take Iran. You don't think each of the leaders in Germany, France, England, even Russia, China they didn't take a chance in signing onto this agreement? And then we unilaterally say even though there's not a single shred of evidence that they violated the nuclear part of it, well we're out. Look at the message it sends."
Why the mood of the country changed in the past year: "The world is changing so rapidly. You've got a lot more middle class people who have been left out of the bargain in the last six, seven years. You know there has been a basic bargain that if you participated in the success of an enterprise you got to share in the results. That's not the case anymore."
Biden cited statistics about how wage growth has slowed dramatically over the past 40 years, saying small parts of the blame lies with globalization and digitalization. The bigger issue is that corporations are spending large portions of their profits on buying back their own stock and dividends to shareholder and a much smaller amount on pay, training, expansion and research. Biden accepted the blame for voting in favor of measures that allowed some this to happen.
"Here's the deal, corporations are now all short term. There's nothing long term about corporate planning. Of the top 25 Fortune 500 companies, six of the CEOs have come to me to help them try to help change the corporate culture in America."
So discontented voters are backing Trump, right?: "Look at the poll numbers, you kidding me? The idea that people are buying this, they're not buying this."
How Biden built ties in South Carolina: He said he developed personal relationships with Democrats in the state when, as he put it, "It hadn't always been that bright red."
But Biden said he really was close with Hollings and, in an Odd Couple-esque relationship, with Thurmond. He noted that his bond with Thurmond, a former segregationist who was a Republican stalwart, forms an example to improve the culture in Washington today. Biden gave a memorable eulogy at Thurmond's 2003 funeral. 
"If you look at my record over 34 years (in the Senate), I'm ranked as the third or fourth most liberal senator on social issues. So we agreed on nothing. But we were able to talk to one another. We were able to fight and disagree and get something done.
"Strom would not have liked what's going on in the White House. It's not Strom's style. Strom wanted to get things done."