Melania Trump's inaugural visit to South Carolina as first lady was designed to be a decidedly unpolitical affair.
There were no "Make America Great Again" hats in sight during a scripted tour around Joint Base Charleston with Karen Pence, the vice president's wife. 
There were no protesters — just curious onlookers with cellphones — as the motorcade drove down Dorchester Road from the base to Lambs Elementary on Wednesday morning.
Even the marquee outside the school gave no hint to the high-profile visit.
Instead, it reminded parents that report cards would be out Thursday and that the school will be closed next Tuesday. 
"It is my first time in Charleston," Melania Trump said at the school, leaning over a table where six children were decorating pillowcases that they could use to carry emergency items in a pinch. "It is so nice here."
In explaining her visit to their classroom, she told the same group of students, "You are very special to me."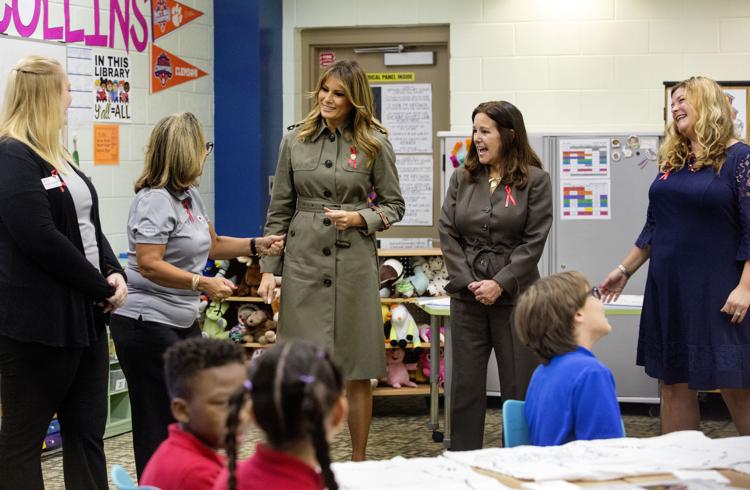 The students were participating in the Red Cross Pillowcase Project, which helps children mentally and physically prepare for natural disasters. Trump and Pence asked groups of children what they would bring, and whether they had ever had to evacuate.
The official spouses then proceeded to hand out small flashlights to the children, who dutifully dropped them into their pillowcases.  
"Tell your parents I say 'Hello,' " Trump told the groups, before moving to another table of students.
Trump and Pence spent about four hours on the ground. They met with fifth-graders in the morning, and they received briefings in the afternoon about the role the massive base plays in emergency preparedness and disaster response in a state regularly impacted by hurricanes and flooding.
After thanking base leadership, Trump sought to more broadly praise a recent military victory.
"I want to take a moment and address Saturday's successful special ops raid that brought final justice to the leader of the evil terrorist group known as ISIS, and acknowledge the courageous soldiers who carried out this dangerous operation," Trump said, referring to the death of Abu Bakr al-Baghdadi.
She continued, "Our military has never been stronger or more capable than it is now, and our nation will continue to stand strong in the face of any enemy."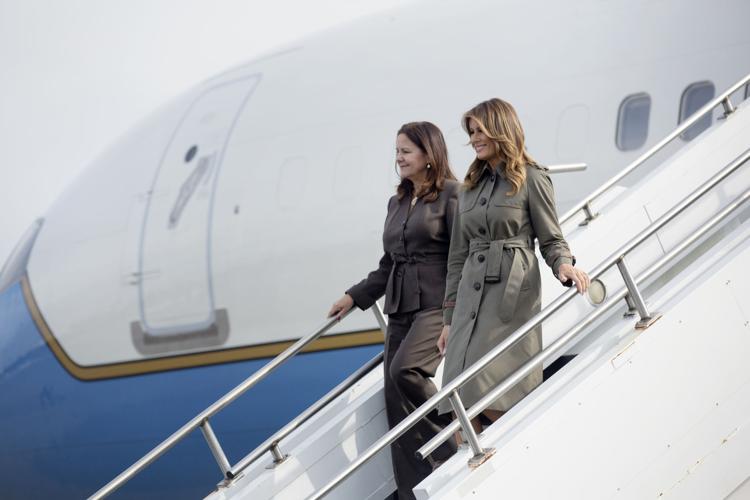 Inside a hanger, the presidential spouses gave brief remarks to some 500 service members and their families. A C-17 cargo jet, which Trump and Pence explored, was parked in the background.
Wednesday's visit was not tied to any specific event, but it did come a few days before the start of Military Family Month. Gov. Henry McMaster and his wife, Peggy, greeted Trump and Pence after they landed at the base. 
"We know that the spouses and families deserve recognition every single day, but it's really nice to have a month-long celebration that honors numerous contributions and daily sacrifices that we know our military families make for our nation," Pence said. "And we will never, never be able to thank you enough."
Pence, whose son Michael Pence is stationed Marine Corps Air Station Beaufort, said her own family had been impacted by the region's most frequent natural disasters: hurricanes.
"Our family actually had to evacuate in the last hurricane," Pence said, prompting a few nods from those in the crowd. "The men and women here are making our country proud."
The audience remained standing from the time Pence began talking to the time Trump wrapped up her 6 minute speech.  
Trump took no questions from the media during her visit, and she made no mention of the House impeachment inquiry her husband, President Donald Trump, is facing in Washington.
Coast Guard Capt. John Reed told The Post and Courier the main thing Mrs. Trump seemed interested in was how officials decide to close the ports in times of pending storms, which can have a major economic impact on the region.