In the latest sign of how badly Republicans want to take down Democratic U.S. Rep. Joe Cunningham at the polls next year, the GOP is demanding Cunningham apologize to the president for a two-year-old tweet about the Mueller investigation.
They've even provided him with a script.
The National Republican Congressional Committee on Tuesday issued a teasing statement complete with a four-part apology outlining how Cunningham, D-Charleston, should apologize to President Donald Trump.
Written in Comic-Sans font, the how-to resembled a worksheet an elementary school teacher would use to teach young children how to successfully say they are sorry. 
"I'm sorry for ..." the statement read, "Accusing the President of conspiring with a foreign adversary."
That was followed by: "This was wrong because ... There was no collusion."
And ended with: "In the future, I will ... Stop being so emotional and such an extremist."
The last step was the question, "Will you forgive me?"
The statement ended with a sarcastic sign-off directed at Cunningham. "You can do it, buddy!"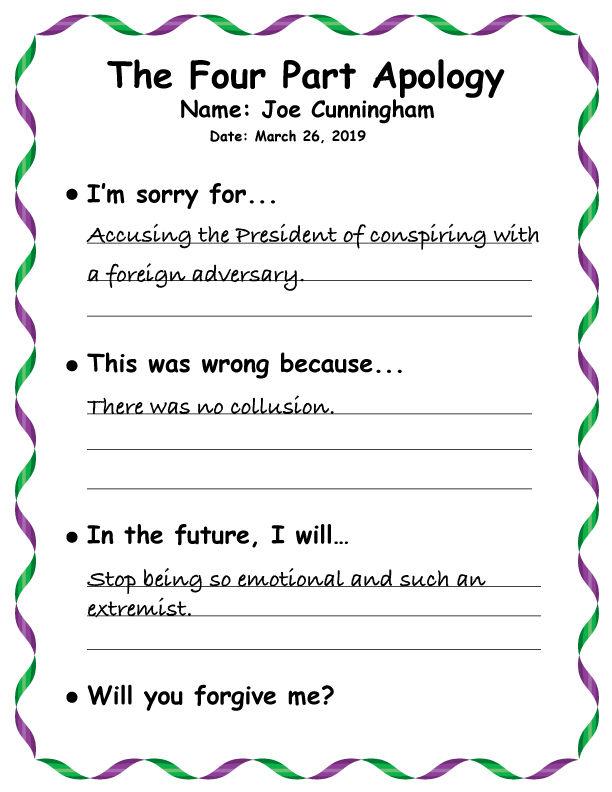 At issue is a July 2017 tweet in which Cunningham shared an opinion piece titled "How long will Americans believe Trump's lies about Russia?" and commented, "This isn't a coincidence. It's collusion."
The tweet was dug up by the NRCC on Monday, one day after Attorney General William Barr released a summary of special counsel Robert Mueller's report into Russian interference in the 2016 election, which found no evidence of collusion between Trump or his campaign with Russia.
In a statement to the media Monday night, Cunningham admitted his 2017 tweet was premature.
"Rushing to judgment without all the facts was a mistake. I fully accept the findings of Robert Mueller's investigation and believe it's good for America that he found no apparent evidence of collusion between the President and a hostile state," Cunningham said in a statement to the media.
For the NRCC, which is the main fundraising arm for congressional Republicans, that wasn't good enough. They wanted an apology.
Cunningham's office declined to comment on the NRCC's latest attack, referring The Post and Courier to Cunningham's earlier statement on his 2017 tweet.
The NRCC has been targeting other Democrats for making now-erroneous comments about Trump's ties to Russia. The NRCC took aim at Florida Congresswoman Debbie Mucarsel-Powell for her July 2017 tweet, in which she accused the GOP of remaining silent while she said Trump continued to "show his #RussiaTrump #Collusion"
In both hits, the NRCC accused the freshmen Democrats of being "emotional" in their comments and demanded they apologize. However, the apology how-to was unique to Cunningham.
South Carolina's coastal 1st Congressional District was identified by the NRCC this year as one of its 55 targeted House districts they want to flip in 2020.