GREENVILLE — President Donald Trump offered a glowing and hearty endorsement of Gov. Henry McMaster's 2018 campaign on Monday, returning the favor for McMaster's early backing of Trump's successful 2016 presidential campaign.
In a 25-minute speech that focused mainly on his own achievements since taking office some nine months ago, Trump recalled the early support McMaster offered en route to winning the South Carolina GOP primary as the nation's first statewide politician to endorse his presidential bid.
"I loved our Henry," Trump said in a standing-room crowded Greenville hotel ballroom. "He worked so hard and Peggy (McMaster's wife) worked so hard. Peggy was all over." He added the McMasters "showed me the ropes a little bit."
Though polls have shown Trump to be a polarizing figure, McMaster is hoping the president's continued popularity with the GOP base in South Carolina will help boost his odds in a contested gubernatorial primary next June.
Recently released campaign finance totals showed McMaster neck-and-neck with fellow Republican Catherine Templeton, a Lowcountry labor attorney and former director of two state agencies. Monday night's presidential appearance should provide a significant infusion of cash to McMaster's coffers at $250 per ticket to attend.
Still, Templeton, who talked with the president about a job in his administration, tried to ride the coattails of his visit by tweeting Monday that she was proud to support Trump's "drain the swamp" message to change the path of government.  
Trump never mentioned any of McMaster's three GOP rivals by name while bragging about McMaster's poll numbers being "fantastic."
"People respect him and Peggy and the family. He's a terrific person, terrific man, works so hard, loves South Carolina, he loves the people of South Carolina," the president said. "I just want to say it is my honor to give my endorsement to Henry McMaster, who is going to be for many years a great governor.
"I'm so happy with the job he's done. I'm so happy every time I call and say, 'How's Henry doing?' They say, 'He's really a great governor,' " he continued without offering specifics. "He's doing some special job, but he does it with his heart."
With his family on stage before and after Trump's speech, McMaster heaped praise on the president.
"This man has changed everything," the governor told the crowd. "How long have we been looking for someone who says what he means, means what he says, and says it in words that everyone can understand and will not back down?"
McMaster recalled how Trump turned the motorcade around as they were leaving Greenville airport because he wanted a chance to shake the hands of supporters who had gathered there.
"This man has changed the world already in just nine months, and ladies and gentlemen, we're just getting revved up and started here in South Carolina," McMaster said.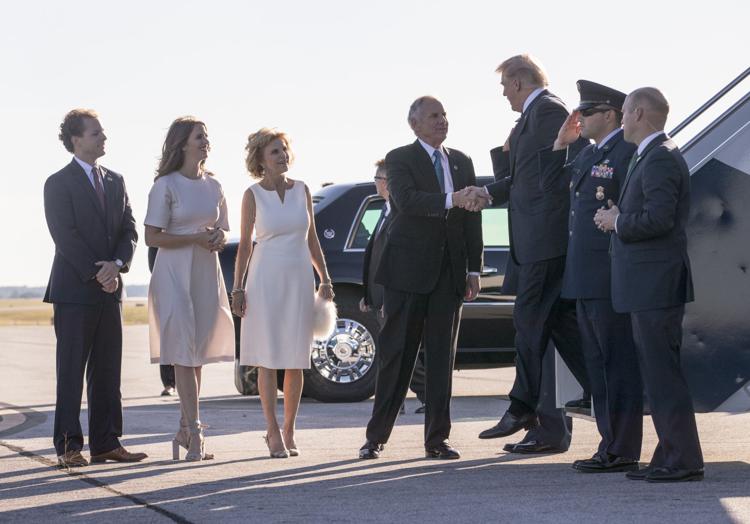 Trump spent time on a couple of his favorite targets — NFL players protesting during the national anthem and his 2016 Democratic rival, Hillary Clinton.
"Hillary today, I don't know if you heard this, it's hard to believe, she came out in favor of the NFL players kneeling," Trump said. "I'm all in favor of people protesting if they want to protest, but you know what, you don't protest during our national anthem. You don't do it."
Trump recommended suspending players for an increasing number of games each time they protest and suspending them for the season, if necessary.
"I guarantee you the kneeling's going to stop," the president told the crowd. "I don't know what's wrong with the (NFL) commissioner, why he doesn't do it. The people of this country do not want to see disrespect for our flag, our anthem and our country itself."
If McMaster was like Clinton in backing the player protests, "I'd probably have to take away my endorsement," Trump added.
Trump spent several minutes retelling the story of election night 2016, attributing an initial dip in the stock market after he won to investors listening to "crooked Hillary," as he calls Clinton.
But since then, he noted, stocks have reached record highs.
"Everybody has their stock, and you're watching your portfolios grow and grow and grow, and mine stays the same because I'm not allowed to partake," he said to laughter. "That's OK."
Trump gave shout-outs to a couple Republican members of the South Carolina congressional delegation in attendance Monday:  Sen. Lindsey Graham and Rep. Joe Wilson, who flew to Greenville with the president on Air Force One.
The president said Wilson, a Springdale Republican, has been a "powerful voice," in Congress.
"You know what I mean by powerful voice, right?" he added, appearing to refer to Wilson's shout of "You Lie" during an address by  President Barack Obama to Congress. Audience members laughed and yelled it out in recognition.
Graham, a Seneca Republican who played golf with the president twice last week, "has become a friend," Trump said of his one-time foil. "We're working on the tax system."
The president continued to push for Graham's block-grant health care bill, which died before reaching the Senate floor last month unable to reach the minimum 50 votes.
Before Trump's arrival, the crowd was kept standing for several hours. One man fainted during the president's speech and was attended to by medics in the crowd. Nearby attendees gave thumbs up as he was taken out to receive additional help.
"He looks better than I do," Trump quipped as the man stood up.
Trump last visited South Carolina in February, when he spoke at Boeing's North Charleston plant.
While McMaster said earlier Monday that South Carolinians can't get enough of Trump, protesters from more than a dozen Democratic and progressive groups in the state held a rally at Falls Park in downtown Greenville during the fundraiser.
S.C. Democratic Party Chairman Trav Robertson said McMaster's move to bring Trump in for support nine months before the primary suggests that the governor "knows he's weak" and needs a bailout.
"Henry is grasping at straws right now," Robertson said.