Democratic congressional candidate Joe Cunningham expected a learning curve during his first run for public office but never envisioned this.
In the early morning hours of June 23 his cellphone rang with news that Katie Arrington, his Republican challenger, had been critically injured in a car crash.
"I don't know if there is a political playbook for it," Cunningham said.
"I've never ran for an office before," he added. "I'm not looking at this through the lens of being a politician or a candidate. I'm looking at this through the lens of being a human being."
Arrington, 47, and her friend, Jacqueline Goff, 59, had been critically injured in a head-on collision when a driver traveling the wrong way on U.S. Highway 17 near Adams Run smashed into their car.
Arrington's injuries were extensive: a fracture in her left ankle, two broken ribs, a colon injury, two small bowel injuries and injuries to her iliac artery.
She also suffered bleeding from her abdominal wall and spinal injuries that included a fracture to her second vertebrae. The driver of the other vehicle died at the scene.
Though doctors expect Arrington to make a full recovery, her rehabilitation added another dimension to an already interesting South Carolina congressional race.
How do you campaign against someone after they survive a tragic event?
Be right and look right
Historically, there is no exact parallel to the situation Cunningham must now navigate.
When then-Arizona U.S. Rep. Gabby Giffords was shot in the head in 2011 by a gunman who opened fire at a constituent meeting in Tuscon, Giffords had already won her House seat.
When former Texas U.S. Rep. Ralph Hall had to be hospitalized in 2014 after he was injured in a car crash, he was not campaigning. He had already lost his Republican primary election months earlier.
There is but one political instance in South Carolina's recent past that comes close to what is happening now in the 1st District.
During his re-election bid for lieutenant governor in 2006, Republican André Bauer and his friend were injured when Bauer's single-engine airplane crashed just moments after taking off in Cherokee County.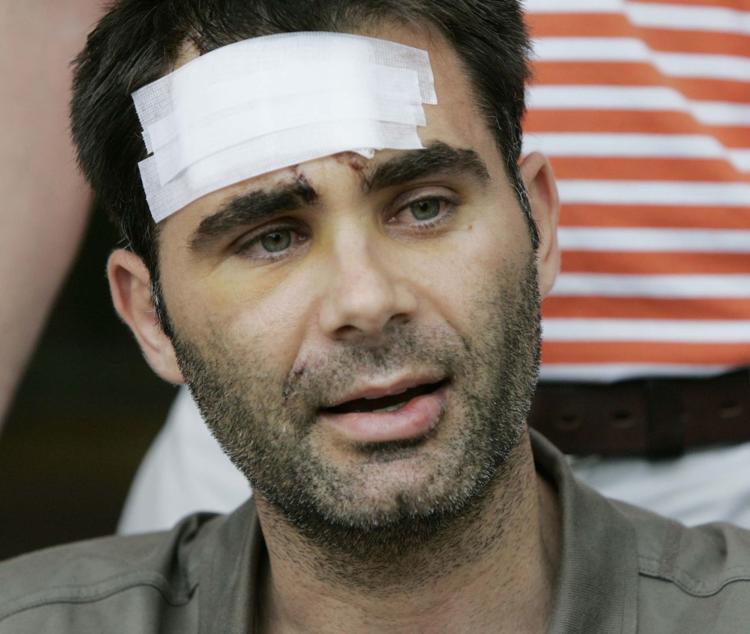 Bauer crawled out of the wreckage to safety before the plane burst into flames. His friend, John Leonhardt Sr., survived thanks to bystanders who pulled him from the plane in time.
The crash happened three weeks before the statewide primary.
Mike Campbell was one of two Republicans attempting to unseat Bauer in that election. Campbell may be one of the only people in the state who understands the position Cunningham is in now.
"Not only does it have to be the right thing to do, but it has to look right, too," Campbell said.
Like Campbell did after Bauer's crash, Cunningham chose to immediately suspend campaign activities in the wake of Arrington's accident. 
For Cunningham, that meant canceling private fundraising events in Bluffton and Hilton Head Island and meet-and-greets, as well as pulling a digital ad the campaign had been running in which he criticized Arrington for her support of President Donald Trump. 
For Campbell, it also meant bringing Bauer chocolate chip cookies after Bauer's mother told TV reporters her son was asking for them in the hospital.
"You want to be sensitive because someone's well-being and health is more important than politics," Campbell said. "At the same time, you have a campaign that you have to try to run, and you still have to do the things that you need to do to get elected."
Striking that balance was particularly challenging in that '06 lieutenant governor race; the day Bauer was released from the hospital was also the day of the first televised primary debate. 
"He comes into the studio with his head all bandaged up and on crutches and in cast, and I'm supposed to debate him. I remember just reiterating in the beginning how glad I was that he was back," Campbell said.
Campbell said it will be a sensitive line for Cunningham to follow.
"My advice to Joe is that when (Arrington) is back up and running, start addressing the issues but be careful: If you do it in the wrong way, you'll end up shooting yourself in the foot," he said.
Slow and steady
Jordan Ragusa, a College of Charleston political science professor, said a few weeks of campaigning lost in the summer out of respect for another candidate shouldn't doom either Arrington or Cunningham in their congressional runs.
"There's not a lot of evidence to suggest that campaigns matter a ton," Ragusa said. "Yes, you do need them, but the evidence is that beyond the basics, they're not worth nearly as much as people think."
Ragusa cited factors like party identification, name recognition, money and a message that resonates with voters as the more important facets to a race heading toward November.
"And remember: Campaigning is done by more than just the candidate," Ragusa said.
Already, there are signs that both campaigns will soon return to their normal cadence. 
Arrington, who won the 1st District nomination in an upset win over incumbent Mark Sanford, got her cellphone back from the wrecked vehicle about seven days ago. Her campaign spokesman Michael Mulé said she began making calls to both her supporters and to political allies who may come and campaign on her behalf while she recuperates.
U.S. Sen. Tim Scott, R-S.C., has already pledged to help her out and other leading Republicans are expected as well.
"It might change her mobility a little bit, but it hasn't changed her commitment," Mulé said. 
Arrington was released from the Medical University of South Carolina on Friday after a two-week stay. She plans to listen to her doctors' orders for recovery but was eager to resume the campaign in full.
Cunningham, meanwhile, has rekindled his fundraising efforts after his suspension.
On Thursday morning, he participated in a beach cleanup on Isle of Palms alongside the city's Mayor Jimmy Carroll, a Republican who has endorsed Cunningham because of his stance against offshore drilling.
Early morning beach cleanup with Isle of Palms Mayor Jimmy Carroll. We must protect our beaches! #SC01 pic.twitter.com/7q5tF4dwp4

— Joe Cunningham (@JoeCunninghamSC) July 5, 2018
Tyler Jones, a strategist for the Cunningham campaign, confirmed the Democratic Congressional Campaign Committee, the party's official fundraising arm for House candidates, has visited the district multiple times since the primary.
It's a sign that national Democrats are taking interest in the district where their party not held the seat in nearly 40 years.
Cunningham said there is still plenty at the core of their differences: She backs Trump; he doesn't. He came out strong against offshore drilling; she didn't. He supports abortion rights; she does not.
"We're not looking at this (race) as far as the political ramifications of her being in a car accident," he said. "From the onset of this campaign, whether or not it was going to be Sanford or Katie coming out of the primary, our eye on the prize was always the same."