When Katie Arrington unexpectedly defeated U.S. Rep. Mark Sanford in South Carolina's 1st Congressional District GOP primary in June, she made political history. 
Overnight and with a 2,657-vote advantage, Arrington became both a GOP darling of President Donald Trump's Republican Party and the woman responsible for beating South Carolina's unbeatable incumbent.
Her short and largely unnoticed political profile as a one-term state lawmaker exploded onto the national stage, catapulting her onto Fox Business News for an interview the same day her win was published on the front page of the New York Times and the same day her victory was praised on social media by the president himself.  
The last time a South Carolina woman was elected to Congress was in 1986. And if Arrington wins the general election in November, she will be the first woman to ever represent the 1st Congressional District along the coast.
She sees this seat as her divine destiny.
"Everything that has happened — everything — was God getting me ready," she said.
From a young age, Arrington has been driven by her strong sense of self and a strong sense of purpose.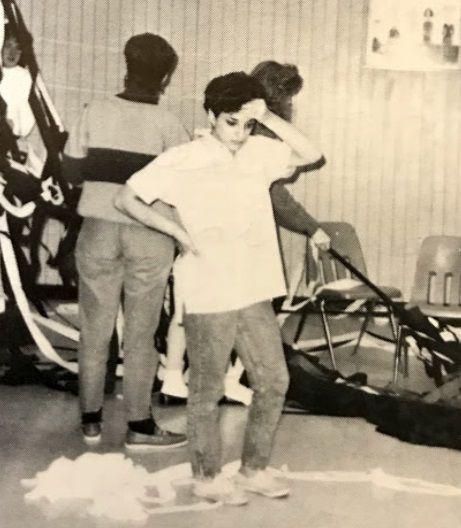 Growing up Catholic in Fairfax, Va., and later moving to Syracuse, N.Y., as a teen, her family regularly encouraged their three daughters to sit down to dinner not as the Stolark family, but as dignitaries, literary characters and as newsmakers past and present.
With a gold medallion necklace bobby-pinned into her hair, a young Arrington identified frequently with the Queen of the Nile.
"Cleopatra could take over the table," Arrington said of the ruler she emulated.
But her political ambition was not limited to a world of make-believe or imaginary sit-downs over Hamburger Helper.
When she was five, Arrington saw a news segment about how kids in Japan could not drink milk because the cows had been eating grass contaminated by nuclear fallout from the atomic bombs dropped in World War II.
Distraught, Arrington turned to her mother, Lucille "Lou" Stolark for advice. Socially minded and a Democrat, she told her daughter to write to the president.
So Arrington did. And three days later, then-President Jimmy Carter wrote her back.
"Katie, whenever you see something wrong, you should always say something and try to make it better," Carter said.
An unexpected rise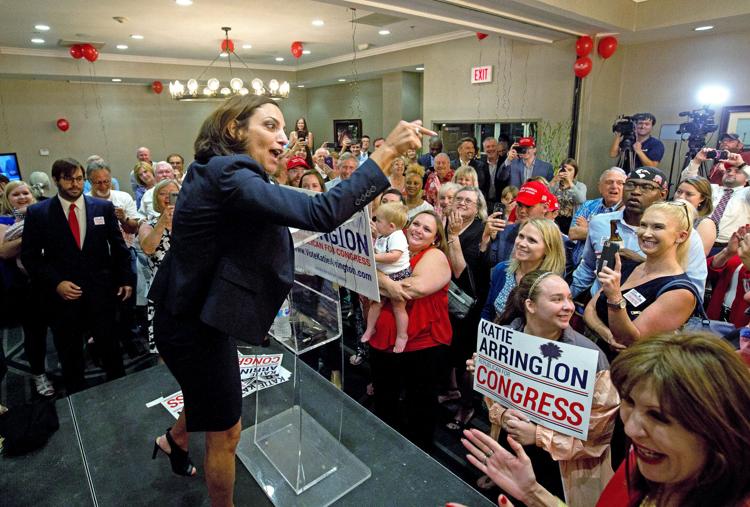 Of the waves that followed from Trump's 2016 election, Arrington's rise was among the most dramatic in the country.
Arrington never obtained a college degree. When she graduated from high school, she enrolled and attended Canisius College, a private Catholic college in Buffalo, N.Y., where she studied political science.
Halfway through her sophomore year, Arrrington met her first husband, Doug Homrich, while working over Christmas break. Homrich was serving in the U.S. Army. So, Arrington left school, got married to Homrich in 1990 and became a military wife.
She never finished her degree, but has taken courses on both business at different technical colleges and online.
If she is elected to Congress, she will be in the minority. According to a report from the Congressional Research Service, about 94 percent of House members hold a college degree.
When Arrington was 20, she had her first child, Christian.
At her son's six-week checkup, she learned he had been born with craniosynostosis, a birth defect in which the bones in an infant's skull fuse prematurely. In Christian's case, his skull was beginning to put pressure on his growing brain.
Surgery at Walter Reed National Military Medical Center in Washington, D.C., was the only option.  
"It's brutal to have someone say something is wrong with your kid," she said. "When we got pregnant with Christian, I was working, (Doug) was working. We had daycare lined up. Everything was going to be fine, but then everything changed."
With Homrich stationed at New York's Fort Drum in the 10th Mountain Division, Arrington said she had to fly back and forth to Walter Reed to get Christian the care he needed. But the Army didn't cover the costs.
"We had credit cards and family members to help us, but we went about $30,000 in debt," Arrington said in an interview earlier this year.
To try and make ends meet, she ran a daycare out of her home on military bases. It wasn't enough. She started working the graveyard shift at Denny's on Thursday, Friday and Saturday nights.
When it still wasn't enough, she applied and was approved for food stamps.
As a congressional candidate, Arrington said she still believes in public assistance as a short-term effort, but she wants to see Americans empowered to take care of themselves whenever possible.
Though her family received a cost-of-living stipend each time they moved to a new base, Arrington said the pack-up-and-go life of a military family took a toll emotionally and financially.
So when the couple moved to Hawaii for another duty station in 1995, Arrington and Homrich filed for bankruptcy. The Post and Courier was unable to independently obtain a copy of the court filing that detailed specifics of the bankruptcy.
"We tried like crazy to get around it and we couldn't," she said of that time. "We were 25 and like 27, and we didn't want to ask our families for anything. We had both worked full-time jobs and were raising two kids. It wasn't monumental things. We couldn't pay things like the Sears card."
The couple had a second child, Haliegh, in 1994.
Though they divorced in 2005, Arrington and Homrich remain friends. He was in the crowd supporting Arrington when she debated Sanford in June aboard the aircraft carrier Yorktown at Patriots Point.
Despite having no college degree, Arrington has accumulated a lengthy resume through her own determination.
She had a sales job with TravelChair Company, which sold folding camping chairs. She then took a sales job with Expeditors International, an international freight and logistics firm, in 1997.
In 2002, she moved to Charleston, where she worked in real estate for eight years before taking a research analyst job with Booz Allen Hamilton.
While working there, she became interested in federal contracts with the U.S. Department of Defense. She would go on to be a director of technology at a firm called Centuria, an account manager at Benefitfocus and, most recently, was the vice president of sales at Dispersive Technologies, a cyber security solutions provider.
She also served on both the executive board of the state's chapter of Women in Defense, a networking group for women work in national defense and security, as well as the Charleston Defense Contractors Association, a business association focused on raising the profile of the region's defense industry. 
Through it all, the 47-year-old credited God for putting her "in the right place at the right time."
She said the same of her surprise congressional primary win.
Triumph and trouble with Trump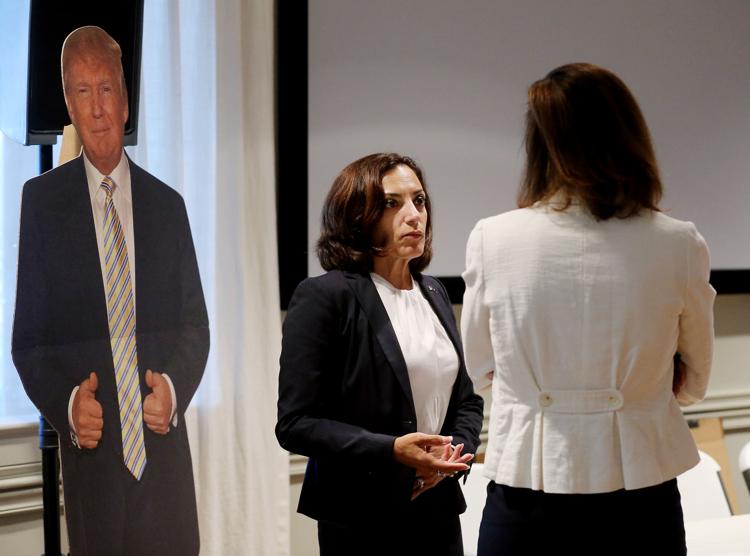 Arrington's primary victory was as much about the brute political influence of Trump as it was about the president's disdain for Sanford.
She said she decided to run against Sanford when she got tired of him openly criticizing the president. When Sanford told MSNBC that Trump's caustic rhetoric was "partially" to blame for the shooting of House Majority Whip Steve Scalise and several others at a congressional baseball practice, Arrington said she reached her breaking point.
Asked what her role should be as a Republican in Congress, Arrington responded in a June 1 debate by saying, "Our job is to support our president."
But as she stood in front of members of the Charleston County Republican Party on a recent Monday night, she tried to rally GOP voters to her side with a different appeal.
"The primary is over," Arrington said, scanning the faces inside North Charleston City Hall, where the local GOP group meets each month. "We cannot turn our backs around on each other."
It may already be too late. In what would usually be unthinkable, some Republicans have pledged their vote to Democrat Joe Cunningham because of Arrington's shifting stance on offshore drilling.
Arrington initially supported the Trump administration's decision to lift the ban on offshore drilling and seismic testing. She later issued a statement saying she is against drilling for oil off the coast of South Carolina.
Folly Beach Mayor Tim Goodwin, one of the Republicans spurning Arrington's congressional bid, said his choice came down to home rule and tourism dollars for his town. "It insults our intelligence for her to say or imply that we don't know what we're doing," Goodwin said.
It's a narrative her campaign has struggled to overcome. Instead, Arrington is starting to highlight other parts of her platform.
Beginning this month, Arrington will hold weekly roundtable discussions from now until the election about how to address flooding issues and solutions.
If elected, she said her first priority will be to address the district's critical infrastructure needs by securing federal dollars. But when pressed for details in an interview, Arrington looked to her campaign strategists sitting across the table from her.
"We've got a plan we'll be rolling out soon," her spokesman Michael Mule said.
During her short tenure representing Summerville in the state House, Arrington was the primary sponsor of six pieces of legislation. Two passed. One was a resolution.
Rather than cite specific bills, Arrington instead points to her questioning of Department of Juvenile Justice officials in the wake of two teen deaths on DJJ properties as an area where she said she felt she made a difference. She said she made sure the voices and lives of the now-dead children were heard the loudest during the legislative oversight hearing when she told a DJJ employee, "When you signed on to take care of these children's lives, that was beyond a contract."
In her run for Congress, Arrington remains focused on supporting Trump's agenda.
She has an idea for how to get the border wall built without taxpayer dollars. "We have a toll at the border for folks coming into the United States. We can charge $10 a vehicle," Arrington said.
When asked about her thoughts on the Trump administration tariffs that have both helped and hurt industry in South Carolina, Arrington said she thinks the president is "using them as a negotiation tool, but the best tariff is zero tariffs."
Earlier this month, she met with the president for about 20 minutes in the Oval Office. She said they talked about the race, her recovery, tariffs and offshore drilling.
In a July 17 email obtained by The Post and Courier, Arrington urged the Trump administration to grant South Carolina an exemption for offshore oil drilling. 
"I'm not always going to agree with the president," she said. "But I have his ear, and I know I can have a blunt discussion with him about what is needed in this district, and I'm not waiting until November to do that."
The only time Arrington had to slow down her campaign was under her doctor's orders.
Two weeks after her primary win, she was critically injured in a head-on collision. When she arrived at the hospital, she was bleeding to death.
A quiet source of strength
When Arrington opened her eyes for the first time in the intensive care unit, she saw her husband Rob Arrington standing at her bedside. Recognizing him, she squeezed his hand three times.
It's an action that evolved while the two were still dating. It's how they said, "I love you" before they were ready to say it out loud.
Forty-eight hours after Arrington was critically injured in a head-on crash, squeezing was one of her only options. She had tubes in her throat, and a ventilator was helping her breathe.
"He was my protector," Arrington said of her husband. "I truly married the strongest man I know."
She said he has been a source of steadfast support this summer, which has been fraught with personal tragedy for Arrington. For the past four months, she has been worried about her mother, Lucille Stolark, who was in hospice care. She died this week at age 72. 
Speaking to The Post and Courier three days after her mother's death, Arrington wore a pair of her mother's black shoes.
"She's always with me," Arrington said, looking up. "She told me she wanted to see me win the primary, and she did. Every second of our time after that was just an additional blessing."
She has needed those blessings to recover from the crash. Arrington was the passenger in a rental car driven by her friend, Jacqueline Goff. The two were traveling to Hilton Head, where Arrington was to receive an award for helping push a podiatry bill through the legislature.
While in the southbound lanes of Savannah Highway near Adams Run in southern Charleston County, a car going the wrong way crashed into them head-on. The driver of the other vehicle, Helen White, died at the scene.
Arrington and Goff lived.
"It was surreal. It was 10 minutes after I had texted my wife and she told me she loved me, that's when I got the phone call," Rob Arrington said. He had been in Hilton Head waiting for them to arrive.
In the two weeks that she recovered in the hospital, Rob Arrington attended press conferences where medical updates about his wife were publicized. 
He never talked to the media. He asked for privacy. But when doctors listed the extent and severity of his wife's injuries during press conferences, he could be seen wiping his eyes.
"Her and I are kind of different. I'm not as outgoing as she is. I've always been more of a private person, but I've learned to be a little more outgoing now," said Rob Arrington, who is president and owner of the land surveying company RLA Associates.
In an interview with The Post and Courier, Rob Arrington said he knew he signed up for this life because he signed up for a life with Katie.
While they were still messaging each other on the dating site E-Harmony, she told him that she wanted to "fast-track" him in her life. He liked that she was no-nonsense.
"When I first met her, she basically told me she wanted to work in Washington in politics," he said.
Their first date was at the Chili's Grill and Bar in front of the Walmart on Dorchester Road. This became her third marriage and his second.
They both have children from their first marriage.
And both bonded over their struggles.
Rob Arrington was working as a dishwasher at Ryan's when his first wife got pregnant. When they were unable to afford insurance for their daughter, they turned to the county for help.
But when it came time to apply for food stamps through the federal government's Special Supplemental Nutrition Program for Women, Infants, and Children, he drew the line.
"If I brought a child into the world, I've got to find a way to provide for them," he said.
Rob Arrington, who is also a Republican, said he believes Katie is doing more than running for office. "For her, it's a cause," he said.
If his wife is elected, Rob Arrington said he will remain in South Carolina.
"I'll come and visit her on Thursdays and stay through the weekend, but Washington isn't for me. It's for her to go and get things done," he said.
Last month in her first campaign stop after being released from the hospital, Arrington brought her journal with her. Embossed in gold lettering on the journal's black hardback cover are three words: "Make It Happen."
Still in a wheelchair and preparing to make her first appearance since the crash, Arrington pointed at it as it rested in her lap.
Looking at a Post and Courier reporter standing nearby, she tapped the front of the journal and mouthed the words, "I will."
Editor's Note: A previous version of this story stated Katie Arrington had been married twice. She has been married three times. This story has been updated.