COLUMBIA — A new law requires police agencies across South Carolina to abide by minimum standards on tactics such as chokeholds and bans putting an untrained officer on duty alone. 
The law signed May 23 by Gov. Henry McMaster threatens hefty penalties for agencies that don't follow the rules, escalating from fines of $1,000 a day to being shut down until they comply. 
It comes two years after video of a Black man dying while pinned to the ground by a white officer in Minneapolis ignited protests and rioting nationwide. The fact other officers at the scene did nothing to lift the knee from George Floyd's neck added to the collective outrage. 
The South Carolina law written in response says officers are guilty of misconduct if they willfully fail to intervene when they see a colleague physically abusing someone in custody or if they intentionally fail to report abuse.
And it aims to do a better job of weeding out officers who shouldn't be in the profession by requiring their employers to prosecute misconduct. Agencies already were supposed to report problem officers to the state, but the law newly sets penalties for not doing so.
"It makes sure bad apples can't bounce from department to department," said Rep. Chris Wooten, R-Lexington, a former highway trooper and presidential security detail officer who helped write the compromise passed by the House overwhelmingly last year. 
"From an accountability standpoint, it wasn't just the public crying out saying, 'We need something.' It was officers crying out saying 'These are things we're doing but some people aren't, and we want everybody to live up to the standards of professionalism we're trying to provide,'" he said, adding that effort began several years ago.
"Unfortunately, it takes a George Floyd incident for it to get hot enough to where the Democrats and Republicans are fighting together for something to happen," Wooten continued.
The Senate unanimously passed its version May 4. The House gave final approval by 103-4 a week later, wrapping it up on the last day of the regular session. 
The legislation started as a ban against putting officers on the street without training. Minimum standard requirements and penalties were added during last year's House debate.   
State law gives agencies a year after hiring recruits to send them through the Criminal Justice Academy. The leeway was deemed necessary when the academy was badly backed up. But there is no more backlog in training, which includes eight weeks on the Columbia campus. 
While a one-year delay is still allowed as agencies struggle to fill seats, any untrained recruit must partner with a certified officer while on duty. 
Sen. Sandy Senn, who oversaw Senate hearings on the bill, considers that required pairing the new law's biggest plus.   
"I'm always dumbfounded by an agency that puts officers on the street completely not trained," said the Charleston Republican. "A lot of them are plopped right into a patrol car. … In my view, putting someone out without training with only a gun is reckless and going to cause problems for both citizens and officers."
That's an issue mostly for South Carolina's small agencies, she said, and there are lots of them. 
South Carolina's more than 300 police agencies include officers working for colleges, airports and tiny towns. Nearly half of all agencies consist of 10 or fewer officers, according to the South Carolina Sheriffs' Association.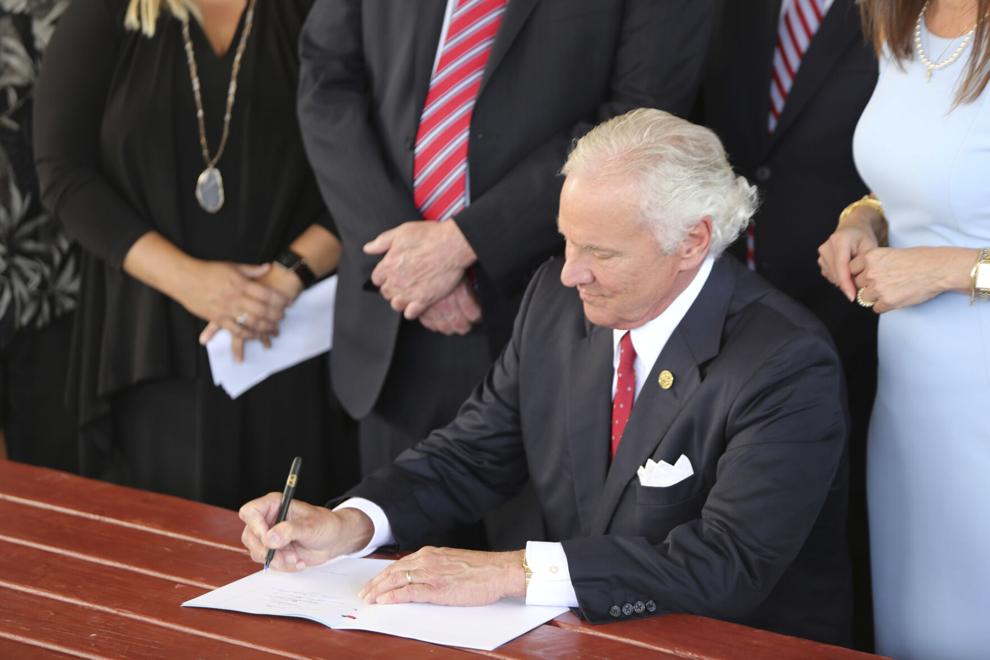 And with officer vacancies hovering around 30 percent statewide, small agencies, especially, are having a tough time covering shifts. 
"While I understand the desire to have somebody working," putting a recruit on duty alone is not a good idea, said Jarrod Bruder, director of the state Sheriffs' Association. 
Senn said it's also often the small agencies that lack written standards and procedures. What is allowed can vary from agency to agency, according to the department chief, she said. 
That will change under the law, which tasks the Law Enforcement Training Council with writing the minimum standards each agency must abide by. The council will periodically inspect agencies — at least once every three years — to ensure they're in compliance.
The council has until Jan. 1 to issue the standards. They must include prohibiting chokeholds unless lethal force is necessary, setting clear vehicle pursuit protocols, and specifying when a 'no-knock' arrant is allowed. Such warrants have been banned in South Carolina since July 2020. 
"This requires policies and procedures on simple things every modern-day agency should have," Bruder said. "It will force professionalism to go up. We've had minimum standards for officers. Now we have them for agencies."
Would-be hires also must sign a form committing to "ethical policing" while on duty, and agency heads must consider applicants' overall character when hiring. 
Rep. Gilda Cobb-Hunter, D-Orangeburg, said it was important to put that intent into state law. 
"You can do all the training in the world but if a police officer has no ethical core, I'm not sure training will matter," she said.
Bruder said nobody dislikes bad officers more than the good ones.  
"Even the best policies and procedures and best leadership at agencies won't prevent people from making mistakes or poor choices … but the public expects law enforcement to hold themselves to a high standard and that's exactly what we're doing," he said. 
"I hope the public understands that the actions, whether in Minnesota or Kentucky or somewhere else, South Carolina law enforcement does not approve of those unlawful actions, but we do take it very seriously. We want to have that public trust, and we hope they see that by the fact we're willing to hold ourselves accountable."