The FBI has joined the ongoing Statehouse corruption probe, raising the specter of potential federal charges in an investigation that already has ensnared four South Carolina lawmakers and exposed allegations of money laundering, influence peddling and other misconduct.
Two former State Ports Authority officials told The Post and Courier they have been interviewed by both FBI agents and state investigators about the agency's dealings with influential political operatives, including embattled consultant Richard Quinn and his son, state Rep. Rick Quinn.
Those officials are Catherine Templeton, who briefly worked for the port and is now seeking the Republican nomination for governor, and Pat McKinney, a former SPA chairman who pushed this year to suspend the agency's dealings with Richard Quinn.
In an interview with The Post and Courier, Templeton also revealed for the first time she was fired from her $235,000-a-year post after just five weeks on the job in 2015 — a move she contends was tied to her "asking the right questions about the wrong people," including Quinn.
What's more, Templeton said that soon after she was fired, she was invited to a meeting at Quinn's Columbia offices to speak with his son. The younger Quinn, who has since been indicted on misconduct charges, mentioned his father's work with the port and pressed her on why she was trying to hurt his family, she said.
"He said, 'It's my job to protect the family,'" Templeton said. "I said that if there was nothing wrong with what they were doing then this shouldn't be a problem for them."
Rick Quinn adamantly denied the allegation when reached Friday, calling Templeton's account "an absolute lie." 
The corruption probe already has rattled the state capital, where the Quinn family has been a force for decades, and it threatens to become a hot-button issue in the 2018 campaign for governor and other statewide offices. The addition of the FBI to the case only ratchets up the stakes, putting the federal government's vast resources at the disposal of investigators and potentially allowing them to expand the scope of the probe to other targets. 
Templeton's account puts the ports authority under an uncomfortable microscope, as her words directly contradict the agency's official statements about her departure, which they maintained was a voluntary resignation to pursue other opportunities. Her statements also raise fresh questions about Rick Quinn's involvement in his father's business affairs, which has become a central point in the criminal case state investigators are pursuing against him.
First Circuit Solicitor David Pascoe, the special prosecutor leading the corruption probe, declined to comment on Templeton's account or discuss the FBI's involvement in the case. Officials at the FBI's Columbia office did not return a call seeking comment on their participation in the investigation.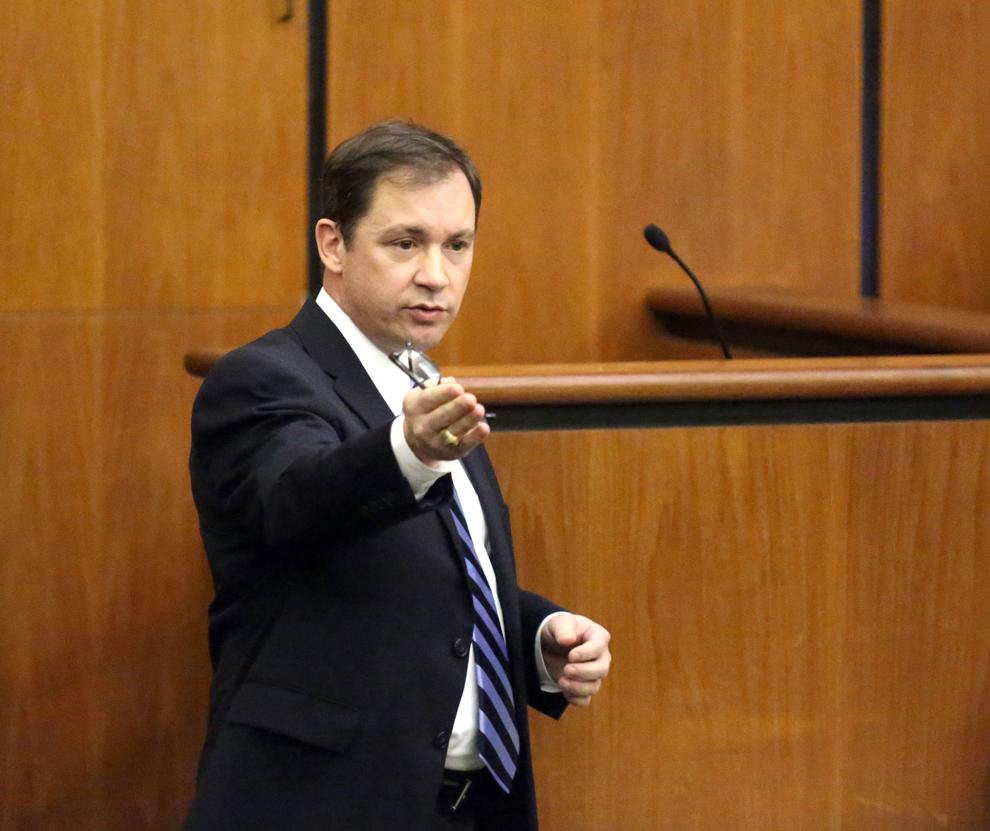 A firing offense?
Templeton said she spoke with agents from the FBI and the State Law Enforcement Division about three months ago. At that point, Pascoe and his team had already requested and received records from the ports authority — as well as several other state agencies and corporations that hired Richard Quinn & Associates, the powerful consulting firm that itself was raided by state agents in March.
Quinn is a veteran political operative and longtime consultant to Republican Gov. Henry McMaster, who Templeton is trying to unseat in next year's GOP primary. McMaster, a former U.S. attorney and state attorney general, is not a known target of the probe. He ended his three-decade relationship with Quinn in May as the Statehouse probe heated up. 
Templeton, a Charleston attorney, said she told the agents about problems she encountered shortly after going to work at the port in mid-September 2015 as senior vice president for external affairs, human resources and legal issues. She said she was hired to help improve SPA operations, drawing on her experiences leading the state's health and labor agencies.
She said she soon raised concerns about the lack of paperwork on SPA work agreements with Richard Quinn & Associates and a firm owned by Columbia communications veteran Bob McAlister, as well as a new arrangement for the pair to produce ads promoting the ports.
As The Post and Courier has previously reported, the firms of Quinn, McAlister and other politically connected consultants, combined, were getting more than $1 million a year from the SPA despite no formal contracts, performance reviews, competitive bidding or documentation of their work. The practice is legal because the SPA is exempt from state procurement laws.
Templeton said she never spoke with Quinn, but she once asked McAlister, a one-time chief of staff for former Gov. Carroll Campbell, to write columns supporting South Carolina's inland ports.
Templeton said she also raised questions about the amount of money the ports authority was spending with Willoughby & Hoefer, a well-connected Columbia law firm with ties to the Quinns. Founding partner Mitch Willoughby serves on the board of a conservative nonprofit run by Richard Quinn, and Quinn's son-in-law works for Willoughby. The law firm performed nearly $1.7 million in work for the agency between 2012 and 2015 — more than any other outside attorneys, records show.
Amid that backdrop, Templeton said she received a visit from ports authority President and CEO Jim Newsome about a month after she was hired in September 2015. Newsome told her that then-ports authority chairman Bill Stern had questioned why she was sending copies of Quinn and McAlister invoices to The Post and Courier in response to an Oct. 14, 2015, open records request, she said.
"I said it was the law," Templeton recalled.
Ports officials had reached out to Richard Quinn & Associates about the newspaper's records request before Newsome met with her, Templeton said. Stern, a Columbia real estate developer, is a friend of the Quinns. He also has co-owned property with Quinn's son, Rick Quinn, the Lexington lawmaker.
Two days after the documents were sent to The Post and Courier, Templeton said, Newsome informed her that she was fired. He told her she was better suited as a chief executive than as a subordinate, she said.
"He was finding a reason to fire me because he was told to do so by Bill Stern," she said.
Reached Friday, Stern said he had nothing to do with Templeton's hiring or her departure from the agency, and he disputed her statements to the contrary.
"That is absolutely false, and I find it shocking — if she said that — that she would make such a statement," he said.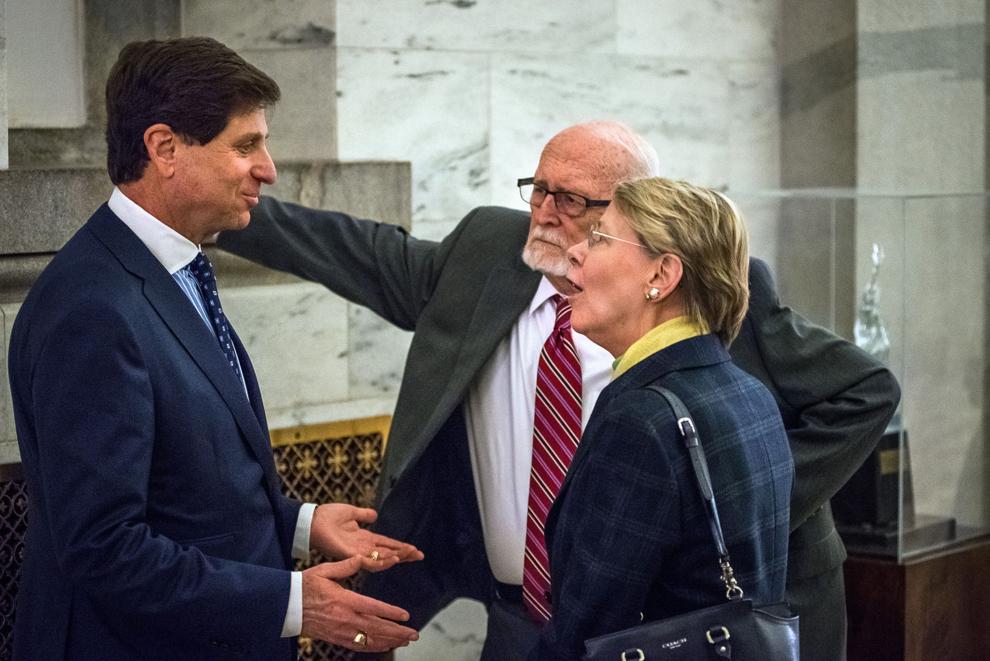 Templeton offered no direct evidence that Stern was behind her ouster beyond the question he posed about why the agency had to respond to the records request regarding Quinn.
"I know some of the questions I was asking hadn't been asked before," she said.
Templeton said she never talked about being fired from the agency because "I didn't want to taint the port."
On Oct. 22, 2015, the ports authority released a written statement explaining that Templeton had resigned because "she has determined that this position does not meet her career goals."
In the statement, Newsome called her "an extremely talented and energetic executive who has a lot to offer any firm."
"I am grateful that Catherine had the willingness to join our organization and give us the benefit of her expertise in her brief time with us," the statement quoted him as saying.
Newsome did not respond directly to inquiries but had a port spokeswoman forward a copy of an Oct. 22, 2015, email showing that Templeton had approved of the language in the news release about her departure before it was sent out.
McKinney, who was replaced on the SPA board in April after he also raised questions about Quinn contracts, said he was not informed directly that Templeton had been fired but believed that to be the case based on internal conversations at the SPA. "I don't think her leaving was a result of her initiative," he said.
He pegged it to questions she had raised about the Quinn connections. "I'm convinced that the key reason she left was because she questioned the contract (services) with the Quinns," he said.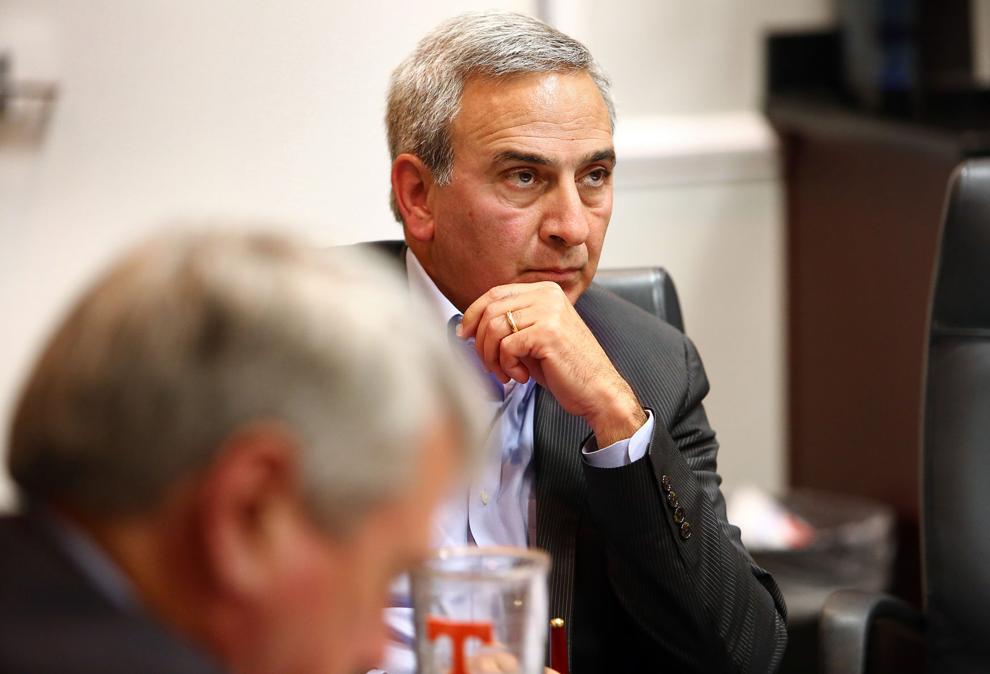 'Are you trying to hurt me?'
The open records request was filed by The Post and Courier while researching "Capitol Gains," a series produced by the newspaper and the Center for Public Integrity. The series described how lawmakers used campaign accounts like personal ATM machines and profited from government connections. Among other findings, it detailed how Rep. Rick Quinn had poured more than $105,000 in campaign money into his own company and his father's firm since 2009.
The newspaper's actions prompted a call to a reporter from the elder Quinn, who questioned why The Post and Courier was inquiring about his work for the port and examining his son's campaign spending.
"Are you trying to hurt me with my clients?" Richard Quinn asked a reporter.
Templeton said Quinn's son posed a similar question to her when he asked through an intermediary to meet with her at the Columbia office of Richard Quinn & Associates, near the Statehouse. Rick Quinn mentioned the port documents sought by the newspaper and accused her of trying to hurt his family, she said.
Her account of the meeting is noteworthy because Rick Quinn has insisted he has no ties to his father's business. Prosecutors, however, maintain that the lawmaker has worked all along for his father's political consulting empire, and that he improperly lobbied other legislators on behalf of his father's clients. He is accused of failing to report $4.5 million from some of South Carolina's largest corporations and state agencies that hired his father's firm since 2010.
Rick Quinn acknowledged Friday that the meeting with Templeton took place, but he insisted it was at her behest because she wanted to discuss her potential political plans, including a possible challenge to U.S. Rep. Mark Sanford. He said her job at the port never came up, and he denied raising the issue of his father's business with the port. He said the meeting lasted only about 10 or 15 minutes and wasn't tense.
He scoffed at her recollection that he had chided her for coming after his family. "What the hell does that mean?" he said. "That never happened."
Columbia communications consultant Ed McMullen confirmed that he was the intermediary who helped arrange the meeting. He said he did so because Templeton was considering running for Sanford's congressional seat and he told her that "if she wanted to do that, she should sit down with (Quinn)."
"There was some tension between the two," he said. "I suggested (to Templeton) that they get together and have a conversation."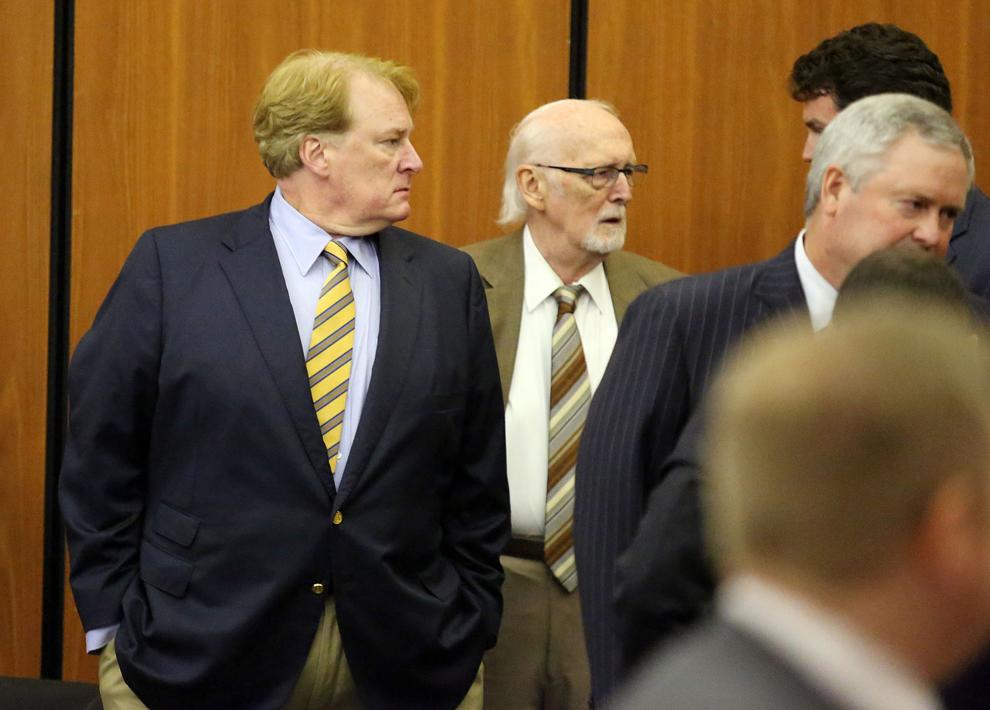 Topics of inquiry
Pascoe's team is poring over reams of documents seized from Richard Quinn's office as reports surface about the FBI's interest in the corruption probe.
McKinney said he was contacted by agents while he was still on the ports board, but the actual face-to-face didn't occur until about a week after he left earlier this spring. The interview was at his house and took a couple of hours. He was told he was not a target, he said, and the agents' questions focused primarily on the Quinns' work for the port.
"I was questioned in general about circumstances about them," he said, referring to the Quinns. "They took notes."
Templeton said SLED and FBI agents interviewed her May 1 in Charleston in a conference room she borrowed from a friend. SLED agents asked most of the questions, she said.
She declined to provide details of what agents asked, but said they discussed Rick and Richard Quinn, McAlister, Stern, Willoughby & Hoefer, the State Farmers Market, the Friends of the Hunley, and partnerships between Stern and the Quinns. 
Stern sold the S.C. Department of Agriculture a portion of 26 acres he owned in Lexington County in 2013 so the State Farmers Market could move there — a deal that drew scrutiny after it was reported that the state had paid $4 million more for 10 acres than Stern had shelled out for the entire parcel three years earlier, according to a Legislative Audit Council report. Stern told The State newspaper that the price reflected a number of improvements he had made to the property.
The Friends of the Hunley, a nonprofit set up to raise money to conserve the salvaged Confederate submarine, has paid Richard Quinn & Associates $568,000 since 2013 to help with marketing and fundraising, records show.
Templeton said her firing from the ports authority was the tipping point in deciding to run for governor because she was tired of seeing what she considered corruption in state government.
"There were consequences for just following the law," she said.
Templeton has become McMaster's main foil in the governor's race by surprising Palmetto State political watchers with her early fundraising success. Templeton, who is running in her first race for public office, has raised nearly $1.5 million this year and has just $160,000 less in her campaign account than McMaster, now heading into his seventh election.
The ongoing corruption probe is expected to be a key topic in the race.
Rick Quinn is the fourth state lawmaker charged in the Statehouse probe. Former House Speaker Bobby Harrell, R-Charleston, resigned after pleading guilty to misusing campaign cash. State Rep. Jim Merrill, R-Charleston, is facing 30 ethics charges while Sen. John Courson, R-Columbia, is accused of laundering campaign cash for personal use through Richard Quinn & Associates.
Quinn, Merrill and Courson have been suspended from office.