COLUMBIA — Gov. Henry McMaster spent the primary campaign telling voters South Carolina was in good shape, and he was the experienced candidate to keep the winning streak going.
The governor, a quintessential Southern politician with silver hair and heavy drawl, stood down challengers who said he was part of a corrupt and wasteful system in Columbia and not conservative enough to win a race that he'd craved for years.
McMaster won the Republican governor runoff Tuesday against political newcomer John Warren, a Greenville business owner and Marine veteran who self-financed his campaign while billing himself as a political outsider.
The victory margin was small, 53 percent to 47 percent, a reflection of GOP voters in the notoriously rebellious state wanting change from a frontrunner who has spent more than 30 years in politics despite carrying the endorsement from Republican President Donald Trump.
McMaster will face Democratic state Rep. James Smith, a Columbia attorney who spent a year fighting in Afghanistan, and American Party nominee Martin Barry, in November.
Delivering his victory speech, McMaster leaned into his pull with Trump. He said the president was the reason South Carolina GOP voters want to give him four more years in the office he inherited last year after Nikki Haley left for the United Nations. His relationship with the president was a focal point of McMaster's campaign ads.
"We've got a great, great state. But our team right now extends from the White House to the Statehouse to your house," McMaster said. "As President Trump says, we're going to keep on winning, winning, winning."
Gov. @henrymcmaster delivers his victory speech. Focus on his pull with @realDonaldTrump. It's yet to be seen if that friendship gives the governor any help in swaying the presidents policies on drilling, tariffs, the MOX facility or other things where they differ on opinion. pic.twitter.com/iqv2V3DOn2

— Andrew Brown (@Andy_Ed_Brown) June 27, 2018
The governor lost the Upstate that accounts for nearly 40 percent of the state's Republican voters but he dominated the rest of South Carolina, including the Columbia and Myrtle Beach areas where Trump and Vice President Mike Pence headlined rallies for McMaster in the final three days before the runoff.
McMaster looked vulnerable after failing to win outright in the five-candidate primary June 12. He was the top vote-getter in the primary with 42 percent of the vote.
Warren received 28 percent after a late surge from voters attracted to his back story. The challenger then received the endorsements from the race's third- and fourth-place finishers.
The race turned nastier in recent days with a flood of third-party ads attacking Warren for lacking conservative credentials and McMaster for spending decades working with powerful political consultant Richard Quinn who was indicted in the Statehouse corruption probe. They seemed to have little impact on the outcome.
While Tuesday's victory represented a political validation for McMaster after he failed to make the runoff in the 2010 GOP primary for governor, Warren had hoped for a repeat of eight years ago when Haley, the outsider, beat McMaster and two other veteran politicians for the nomination.
Haley was part of a Tea Party wave that favored new challengers. The Trump-inspired revolution of 2018 is doing the same thing, but in the South Carolina governor's race, it was the political veteran McMaster who received the president's endorsement instead of the race's outsider.
The governor was an early backer of Trump's presidential bid, which was rewarded when Trump held a rally for McMaster in Cayce on Monday less than 12 hours before polls opened.
"My vote for McMaster was for Trump," said David Windsor, a 30-year-old golf club employee from Columbia, after voting Tuesday.
Trump tweeted after the win "Congratulations to Governor Henry McMaster on your BIG election win! South Carolina loves you."
But an hour-long speech at Airport High School in Cayce on Monday by a president carrying an 80 percent approval mark among South Carolina Republicans did not win over all runoff voters. James Terry, a machinist from Duncan, said he voted for Warren over McMaster because he doesn't like longtime politicians.
"I just don't trust Henry McMaster," said Terry, 52. "I think we need some young guys in office. I may be leaning against all incumbents from now on. It seems like we put 'em there, and they never do anything for us."
McMaster is not an energetic candidate who inspires voters. He also carries baggage from more than three decades in politics as a former state party chairman, attorney general and lieutenant governor. This is the governor's seventh bid for statewide office.
Bob Godfrey, a 67-year-old Vietnam veteran from Columbia who retired from the Army, said he voted for Warren because he's not a politician, and he's younger. Warren is 39, while McMaster is 71.
"I'm ashamed of my generation and what they've done to this country. They're all corrupt," Godfrey said. "People of my generation are splitting and dividing us for their own purposes."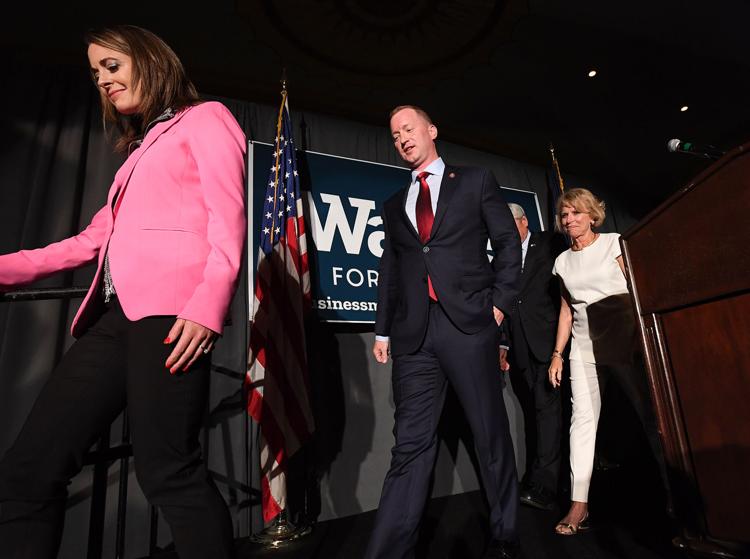 Still, Warren could not overcome McMaster's shortcomings or Trump's endorsement to repeat Haley's 2010 win.
Haley was a different candidate than Warren. The former bookkeeper at her family's clothing store possessed an easy-going personality that connected with voters. Plus, she spent six years in the General Assembly that taught her how the system works at the Statehouse.
Warren is a political novice who often promised to change things that governors could not do, suggesting he did not understand the job that has limited powers. Like the two previous governors, Haley and Mark Sanford, Warren has pledged to fight South Carolina's dominant Legislature to win his reforms. McMaster says he would work with lawmakers to meet his goals.
Warren also never looked comfortable on the trail in a time when voters are looking for a bit of a salesman who can pitch the state to economic development prospects and potential new residents. Comments about his stiffness led to him make a joke last month that he set his Apple Watch to remind him to smile. But little changed in his demeanor.
Plus, he entered the race late, campaigning for four months, while McMaster announced his bid soon after being promoted from lieutenant governor to governor in January 2017.
Still, after a decent showing Tuesday Warren set himself up for what many believe will be his next step: challenging South Carolina Sen. Lindsey Graham in 2020. Graham, a McMaster ally, was a frequent target of Warren's during his bid for governor.
Warren did not sound like someone done with politics in his concession speech.
"While tonight's results were not what we had hoped, we've started a movement in South Carolina, and that movement is bigger than any one election," he told supporters in Greenville. "Conservatives across this state have united, and they want to take their government back from the special interests, the political insiders, and that message is worth repeating for years to come."
.@votejohnwarren doesn't sound like somebody who's leaving politics after 1st loss:

"We continue to be 50th in education, we continue to be overtaxed, we continue to see our roads crumbling... We have got to have someone that can present solutions to these complex problems." pic.twitter.com/JxcJk1770C

— Jamie Lovegrove (@jslovegrove) June 27, 2018
Seanna Adcox, Jamie Lovegrove and Joe Cranney contributed to this story.